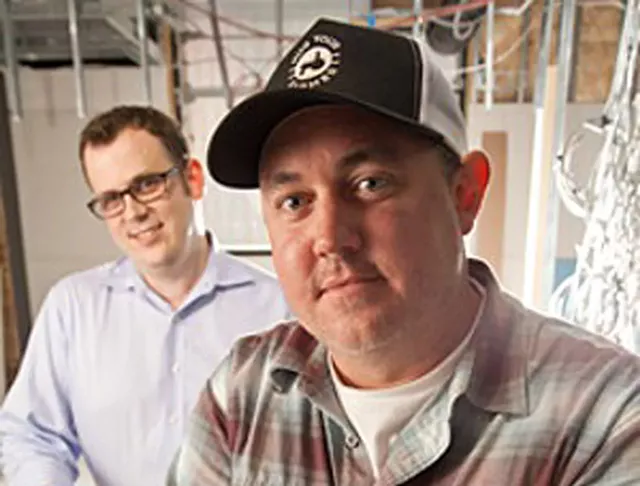 File: Matthew Thorsen
Will McNeil (left) and Eric Warnstedt
You may have heard about plans for a lakeside restaurant in Burlington from the team behind Doc Ponds in Stowe, Hen of the Wood in Waterbury and Burlington, and Prohibition Pig in Waterbury. While those plans exist, they remain in the early stages; in the words of co-owner Eric Warnstedt, "It is really, really premature to get the word out."
On November 5, as the Burlington Free Press first reported, Lake Champlain Transportation submitted a preliminary application to build a 6,500-square-foot restaurant at the King Street docks where the ferry company currently operates a metal and auto shop. An artist's rendering depicts a Doc Ponds restaurant with a large lawn and outdoor patio.
Reached by Seven Days on November 16, Warnstedt clarified that his hospitality team was involved in meetings about the potential project last year. But, he said, "We haven't spent a nickel on it. As of right now, there's nothing to talk about. And, if it does happen, it's not going to look anything like that."
Warnstedt said he and his colleagues are focused right now on the "day-to-day survival" of their existing restaurants, and any new project is several years out. "This is not something we are working on at all," the restaurateur said. "I wouldn't get too excited for a while."