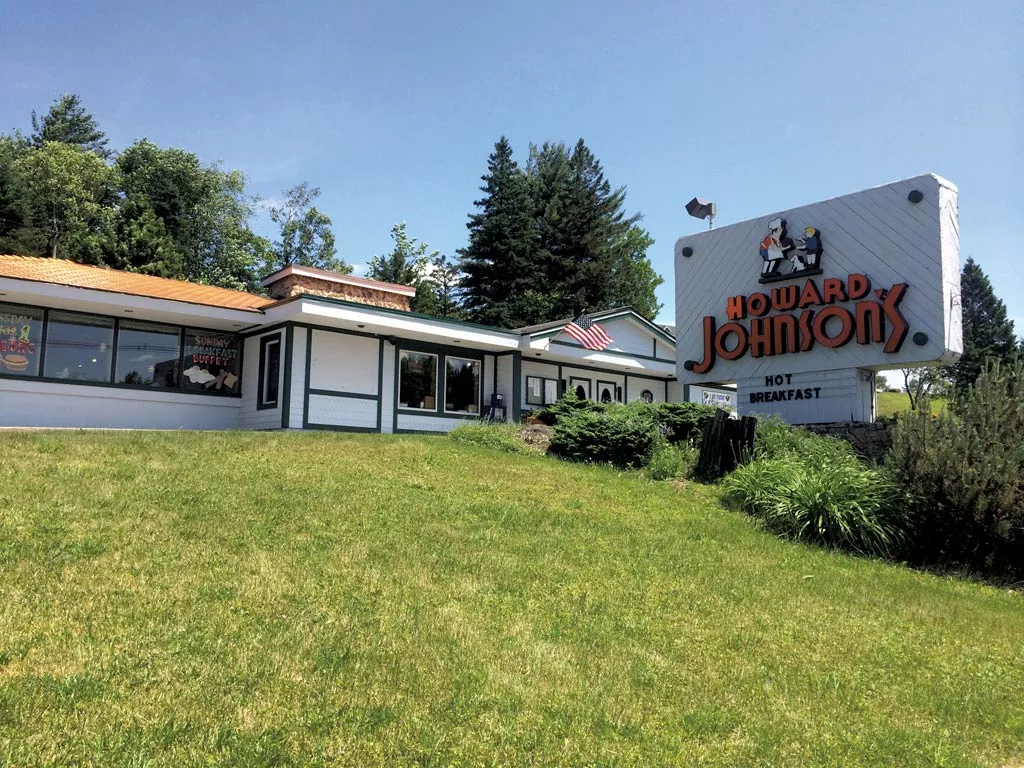 The clams haven't changed. They're just as tender and sweet as when Greek immigrant Thomas Soffron began manufacturing them for Howard Johnson in the 1940s. For nearly three-quarters of a century, those crisp, lightly nutty-tasting bivalves have been served with tartar sauce under the descriptive trademark Tendersweet Fried Clams.
Many Northeasterners recall the crispy little critters (actually slices, not whole mini clams as many people assume) as part of their childhoods, existing in the same murky realm as Proust's madeleine. And most will never taste them again. For a younger generation, the distinctive blue-and-orange Howard Johnson's logo is just a period relic glimpsed on a "Mad Men" episode, where Don Draper drove all the way to Plattsburgh, N.Y., for a business meeting at HoJo.
But in nearby Lake Placid, that logo and the trademark orange roof still stand strong, and the clams are a hot-out-of-the-fryer reality. There, Mike Butler carries on the work his father, Ronald, started when he helped open the restaurant in 1956. Today, the formerly 1,000-strong Howard Johnson's chain has dwindled to two locations: the Butlers' and one in Bangor, Maine.
On a recent Saturday, in the fading glow of the Fourth of July, the Lake Placid HoJo had attracted a respectable crowd of senior citizens to its dining room, while a few younger locals sat at the counter once reserved for ice cream.
But the restaurant isn't always this busy. One server pointed out that the holiday brought out more diners than usual. "The last couple years, we've been affected by the fact that the majority of our core customers are senior citizens and are dying off," Butler admitted.
Courtesy Of Alice Levitt
Mike Butler, owner of Lake Placid's Howard Johnson's
Those are the customers who recall HoJo's glory days. Howard Deering Johnson essentially invented the restaurant franchise model in 1935 when he began licensing his name and logo, as well as food products made in a central commissary. For better or worse, without Johnson, the world wouldn't have had the near-universal experience of biting into a Chicken McNugget or a Whopper.
But the old-school entrepreneur was far too exacting to serve his customers pink slime. In 1965, Johnson contracted with Christian Dior to design his waitresses' uniforms. Four years earlier, Johnson had convinced chefs Pierre Franey and Jacques Pépin to leave their posts at upscale Le Pavillon and develop new dishes for his chain.
Pépin, now better known as a TV host and cookbook author than he is for slinging burgers as a line cook at a New York HoJo (as he actually did early in his tenure), stayed on at the company for almost a decade, refining old favorites and creating new dishes. The results included a well-remembered chicken potpie and a boil-in-the-bag beef bourguignon. "Howard Johnson was all about quality," said Butler. "There were no shortcuts."
Butler remembers that beef stew as a favorite of the franchise days. So does server Jan Mullarney, who recalls bringing bags of it with her whenever she visited her son out of state.
Last month, Mullarney celebrated her 49th year at the Lake Placid restaurant. "Some guy asked if she came with the place," Butler joked. "If they just hold with me another few years, I'd like to have a record and a big party," Mullarney riposted.
Mullarney isn't the only longtime employee. Another server has worked at the HoJo for 29 years. Then there's 51-year-old Butler, who was born into the business. "I've worked here all through, since I was 5 years old," he said. "I would make a quarter for buttering all the rolls."
Butler's father purchased the Lake Placid HoJo from its original owners two years after it opened in 1956. He was there for the glory days but also for the decline of the brand. Mike Butler said he believes that decline was foreshadowed as early as 1959, when Howard Deering Johnson's son, Howard Brennan Johnson, took over the company and began pushing the expanding hotel business over the restaurants. The Butler family joined the trend and opened a Howard Johnson hotel beside the restaurant. (Today it's a Comfort Inn, managed by Mike Butler's brother, Patrick.)
But the growth of the hotel brand ultimately didn't bode well for the dining experience. While the senior Johnson enforced inspections of each restaurant four times a year, those inspections slowly disappeared under his son, Butler said. The real death knell for the HoJo restaurant franchises came in 1986, when Marriott International took over the hotel brand and eliminated the restaurants from its business plan. (After several additional changes in ownership, the Howard Johnson hotels now belong to Wyndham Worldwide.)
Ronald Butler was one of a few Howard Johnson Restaurant owners who joined forces after the Marriott takeover to form Franchise Associates Incorporated, thereby gaining the right to operate their eateries independently of the larger corporation. Over the years, though, the restaurants slowly atrophied under the weight of their own old-fashioned, pre-fab image.
"Howard Johnson's was always on a busy corner," Mike Butler pointed out. In the past three decades, owners have found it more profitable to sell off their prime locations than to fight the progress of the American palate. When the Times Square HoJo closed in 2005, its site sold for more than $100 million.
But the Butlers are holding on in Lake Placid — and no longer paying franchise fees. "They can't charge us a franchise fee, because there's no longer anywhere to pay it to," said Butler.
Without the central Howard Johnson's commissary, how can the clams still taste the same as ever? Butler contracts out to Concord Foods in Massachusetts to make the batter for that specialty and for the brand's famous, fluffy pancakes, he said.
In a clever move, Howard Johnson designed his breakfast items to be sold à la carte. That means those sweet, sponge-like hotcakes soak up their syrup alongside near-infinite combinations of eggs, toast and meats that include sirloin steak, kielbasa and chopped ham.
Many items, including all the seafood on the menu, come to the restaurant frozen. Steaks, however, are hand-cut on-site. Butler serves fire-engine-red Glazier Hot Dogs, which are made in nearby Malone.
Butler said he has friends in Burlington and has learned to appreciate the local focus of the Vermont dining scene. "Vermont does a great job with that. New York is so far behind, but a lot of newer places here are farm-to-table," he noted. "But cost-effective-wise, because we're so big, it just doesn't work [for us]. We'd like to [serve more local foods]."
Though he can't afford to serve products from nearby farms, Butler does look to his neighbors to fill the drinks menu. Beers on tap include brews from Lake Placid Craft Brewing, Great Adirondack Brewing and Brown's Brewing in Troy. Vodka and gin come from Lake Placid Spirits.
Those tipples may be refreshing, but some of us prefer ice cream to booze. And HoJo ice cream, which launched the brand back in the 1920s, was famous for its exceptionally high butterfat content and 28 seasonal flavors. Butler said his favorites were banana and blueberry; others included orange-pineapple and apple-cinnamon swirl. "[Howard Johnson] didn't use any artificial flavors," Butler recalled. "Chocolate was from Switzerland; walnuts were from the Pacific Northwest; vanilla was from Madagascar. It was as good as any artisan ice cream being made today."
Sadly, those scoops are no longer on offer in Lake Placid: Production ended a quarter century ago, around the same time the brand's fried clams, macaroni and cheese and other frozen items went the way of the dodo.
Those weren't the only items that once appeared with the Howard Johnson brand name; Butler fondly remembers chewing gum and chocolate bars made for the store. "The only thing that he [Johnson] did that failed was a soda in the early '70s," he recalled. "Howard Johnson soda was not good. It was terrible. Nobody was happy with it. It tasted flat."
Today, the Lake Placid HoJo offers a house dessert of strawberry shortcake that tastes anything but flat — or manufactured. A fluffy corn muffin, flecked with cornmeal, serves as the base for piles of fresh strawberries, cream and vanilla ice cream.
It tastes like America, an America that's now mostly gone: A nation full of boat-like hunks of metal that stop at motor lodges for a rest and a square meal with no frills.
And for those who want to remember the mid-century trickle-down of big-city cuisine to the family roadside stop, the Lake Placid HoJo still serves those clams. "We just try to offer a fair price and a great meal," said Butler. "We're still plugging along."
INFO
Howard Johnson's Restaurant, Lake Placid, N.Y., 518-523-2241. lakeplacidhojos.com
The original print version of this article was headlined "End of the Road"