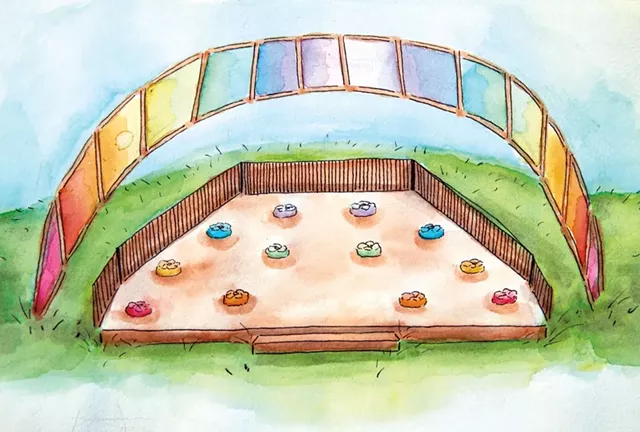 courtesy of lake champlain waldorf school
A new outdoor classroom, illustrated by 11th grade student Wren Van Deusen
Parents and students arrived at Lake Champlain Waldorf School in Shelburne on a steamy Saturday morning in July ready to get their hands dirty. Wearing sneakers, shorts, sun hats and cloth facial coverings, the volunteers gathered to help build six outdoor classrooms that will be used in the coming school year. Four of the spaces will be ready when school opens in late August; two will be completed by students in the fall.
As a saw whirred in the background, Waldorf parent Julie Jennings explained the available tasks to kids and adults: moving stumps and wood pallets into the woods, measuring and drilling boards for outdoor desks, pulling up poison parsnip on the forest trails, or staining a fence surrounding the kindergarten classroom. "That's a really chill job," Jennings said of the last option.
Outdoor learning has always been an important component of Waldorf education, but this coming school year — which will begin as a pandemic rages in many parts of the country — the pre-K-12 independent school plans to embrace it more fully than ever. That's because research has shown that the risk of contracting the coronavirus diminishes greatly in the open air.
In fact, the strategy of moving classrooms outdoors to combat disease dates back more than a century; in the early 1900s, as tuberculosis raged, children in the Northeast attended classes under outdoor tents, on building roofs and, in one case, on an abandoned ferry, according to a recent New York Times article. They kept warm by cocooning in blankets and resting their feet on heated soapstone.
The Turtle Lane Campus of the Lake Champlain Waldorf School, which sits on 22 acres of wooden Nature Conservancy land bordered by the LaPlatte River, is an ideal canvas on which to reimagine learning in the time of COVID-19. The outdoor classrooms, which will be used all year, will be scattered throughout the woods and connected by elevated walkways built to protect the fragile wetlands. Features will include propane heaters, hammock seats, canopies made from parachutes, and poles with hooks to hang portable chalkboards. Volunteers are building 40 convertible wooden desk-benches, and students will also have access to oversize clipboards for working outside. A tiered amphitheater, situated in a grassy field in front of the school building, will provide an ideal spot for larger assemblies and performances.
courtesy of lake champlain waldorf school
Volunteers cutting wood for convertible desk-benches
A large parent donation allowed the school to take on the ambitious project. The outdoor classrooms were designed by head of school Jas Darland, who assumed the helm of Lake Champlain Waldorf School last year. Prior to moving to Vermont, Darland founded and managed the Waldorf Garden School in Atlanta, Ga., the first accredited forest elementary and middle school in the Southeast, where she helped other schools in the region design open-air spaces. Outdoor education, she said, "is near and dear to my heart."
Classrooms built in nature have different characteristics that make them more conducive to different kinds of learning, Darland explained. A space with an expansive feeling might lend itself to oration, for example, while a quiet, tucked-away space would be ideal when students need to complete a task that requires focus or intellectual stamina.
While many Vermont public schools have released plans for a mix of virtual and in-person learning, Darland said Lake Champlain Waldorf School plans to be open full time in the fall. High school students, who used to be based on the school's Bostwick Road building, will move to the Turtle Lane campus this year. The Bostwick campus will be used for early childhood programs, which the school plans to expand to include a part-time morning forest preschool program. In grades 1-12, average class size is between 12 and 14 students, which will help with physical distancing, and all classrooms have doors to the outside and sinks for handwashing. The school will abide by the state's protocols for schools, requiring students to wear masks even outside if they are less than six feet apart.
Christina Bell is a parent of two Lake Champlain Waldorf School elementary students and a member of the school's board. Though reimagining education during the time of the pandemic is not an ideal situation, Bell said, one of the driving questions behind building the outdoor classrooms has been: "How can we as parents come together and create the best possible year for our kids?" The school was already focused on "immersive outdoor education," said Bell, so "it's exciting to be able to solve a problem through one of our strengths."