Courtesy Of Dick Benton
Blue-green algae in front of Dick and Cheryl Benton's home on Lake Carmi earlier this year
The thick layer of toxic blue-green algae that shut down late-summer swimming in Lake Carmi is receding. Whitecaps moved across the water on a gray November day last week, and trees bearing flashes of autumn color dotted the sloping landscape that surrounds the lake in dairy-rich Franklin County.
The water, though still tainted here and there with green scum, appears to be clearing, but the political climate is not. In a state and region where support for dairy farming has traditionally run deep, the script is changing. Some residents who live near Lake Carmi have joined the voices calling for stricter state regulation of agricultural operations. Those enterprises generate 85 percent of the phosphorous pollution in Lake Carmi, according to a 2009 Vermont Agency of Natural Resources study, and have contributed to algae blooms dating back to 1976.
The problem has waxed and waned since then, but residents say they've never seen anything like the severe cyanobacteria outbreak that lasted from late August through most of October.
The intensity of the bloom shocked residents, and some are worried that their beloved lake could end up like nearby Missisquoi Bay and St. Albans Bay on Lake Champlain, which are plagued by chronic blooms.
For too long, dairy has literally been a sacred cow in Vermont, according to retired Vermont Army National Guard lieutenant colonel Judith McLaughlin and her husband, Rob Cormier, a retired U.S. Department of Homeland Security employee, who live in an old stone house on a ridge above Lake Carmi in the town of Franklin. They blame the algae bloom on the spreading of phosphorous-rich cow manure and what they see as lax regulation of dairy farms.
"Around here, when you use 'pollution' and 'agriculture' in the same sentence, it's not popular," said McLaughlin. Although she worries about being ostracized by neighbors, she has repeatedly criticized the dairy industry at public meetings, some of which have gotten heated. Last month state officials dispatched armed game wardens to a hearing that took place at a residential facility for seniors.
That move generated fresh criticism that the state is trying to intimidate people who live near the lake rather than solve a festering pollution problem. Farmers are exempt from many of the rules that cover other businesses, Cormier insisted.
"Pollution is pollution, but if I'm a farmer and I pollute, that's OK," he said.
Anson Tebbetts, secretary of the Vermont Agency of Agriculture, Food & Markets, rejected the idea that dairy farms get a pass when it comes to regulations designed to protect the environment. He said farmers are feeling drubbed by the public debate around Lake Carmi. "Some farmers have told me that it's been rough, it's been rough," Tebbetts said.
Farmers are committed to doing the right thing, and the state is working hard to improve the environment, he added. "Our foot is on the gas pedal, trying to get to a better place in Lake Carmi and all of our waterways in Vermont," said Tebbetts.
Dick and Cheryl Benton don't see it that way. Last Thursday, the retired tool-and-die plant manager and his homemaker wife hosted a state senator at their lakeshore property and showed him pictures of the recent algae blooms.
Thick pea-soup-like water swirled next to the Bentons' pontoon boat in several photos, and, in another, dozens of crayfish crawled up a cement retaining wall next to the murky water. Some of the creatures died as they tried to escape the toxic water, the Bentons said.
The bloom was so bad that the state banned swimming and advised residents not to touch the water.
A foul smell accompanied the green gunk. "We couldn't even open the windows," said Cheryl Benton. "It was awful."
The couple has owned their property on the relatively shallow lake for almost five decades. Carmi runs three miles from its northern to southern ends and measures 35 feet at the deepest point. The shoreline is dotted with more than 200 summer camps, including some on leased land at Lake Carmi State Park.
The Bentons own the land on which their home sits. For years, it was their summer getaway, but now they live there most of the year. They've seen occasional blooms on the lake but nothing compared to this year's. They fear property values will drop. "It's killing us. I've been on the lake since 1970, and this is the first year I've ever seen it this bad," Dick Benton said.
McLaughlin and Cormier organized the visit to the Benton home as part of a tour for Sen. Brian Campion (D-Bennington), vice chair of the Senate Committee on Natural Resources and Energy. A Seven Days reporter also went along.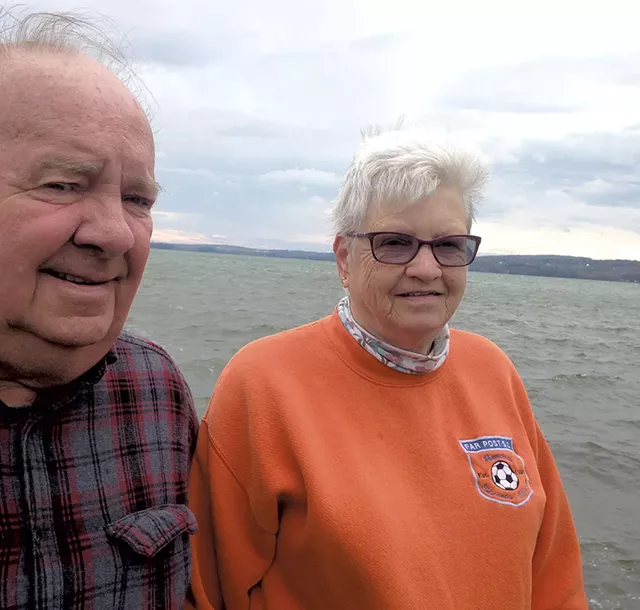 Molly Walsh
Dick and Cheryl Benton
Campion is particularly sensitive to water-quality issues. A suspected carcinogen from a New York plastics company near Bennington recently contaminated the private wells of some of his constituents.
"Clean water is a public right," said Campion, who is leading an effort to scrutinize dairy regulation. He plans to hold a legislative hearing in the town of Franklin later this month. "We want to hear directly from people," he said. That includes lakeshore homeowners, farmers and other members of the community, he added. "Everybody."
Among the questions: Should farm structures and their accompanying large manure pits continue to be exempted from Vermont's state land use law, known as Act 250? Campion, who serves on a legislative commission that is examining the act, wants to know: "Where has Act 250 worked, and where has it not worked? And I think the farm exemption is a great place to start."
Campion and other lawmakers have asked Tebbetts and Agency of Natural Resources Secretary Julie Moore for a report on whether the farm exemption "has contributed to the pollution of the waters of the state," Campion said. They are expected to respond at the commission's December 13 meeting in Montpelier.
Campion also thinks it's time to discuss a shift in regulation that would move enforcement of farm water-quality rules out of the Agency of Agriculture and into the Agency of Natural Resources, which is more focused on environmental enforcement.
Tebbetts noted that the legislature has discussed that before and opted not to make the shift. He also said that farms, while exempt from Act 250, are already heavily regulated under other state laws and rules.
The state's Required Agricultural Practices mandate buffer strips between croplands and waterways to reduce erosion and runoff. Farms with at least 50 dairy cows are required to create a nutrient management plan for manure spreading and storage; and large and medium farms have to submit annual compliance reports to the agency. In 2015, the legislature increased regulations and gave the agency additional authority to issue emergency orders to protect water quality and require a farmer to sell or remove livestock when the volume of animal waste exceeds farm capacity.
Critics say the rules are full of holes and poorly enforced.
Their view is countered by fears that tighter regulation will drive more farms out of business. Small dairy operations have been folding in Vermont for decades, despite federal milk subsidies and state tax breaks designed to protect farm- and forestlands.
The trend is nuanced, though. As the number of dairy farms in Vermont has declined, those that remain in operation have more cows. Over the last five years, the number of dairy farms dropped from 1,051 to 786, while the average number of cows per farm increased from 128 to 164, agency statistics show. The number of farms with more than 700 cows increased from 18 to 27.
Franklin County is home to 141 dairy farms, more than any other county in Vermont. It's unclear how many are in the Lake Carmi watershed. As of the 2009 state study, there were just five. But counting farms, or cows, isn't the only measure of agricultural impact. A significant acreage of former pastureland in the watershed is leased to grow hay and corn for cows nearby. These fields are often spread with trucked-in manure and commercial fertilizers.
Meanwhile, many cows on the larger, more mechanized farms in Franklin County rarely — if ever — leave the barn. Critics such as McLaughlin claim these are not family farms and are calling for regulation of their manure pits, which hold millions of gallons of animal waste, and the traditional practice of spreading it on fields.
Former ag operations also present environmental problems, as demonstrated by one recent cleanup on a defunct dairy farm near Lake Carmi. The project involved emptying a pond, scraping manure-saturated sludge from the bottom and spreading the material on an adjacent field.
Apparently responding to the outcry at Lake Carmi, the agriculture agency sent out a press release trumpeting the long-planned work, stating that a "critical Lake Carmi water improvement project" was under way. Tebbetts was quoted saying, "This project signifies how our team wakes up every morning trying to make our environment better."
Federal clean water funding totaling $60,000 was allocated for the cleanup. But neighbors say that the project at the farm of Peter and Carolyn Kittell in Franklin was flawed in a number of ways and epitomizes weak Vermont farm regulation. State officials acknowledged that tests of the water in Lake Carmi suggested that high levels of phosphorous were seeping downhill from the manure-drenched pond on the Kittell property via a stream.
Many residents suspected as much and have wanted action for years, said Cormier. "It was an ecological disaster," said Cormier.
The recent spreading of the pond sludge onto the adjacent field won't solve the problem, Cormier predicted.
"This is all gonna run off down into the lake," he said last Thursday on a visit to the site with Campion.
The Kittells did not respond to a message seeking comment. John Roberts, a small-farm water-quality specialist at the agency of agriculture who directed the cleanup, said he believes it will be a success. The field was chisel-plowed before the spreading, a deep tillage technique designed to help the material soak into the soil. It's been planted with oats and rye — cover crops that are expected to absorb the phosphorous. The line of trees and other vegetation between the field and the lake also acts as a natural filter.
"I think a lot of critics need to go and do some basic soil chemistry research to fully understand the processes whereby phosphorous is assimilated and held in soils," Roberts said.
Cormier, McLaughlin and Dick Benton are also upset that no fines were levied on the Kittell farm and that public tax dollars financed the pond cleanup.
Roberts confirmed that there were no state enforcement actions and that the project was the result of several years of negotiation.
One of the challenges is that the phosphorous buildup likely dates back many years on the farm to an age when "there were no rules of any kind," Roberts said.
People who live near Lake Carmi say it's time to have a more frank discussion about strict regulations going forward. During last Thursday's tour, Campion pledged to try and lead that conversation.
McLaughlin was encouraged.
"For me, saying that the dialogue is going to happen, I say, thank God."