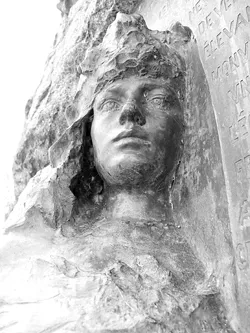 Rodin sculpture at Crown Point
The bridge that spans Lake Champlain at Chimney Point — New Yorkers call it Crown Point — connects a desolate, rural stretch of Adirondack North Country to pastoral Vermont. The noxious paper mill at Ticonderoga, notable for its tire-burning schemes, rises on the New York side to the south. In Vermont, the nearest "destination" is the migratory bird area at Dead Creek, where for most of the year, the scene is as lifeless as its name suggests.
It's not exactly the kind of place you'd expect to find a sculpture by Auguste Rodin.
The 19th-century French sculptor created "The Thinker," "The Kiss" and "The Gates of Hell." Rodin sculpted in plaster or clay, then mass-produced his work by having it cast in bronze. You can see examples at the finest museums in the world, including the Louvre. Or you can drive across the Samuel de Champlain Bridge.
Towering over the campground is the Champlain Memorial lighthouse. Embedded in its side, just above eye level, is "La France," a bronze bust of a young woman, signed by Rodin. Don't bother looking for any signs pointing you towards the sculpture. There aren't any.
The ramshackle tourist info center is only slightly more helpful. It houses hundreds of colorful brochures for attractions such as mini-golf and paintball, but the flimsy black-and-white tri-folded page that describes the Rodin is an outdated and poorly reproduced photocopy. A dark black finger smudge partly obscures the letters DEC - the acronym for New York's Department of Environmental Conservation.
On an afternoon in late March, there's just one brochure left. Tourist Information director Suzanne May opens a drawer in her office, pulls out the original, and slaps it on the copier to make more.
"I know," she says, "Pathetic. We can't get state funding to print any more. If I ever lose this, I'm in big trouble."
May, a native of upstate New York, remembers visiting the lighthouse, with its ornate stonework and large carving of Samuel de Champlain as a child. She didn't understand the significance of the bronze bust until she started working here. "They all go to Paris and go to the Louvre to see the Rodins, and it's right here," she says. "I feel so fortunate to have it in my backyard."
But does anyone even know it's there? Frances Chevalier sure does. The chair of the Department of Modern Languages and a professor of French at Vermont's Norwich University, was born in France and came to the U.S. at age 14. She remembers visiting Rodin's work in Paris as a child.
The scholar has an infectious passion for the piece, but not just because it's a Rodin. Chevalier is more interested in the bust's model. She claims the woman gazing at the Green Mountains on the Lake Champlain side of the lighthouse is actually Camille Claudel, a gifted sculptor in her own right. There's no indication in the brochure or at the lighthouse that this is the case, but Chevalier says curators and researchers have confirmed that Claudel is the lady on the lake.
Claudel was Rodin's apprentice, model and mistress before being involuntarily committed to an asylum by her mother and brother in 1913. She spent the last 30 years of her life locked up and prevented from writing, sculpting or communicating with the outside world. Much of her work has been lost. Her tragic story has been chronicled in books and in the 1988 movie Camille Claudel, starring Isabelle Adjani and Gerard Depardieu.
Chevalier held a conference at Norwich on Claudel in 1995. Nine years later, a friend told her about the bust in New York, and she became determined to find it. "No one knew where she was," Chevalier recalls. "I asked all around. I went to Lake Placid tourist center. They didn't seem to know. They called here. No one seemed to know."
When Chevalier finally found the bust, she was shocked by its seeming neglect. The sculpture isn't lit at night or protected by a security system. It looks as if it hasn't been professionally cleaned in ages. The French inscription is barely legible.
"At the time I came here, it was late May, and there were all these RVs all around it," Chevalier recalls. "A friend who was with me said, 'Oh, why don't you check this out?' I said, 'No, it can't be in there. They wouldn't do that.' Sure enough, there it was."
Chevalier is on sabbatical this spring, working on an article about Claudel and the Crown Point sculpture. She'll be traveling to France in May, in part to research other copies and versions of "La France." The Rodin Museum has one, as does the University of Glasgow in Scotland. Chevalier has offered to rewrite the brochure describing the work. She's also pushing New York State officials to have it cleaned and restored.
Touring the site on a bleak and blustery day, she can't take her eyes off the bust. "It captures her beauty," she says of the likeness. "There's a haunting look to her."
**********
How did this intriguing artwork wind up on the shore of Lake Champlain?
As any student of local history knows, before highways and railroads, the lake was the area's primary means of commercial and military transport. The narrow channel between Vermont and New York was a strategically important spot for anyone looking to control passage on the lake. Suzanne May calls this stretch of water "a superhighway of the past."
"It doesn't seem it right now, because of the way the transportation has evolved," May says. "But this has always been a really significant piece of geography."
On the New York side of the bridge is the Crown Point historic site, the ruins of an English fort. The French had fortifications here at one time, too. The point on which the lighthouse sits is said to have been the site of a battle between Samuel de Champlain and the Iroquois.
In 1909, the area celebrated the 300th anniversary of Champlain's "discovery" of the region. In May 1912, while the memorial lighthouse was being constructed on the site, a French delegation traveled here to present Vermont and New York with the Rodin bust as proof of the friendship between the two countries. President William Howard Taft made the trip to the lighthouse.
Chevalier points out that Rodin was still alive at the time, and was known around the world. Having one of his works on this lighthouse would have been an honor.
Ironically, while this version of her visage was being publicly mounted, Camille Claudel herself was retreating from public life. She was born in 1864, a time when women in France were discouraged from pursuing careers as artists. She studied sculpture at one of the few schools that accepted female students.
When one of Claudel's early teachers left for Italy, he asked Rodin to advise her. When she met Rodin in 1883, Claudel was 19. He was 43.
Rodin ran an innovative studio, in which dozens of assistants would help him mass-produce his sculptures. Claudel became one of those assistants in 1884. "Of course at the time that would have been a thrill for a female sculptor to have that opportunity," Chevalier observes.
Claudel soon became one of Rodin's lovers; he had many, including a common-law wife, Rose Beuret, who finally married him in 1917 - the year they both died.
But Claudel's relationship with Rodin was particularly passionate. She modeled for several of his works, and collaborated with him on some of his most famous pieces. The intensity and importance of their partnership has been widely acknowledged. The Musee Rodin in Paris exhibits some of Claudel's work.
Chevalier says there's also speculation that Claudel sculpted hands, feet and heads for some of Rodin's well-known works, such as "The Burghers of Calais," and "The Gates of Hell." She asks, rhetorically, at what point did his work end and Claudel's begin? "It's not clear," she says.
Claudel and Rodin finally ended their romantic relationship in 1898. Claudel is rumored to have had children with her older lover, and likely had at least one abortion as a result of their relationship. She produced some of her best work in the 1890s. Critics lauded her seemingly "male genius," but after the breakup with Rodin, she became increasingly paranoid. She accused him -- perhaps rightly so, suggests Chevalier -- of stealing her work.
Claudel's mother and her well-known brother, the writer and statesman Paul Claudel, were embarrassed by her unconventional lifestyle. "To have a very visible woman who is apparently unmanageable or uncontrolled by the norms, would create le scandal," quips Chevalier.
Camille Claudel's father approved of her aspirations, but days after his death in 1913, her mother had Claudel dragged off to an asylum. She never knew it was her mother who had her committed; she reportedly thought it had been Rodin.
Claudel was institutionalized until her death in 1943. Her mother never visited her; her brother dropped by once every few years. After her death, Claudel's bones were interred in a common grave.
The tortured tale clearly fascinates Chevalier. "Unfortunately I don't think it was unique at the time," she muses, "and perhaps not even today."
She hopes to use a revitalized Crown Point, with more and better information about the bust, to educate Vermonters and New Yorkers about Claudel's life and work.
But it's not clear whether Chevalier will get her way. Charles Vandrei, an historic preservation officer with the DEC, is scrambling to fund renovations to the Crown Point site in time for 2009, the 400th anniversary of Champlain's arrival.
He says he's been "begging" for money, and has found funds to shore up the bank, renovate the visitor's center and fix the pier. But securing some spare change for the lighthouse is proving a challenge.
Chevalier is hopeful that it will happen. "I think by studying Camille's situation, we can perhaps learn more about the dynamics of how someone's creativity can be snuffed out," she says. "And how it can seem to be of some danger to the establishment."
Too bad it relies on the establishment for funding.