Courtesy Of Luke Awtry Photography
Ngonda Badila of Lady Moon & the Eclipse
One of the most memorable events of 2017 was August's much-hyped total solar eclipse. A portion of the United States was lucky enough to be situated in its path of totality. All of a sudden, "eclipse tourism" was a thing, and people flocked to the Midwest — the country's prime viewing location.
In the weeks leading up to the grand celestial display, Brooklyn-based Afro-funk fusion band Lady Moon & the Eclipse embarked on a special Eclipse Tour — which makes sense, given both their name and conceptual architecture. Front woman Ngonda Badila — aka Lady Moon — and her band, which she refers to as "the Sun," create an entangled, eclipse-like union for their audiences, who, whether they know it or not, participate in the imagined extraterrestrial event as "the Earth." Thus, the union of Earth, Moon and Sun is complete, resulting in a trippy, R&B-tinged journey into what Badila calls the "cosmic soul." (More on that below.)
Born in Paris and raised in New York State, Badila came of age singing and dancing with her family in the Diata Diata International Folkloric Theatre in Hudson, N.Y. Originally founded by Badila's parents in Paris as a traditional Congolese dance troupe, the African-heritage performing arts group evolved into a full-blown theatrical company. Much of the visual artistry seen in LM&TE can be traced back to Badila's work with her family.
And she's not the only one of her nine siblings to pursue a career in music. Two of Badila's sisters, Ntangou and Nkoula, provide backup vocals in LM&TE. And her brother, Milandou, performs under the moniker Young Paris. The rapper is currently signed to hip-hop superstar Jay-Z's label, Roc Nation.
LM&TE perform on Saturday, January 13, at Radio Bean in Burlington. Seven Days caught up with Badila by phone.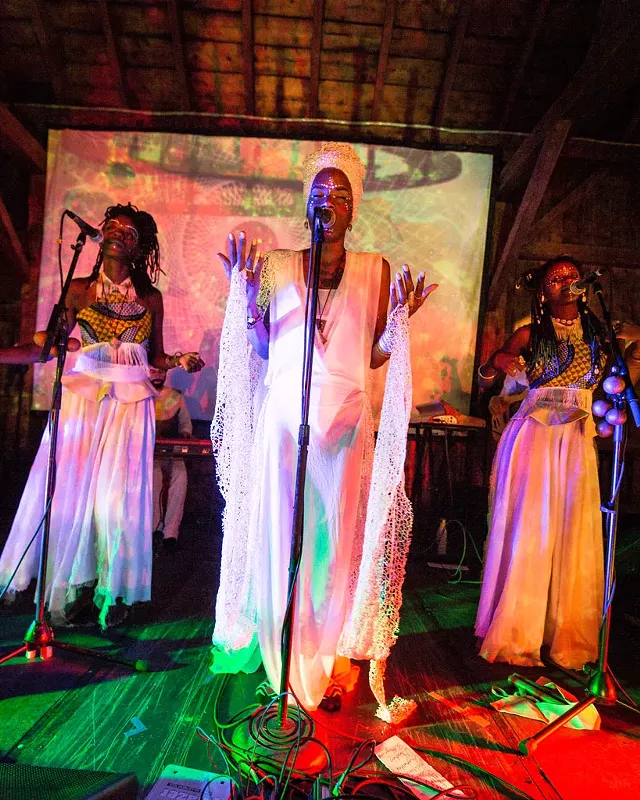 Courtesy Of Luke Awtry Photography
Ngonda Badila (center) of Lady Moon & the Eclipse
SEVEN DAYS: In addition to your upcoming performance, you're here for a retreat. What's that all about?
NGONDA BADILA: It's a music-writing retreat. We come together, live together, cook and eat together. We write music, rehearse and kind of vibe with each other in a more intimate way.
It's kind of complicated how we create music. It's not just me telling the band what to do. It's more me working as the Moon with the Sun — a community of fire, of ideas. I share my message — this journey to the cosmic soul. [It's a] way of living — a lifestyle of peace. It's a journey to becoming your best self. Who are you without the traumas or the layers of insecurity? [It's about] releasing, so you can keep rising.
SD: Do you have any particular goals for this retreat?
NB: This retreat is an initiation for the third phase of our [upcoming full-length] album. We're recording it in three phases: the Sun, the Earth and the Moon. It's a way to share with our audience what we're trying to say. The message we're sending is more than just the music. It's a lifestyle, a way to work with each other as a music community of beings from all different cultures.
It's also a metaphorical message of our cosmic world, which is a big part of what inspires us to be our best selves. We're trying to figure out how to send this message with clarity.
SD: Tell me more about these "phases."
NB: The first phase was the Moon phase. The songs [from that session] are about expressing the light. I want them to feel like you're speaking to the light. I want you to imagine a light in your head when you hear these particular songs.
The second phase is the Earth phase — vibrating [with] the spirit of the Earth and what it's feeling right now. It's gonna feel a little crazy, because the world is crazy right now.
For [the third] phase — since I consider the people I work with [to be] the Sun — I really want them to initiate all of the songs. I want them to have a lot more say in the whole process. They could even tell me what to sing.
Usually, I write all of the songs. Sometimes I come with them already arranged. But sometimes the band jams on something, and I really like the idea, and I turn that into a song. But for the Sun phase, I really want them to create it.
SD: You've been performing for most of your life, correct?
NB: I moved [from Long Island] to Hudson, N.Y., when I was 11. That's when the [Diata Diata International Folkloric Theatre] became more family-based. We were doing performances for arts education events, black history concerts, a lot of different things. That's how our family sustained ourselves financially.
SD: What would a typical performance look like?
NB: We wore the traditional pieces: the raffia, the lapa, the armbands, beaded jewelry. Sometimes we wore headpieces — the whole regalia. We would also cover our faces with dots and lines that are spiritual and symbolic to the sacred element of the stories.
When you did these religious and sacred dances in the folklore world of the Congo, you wore certain pieces as part of the message. I feel like that's something that's been incorporated into Lady Moon & the Eclipse.
I believe that what we wear is sending a message. Everything I do is about frequency. How is the frequency of the colors that I'm wearing on my body affecting your frequency?
SD: So, how about that eclipse last summer? Were you able to experience it in a meaningful way?
NB: Oh, yes! I got married on the solar eclipse.
SD: No shit!
NB: I mean, this is my life.
SD: Several years ago, you put the band on pause for a little while, right?
NB: Yeah, I did — when I left Hudson to study music at Hunter College [in New York City]. When I was doing that, I wasn't [performing] for about three years. I was trying to focus on understanding [music] a little bit more — gaining a little bit more knowledge and perspective that's more written and mathematical — not just traditional African drumming, dancing and vibing.
SD: How did your experience at Hunter shape the band as we see it today?
NB: It helped me to understand and communicate more with musicians. That's what I feel like I needed. I feel like during that time I was transforming.
SD: Any plans to collaborate with your brother, Young Paris?
NB: We used to collaborate a lot when we were growing up. But we pursued [music] in different directions. He was more digital, and I wanted the live side of it.
SD: Other than the eclipse, was there anything that particularly inspired you in 2017?
NB: Yes. I worked with a woman — her name is Lizzie West — she was a folk artist signed with some major label. She left [the label] and started pursuing her own passions and music as Cassidy A. Maze. It's very political and self-improvement driven. It's all about how we can save the world.