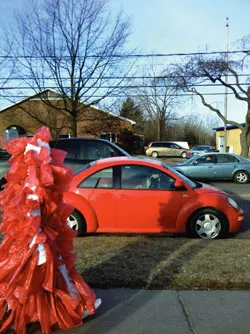 She began as a mysterious figure in white: white, ankle-length parka, white boots and a puffy white hood cinched so tightly around her face that only her eyes and forehead (painted white) were visible. Now she's a walking explosion of red.
No, she's not a crazy person, or an "abominable snowperson," as one curious Seven Days reader suggested; it's Burlington artist Kate Donnelly. Since February 6, she has spent every weekday morning in her eye-catching white-and-red costume, walking the sidewalks of Burlington's South End. She calls the performance piece "Also There: A Performance for the Commuter."
Donnelly takes the same route every day, but her appearance has changed over time. The tiny flecks of red material that peeked out of her parka in the first week have grown. Every day, Donnelly pulls the shiny red stuff out farther. By the second week, it looked like she was adorned with poppies. Now, halfway through the third, the long red sashes cover her almost entirely.
For commuters, the performance has been both intriguing and kind of freaky. Another reader writes in to say she spotted Donnelly on Pine Street. "[It was] a bit scary for the young kids waiting to cross to go down to Champlain Elementary. The crossing guard says she never talks or responds to his greetings."
For Donnelly, it's all part of the show. "The figure, in a state of gradual metamorphosis, momentarily interrupts the attention of an audience who are engaged in a daily transition," she writes on her blog, which can be found at alsothere.blogspot.com. "With the daily reappearance of the figure, the audience may witness the sight again and again, begin to notice it changing, perhaps even look for it. It may become part of their routine."
She adds, "We take comfort in titles, certainties, tangible outcomes ... I wish to remind the audience … to notice the anomalies and embrace adventure."
Donnelly wraps up the adventure this week, so catch her while you can.
"Also There: A Performance for the Commuter". Kate Donnelly walks the sidewalks south on Shelburne Road, west on Home Avenue, north on Pine Street and east on Birchcliff Parkway each weekday from 7:45 to 8:20 a.m., through Friday, February 24. alsothere.blogspot.com, katedonnelly.net