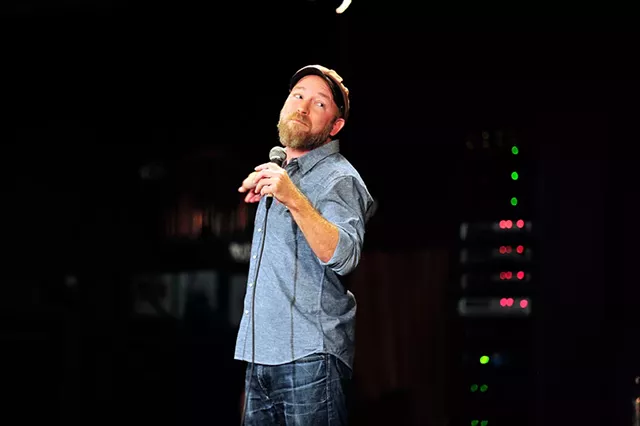 Courtesy of Moses Robinson
Even if you've never seen Kyle Kinane's standup act, you might find the gruff timbre of his voice oddly familiar. Kinane is the "voice of Comedy Central" and can be heard in most of the cable network's ads. He — or at least his voice — is also a regular on the animated show "Bob's Burgers" as well as "Drunk History."
When he's not doing voice-over work, Kinane is one of the funniest and hardest-touring standup comics in the country. Quoth his Twitter bio: "I'm on tour forever." That's no joke. Dude is on the road constantly, riffing on everything from over-supportive parents to embarrassing drunken exploits, always with a keen eye for absurdity.
This week, Kinane's endless tour finds him at the Vermont Comedy Club in Burlington for a run of shows on Friday and Saturday, March 18 and 19. Seven Days recently spoke with Kinane by phone to ask him about comedy, his favorite hobby and why he's voting for Bernie ... sort of.
SEVEN DAYS: Hey, Kyle. How's it going?
KYLE KINANE: Well, I'm barely awake right now.
SD: Oh, I hope I didn't wake you up.
KK: No, no. My sleep schedule is all off. I did morning radio today, and I'm trying to sleep that off. But we're here, and we're lucid, man. Let's do it. Let's have a good time. But if I drift off, I apologize.
SD: I'll do my best to keep you stimulated. So I read an interview you gave recently about how you really enjoy going to smaller towns where the local comedians aren't so caught up in seeking fame or "making it." What do you appreciate about those scenes?
KK: The intentions are more pure of heart. There is an end result. I feel like I'm a good example of, "Well, if he can make it, anyone's got a fighting chance." I'm still surprised by every moment I'm allowed to do this. But then I think, Well, it has been 17 years of working toward this. But it's the intention of why you do.
There are a lot of hobbyists out there. More so than five or 10 years ago. But the people who come out of the stranger scenes, scientists, people like that, you find out they're professionals, and that plays into what they're doing with standup; that's interesting. It's not just some slob like myself going, "Well, I guess I'll try to get a job where I get free beers." Those people aren't looking at standup as a way to put food on the table. They find it later in life, and that's nice to see ... to go to a town where someone is the funny guy in the laboratory and decided to [do] standup.
Courtesy of Moses Robinson
SD: I ask because what you're describing sounds a lot like what is happening here in Burlington. Five, six years ago, there really wasn't much of a cohesive comedy scene. But now there is, and it's grown around the people behind the venue that you're playing here, Vermont Comedy Club.
KK: Yeah, I've worked with them before, and I was excited to see they have a club of their own now.
SD: A lot of people are excited about it. And I think it's really helped the local comedy scene take a big step forward. This is kind of an obvious question, but do you have advice for comics working on that local level?
KK: It's hard, because there are so many different ways to do comedy. I think some people think they can just get up there and talk about their day and riff on a subject and get by on personality. No, you need to learn to write jokes first. Write the jokes. It's like being a cook: "I'll just jump in here and cook you a nice seven-course meal." No, you need to learn to cook pasta first. It's the building block of the whole thing: Write a setup and a punch line. And then, when you want to talk about your day, you'll realize how important that setup and punch line is. Do a five-minute set at an open mic and see how many jokes you can get in.
Outside of that, be weird. If you see something that's weird, it's even more of a reason to talk about it. When I started, I couldn't stop writing. I can write a joke about everything I encounter. But if a subject comes too easily, that means everyone else is going to write a joke about it. Trump jokes — outside of just not being funny to me because he's terrifying — everybody's got one. Your mother and father have Trump jokes. Don't worry about pleasing the audience. Please yourself. I mean, you do have to pay attention to the audience. If you do five sets and nobody's laughing, those jokes might suck. So don't be afraid of a different tactic, is what I'm saying.
SD: On your Twitter feed recently, you said you're voting for Bernie. Not Sanders, but a combination of Bert and Ernie from "Sesame Street." Since we're a Vermont paper, I'm contractually obligated to ask: What are your thoughts on our distinguished senator?
KK: I think he's the best representative of the reptilian subsociety that all presidential candidates belong to. He's the most appealing illusion that we can all choose.
SD: There's a take that will explode some heads in Burlington!
KK: It's like picking out your favorite Kardashian.
SD: You're an avid mountain biker. How did you get into that?
KK: I've never been athletic. But I also wasn't a video-game kind of kid. I wanted to do physical things, but not on teams, because I'd usually be hated by the other guys for being bad at stuff. So I've always liked skateboarding and BMX, the lonely sports. They've always appealed to me because it's just me versus myself. There's no other kids yelling at me. It's kind of like comedy: I want to be good at this, but I don't want to try and be good at it. So I was always terrible at BMX, but I loved it.
When I got to be 30 and living in California, I'd go on hikes and see people on bikes. And I thought, That's what I'm going to do. I think I had just quit smoking, too. I had been smoking for 10 years and drinking and doing nothing physical. So I needed something fun to do. So I bought a bike, and that was it. It's been nine years. I'm terrible at mountain biking, but I couldn't have more fun sucking at something.
I've been in the emergency room more times from mountain biking than anything else in my whole life. But I love it. It's so much fun. It's also dangerous enough that I can't think about anything else while I'm doing it. Oh, these jokes suck. My new hour is not ready. Nope. I've just got to try and not fall off a mountain for an hour and half. Then my head's clear, and I feel good.