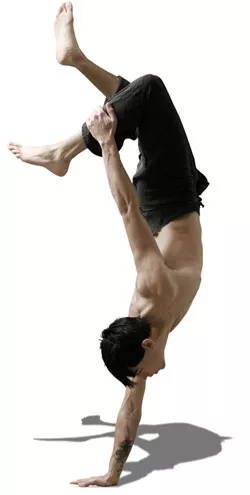 Martial arts masters Jet Li and Jackie Chan have shown their moves in many a Hong Kong and Hollywood action movie, but never together — until now. They meet in The Forbidden Kingdom, an upcoming $75 million Lionsgate film scripted by John Fusco of Morristown. The veteran screenwriter, 49, who also produces many of his projects, has pulled a few strings to give some Vermonters a chance to see the movie early, on April 7 at Williston's Majestic 10. (The official premiere takes place on April 16 in Beijing — a first for a U.S. film — followed by a wide release on April 18.) Another local connection: Burlington native Morgan Benoit plays a major role in the movie.
The Forbidden Kingdom has its roots in Fusco's lifelong love of martial arts and the Chinese folklore and iconography that inform them. When his young son showed a similar bent, he says, he found himself wondering, "What would be the best way to get him really interested in that level of it, so he's not just another taekwondo kid? I created a time-travel story for him, where a young guy goes back into this world, the world of the martial heroes and, in order to complete the hero's journey quest, has to learn the deeper precepts of kung fu." On the set of his 2004 movie Hidalgo, Fusco told the tale to producer Casey Silver, who said, "You're going to write the screenplay."
The film's protagonist is a teenager who discovers a fighting staff in a secondhand store and is transported back to the China of legend, where he learns kung fu from "The Silent Monk" (Li) and "The Drunken Immortal" (Chan). In his 22 years of screenwriting, Fusco has often told stories that mix things up, culturally speaking: In his first film, Crossroads (1986), white college boy Ralph Macchio learned to play the blues from Willie Brown. In The Forbidden Kingdom, nerdy Michael Angarano is the kung fu kid, and Li is his Miyagi.
"I think if you have the passion for something, it doesn't have to be a cultural inheritance," Fusco says. For him, the prime example is Arthur Makaris of Essex's Vermont Kung Fu Academy, where Fusco has studied for eight years: "He's a Greek-American keeping alive Shaolin kung fu." During the Cultural Revolution, Fusco explains, Chinese authorities downplayed the traditional spiritual aspects of kung fu. Many masters emigrated to the West — some to Boston's Chinatown, where Makaris received his training. The acupuncturist and martial arts Sifu (teacher) opened his Vermont academy in 1987.
On the Chinese set of The Forbidden Kingdom, Fusco says, fight choreographer Yuen Woo-Ping (The Matrix) noticed him practicing traditional techniques: "That's the writer doing Shaolin Praying Mantis? Westerners don't do that!" For Fusco, that authenticity justifies the slog from Lamoille County to Makaris' school: "I tell people, 'Well, it's a 21-hour flight to China, and it's a one-hour drive to get to the Shaolin Temple.' In there is the repository of 3000 years of martial arts technique and philosophy."
Fusco arranged the Vermont premiere in large part to give his friends at the Academy a first glimpse at the movie. Also planning to attend is Benoit, 27, a former student who gave Fusco his first tour of the Academy in 1999. Since then, the young Vermonter has studied martial arts and Mandarin in Beijing and made a name for himself in the Chinese film industry. Back in Burlington, Benoit approached Fusco about playing "even a small role" in the upcoming Chan/Li film, Fusco recalls. Fusco recommended him to the producer and director, who decided Benoit was "too good-looking and edgy" to play the insecure lead, but gave him the role of a villain.
Based on the film's trailer, some Internet commentators have criticized The Forbidden Kingdom for using a Western teen's coming-of-age story to explore ancient China. Fusco says it was sometimes "tough to bridge Eastern and Western ideologies," but that Jet Li's active collaboration was invaluable. In an interview with Malaysia's The Star Online, Li calls Fusco a "superb screenwriter" who "has roughly put across in the film some of my basic understanding of martial arts and principles of Buddhism." He also maintains they've "been sparring partners for the past three years."
So has he really taken on the Master? Fusco chooses his words carefully. "Jet and I have spent the last three — almost four — years spending time together in a creative relationship based on martial arts," he says. "I have learned a lot from him, especially just sitting in the Gobi Desert together, exploring the deeper philosophical levels [of kung fu]." But, he concludes, "If Jet sparred with me in the traditional sense, I would be doing this interview at Fletcher Allen hospital — in traction."