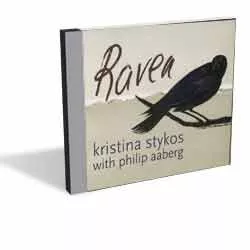 (Sweetgrass Music, CD)
On her third recording, Raven, Orange County musician and songwriter Kristina Stykos blends the wild and the gentle, with both rockin' tunes and the smooth keyboard work and synth imaginings of Philip Aaberg. He's a veteran of Windham Hill Records, the flagship label of new-age music, whose roster also included such artists as George Winston, Liz Story and label founder/guitarist Will Ackerman.
Over the course of 14 original cuts, Stykos covers a wide variety of musical terrain. She rocks out on a big, cutaway acoustic guitar on "Thing for You." On dangerous love songs such as "Turn Off the Noise" and "Soul of My Soul," she croons with a heartfelt, emotional quaver. On "Abenaki Hills" — a current personal favorite — she chants lyrics that one could imagine rising like mist from a mountain lake at dawn.
Throughout the record, Stykos uses her considerable skill as a poet like that of a painter: She draws the listener in and captivates with a canvas of vivid imagery. Her glorious, trance-like guitar riffs and Aaberg's spacey synthesizer work underscore her words, like sunlight refracted through old glass of deep but vibrant colors.
Raven showcases Stykos' consider-able talents as a musician and singer, but also as an engineer. Renown is growing for the sounds she crafts in her homegrown studio at the end of a long dirt road in Chelsea. Listening to this disc, it's easy to understand why.
Recording acoustic music is simultaneously simple and incredibly complicated. Stykos' technical expertise here has resulted in an amazing listening experience. The record swirls with a depth and warmth that makes it stand out from the myriad acoustic releases in Vermont each year. It makes me want to duct-tape my old Dynaco A-25 speakers to my head so I can hear every snap and ring. In more ways than one, Raven is a treat for the ears.
Kristina Stykos performs Wednes-day, February 16, at Kismet in Montpelier with Bow Thayer and Holy Plow.