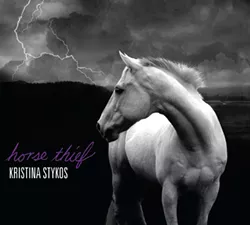 (Thunder Ridge Records, CD, digital download)
Contrary to what L.L.Bean might have you believe, rural life is not all horse-drawn sleighs, crackling fires and double-knit sweater vests. Especially for those who purposefully live in the most remote nether regions of the state, the idyllic splendor and serene isolation of the Green Mountains comes at a terrific cost. It's a hardscrabble existence marked as much by backbreaking labor and frostbitten fingers as by beauty and solitude.
Having lived off the grid in northern Vermont for decades, songwriter Kristina Stykos knows this well. That delicate balance between the harsh and the heavenly has characterized her music, both sonically and thematically, dating back to the early 1980s. But it has never emerged as so fundamental to Stykos' writing, playing and singing as it does on her latest record, Horse Thief.
Setting aside specifics for the moment, there is a hard-earned, rough-hewn quality to every nook and cranny of the record. It emerges most obviously in Stykos' weary vocal rasp, which sounds something like Iris DeMent after a half bottle of Jack Daniels and a few Marlboros. It's evident in subtler ways, too. Self-produced and recorded at her own Pepperbox Studio in Chelsea, Horse Thief is perhaps the most vibrant-sounding record in Stykos' voluminous canon. But that bright sheen obscures the tumult embedded in her unflinching songwriting and stormy arrangements.
On the opening title track, Bow Thayer's bojotar — that's half banjo, half resonator guitar — slithers around Stykos' moody acoustic arpeggios. Meanwhile, Patrick Ross' simmering fiddle lurks in the background, waiting to strike. The effect is ominous, crafting a perfect framework for Stykos' rustic tale.
"It's Over" is a late-night confessional, presented like a one-way conversation between Stykos and the dying embers of a fire. Here, she ruminates with smirking honesty on a fading love, finding bitter irony in the notion that time, which should serve as a foundation for love, is precisely the thing that drives the wedge deeper. "Now, the remnants of my face / Can't make him feel that way / It's all that I was hoping for / It's all that's given way," she sings, her words dripping with lament.
That the things we build and that build us up are also the things most likely to cause us to crumble is a central concern on Horse Thief. Some variant of that theme runs through tender tracks such as "Heart in the Wreckage" and "By the Minute," as well as fiery outings including "Let It Run" and "Talk to Me." And it's driven home, albeit wordlessly, on the elegiac instrumental closer "Remembering."
Horse Thief is an examination of love and aging inspired and informed by a lifetime spent both battling and embracing the harshness and isolation of rural Vermont. Like love, Stykos' unforgiving wilds both require and return strength. But they will also, like love and time, exact that very strength from you. It is a complex idea, brilliantly explored on the songwriter's latest, and likely greatest, record.
Horse Thief by Kristina Stykos is available at kristinastykos.com.