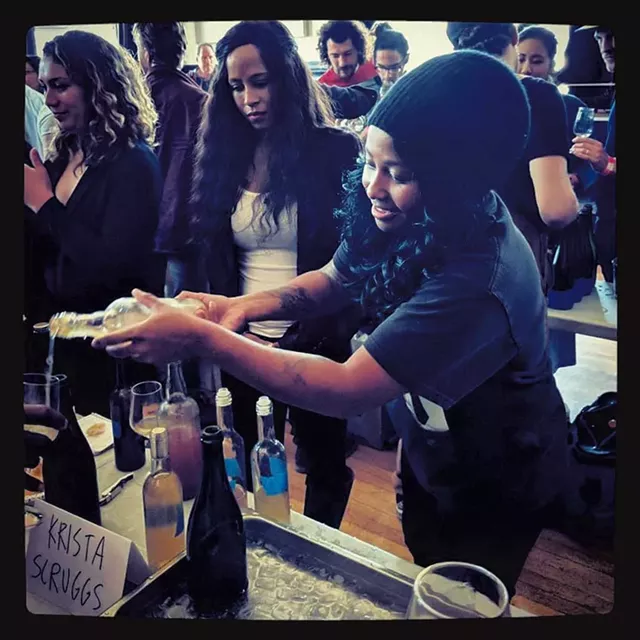 Courtesy Of Zafa Wines
Krista Scruggs of Zafa Wines
It sounds like the beginning of a foodie joke: A Californian wants to make wine, so she moves to Vermont. But that's exactly the story — the gist of it, anyway — behind Vermont's newest independent wine label, ZAFA Wines.
Krista Scruggs grew up in California, the American promised land of gold and grapes. But when she realized she wanted to be a winemaker, she knew she had to leave. Farmland in her home state is unaffordable, to put it mildly. Besides, she wanted to work with La Garagista's Deirdre Heekin, who has become a fairly high-profile natural winemaker — particularly with regard to natural wines made using cold-climate hybrid grapes.
After connecting with Heekin at a La Garagista tasting in the Bay Area, Scruggs packed her bags for Vermont. She spent the past two years apprenticing at Heekin's Barnard-based winery and vineyard.
Meantime, earlier this winter, Rob and Kendra Knapik, a Norwich University physics professor and a veterinary oncologist, respectively, purchased 10 acres of 14-year-old vines in South Hero. They've renamed the former East Shore Vineyard Ellison Estate Vineyard and plan to convert the property — one of Vermont's oldest plots of hybrid vines — to organic production. Scruggs has signed on to manage the vineyard.
"The vineyard has not been touched in a year, for better and worse," she said. "That's actually a good thing in terms of converting it to organic." Indeed, organic rules require that the land be untouched by chemical fertilizers and pesticides for three years prior to certification.
Last week, Scruggs announced that she'd teamed up with her friends at Shacksbury Cider to use their Vergennes fermentory as her production space and tasting room. So, when ZAFA's 2017 wines — made with 100 percent Vermont fruit, including grapes from La Garagista's nearby Vergennes Vineyard and foraged apples — are released later this spring, they'll be poured alongside the apple beverages at Shacksbury.
From 2018 onward, ZAFA wines will be made with grapes from South Hero — and, in some cases, with foraged apples. Other local winemakers will be able to purchase grapes from Ellison Estate Vineyard, too, including La Garagista, Shacksbury, Barnard's Fable Farm Fermentory and Shelburne Vineyard winemaker Ethan Joseph's natural wine project, Iapetus Wines.
"It is really important to us to set aside a portion of the fruit for local winemakers," Scruggs said. "So it all ties back to community."