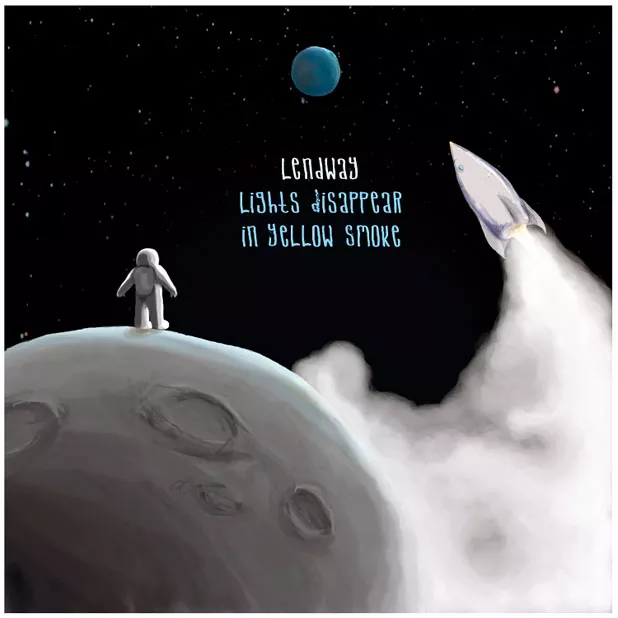 Earlier this month, local indie outfit Lendway released a six-song EP, Lights Disappear in Yellow Smoke. The disc was a follow-up to their highly regarded debut album, The Low Red End, and featured a song called "New York, New York," arguably the EP's centerpiece. But unless you bought one of the first 500 copies printed, you will probably never hear it.
On Monday, September 7 — five days after a favorable review of Yellow Lights appeared in these pages — Seven Days received an email from local duo Ghosts of Pasha alleging Lendway had reproduced "New York, New York" without permission or crediting the band in the EP's minimal liner notes. The email also asks Seven Days to "set the record straight" regarding the matter — a task that has proved easier said than done. Buckle up for the story.
"New York, New York" originally appeared in 2004 on a Ghosts of Pasha EP entitled G.O.P. ASCAP publishing credits list current GOP members Milo Finch and Chris Partyka, as well as ex-drummer Ezra Oklan, as the tune's songwriters. There is no mention of Lendway or any of its individual members having publishing rights.
But should there be?
In 2002, Lendway front man Michael Clifford was briefly a member of Ghosts of Pasha and participated in the initial writing session for "New York, New York" with Oklan and Partyka. Finch also claims to have been involved, though both Clifford and Oklan offer contrary recollections, claiming the first session involved only the aforementioned three members. That Finch was involved in later sessions is not disputed.
Also undisputed is that the tune's original concept was Oklan's. The drummer created the song's skeleton, which would be fleshed out by the group with lyrical contributions from Clifford, as well as a modulation that appears in Lendway's version but not GOP's.
Shortly after that session, Clifford left the band. GOP went on to record and release the song and eventually license it to Showtime. The cable television network used it in an episode of "This American Life," a television version of Ira Glass' radio show of the same name, produced by Chicago Public Radio. The episode featured Ghosts of Pasha.
According to Finch, Clifford's contributions to the tune were stripped entirely from the song prior to that recording. And comparing the two versions side by side, that would appear to be the case. However, Oklan offers a different take.
"Mike had a lot to do with that first session," he says. Oklan notes that there were several writing sessions for "New York, New York." While Finch claims that GOP ultimately did not use his specific lyrical contributions or structural ideas, Oklan suggests it would be impossible to quantify Clifford's input, which would be key to determining copyright co-ownership in court, should either side choose to pursue the issue that far.
"I can't say that [Clifford] had no influence on the song," says Oklan.
According to Finch, Clifford actually performed the song with GOP on a couple of occasions prior to leaving the band, including a performance on Goddard College's radio station, WGDR.
Dennis Wygmans, the one-time co-owner of Burlington nightclub Club Toast, is now a Brattleboro-based entertainment lawyer who spent the last several years practicing in New York City. He points out that copyright for "New York, New York" likely existed long before anyone registered the song.
"When people get together to create a work of any kind, that creation is basically copywritten at the point that it is fixed in a tangible medium," he says. That could include anything from lyrics written on a notepad during a rehearsal to a demo recording or album. Or a live performance on a college radio station.
"Just registering something doesn't necessarily create the copyright," Wygmans notes. "All it does is create a cause of action, so if you need to sue someone in the future, you can … and recover damages."
Finch has hinted at the possibility of a lawsuit, both in an email and in a phone conversation with Seven Days, citing frustration at the lack of swift resolution to the issue. But legal action seems far-fetched, if only for the fact that the cost of it would outweigh any potential gains on either side. Furthermore, Lendway has since stated that they will destroy the remaining copies of the EP and remove "New York, New York" from future pressings of Yellow Lights. They are also removing a melodic theme written by Partyka from the song "White Noise," a version of which appeared on a GOP EP called Grand Army of the Republic Highway. GOP's version does credit the tune's primary songwriter, Michael Clifford.
"I just don't care," says Clifford, who claims to have lost eight pounds and several nights' sleep during the ordeal. "It's just a song," he concludes, adding, "To me, 'New York, New York' is a cover now. They [GOP] can have it."
Wygmans points out that regardless of who really wrote the song, technically, Lendway did not need permission to record their version of "New York, New York" — Lendway did approach Oklan just prior to the EP's release, and Oklan consented to its inclusion, albeit without consulting Finch or Partyka. However, as the registered copyright exists now, Lendway should still have credited GOP as songwriters, as well as paid a per-use fee, known as "mechanical royalties," to the tune's publishers, in this case GOP.
Though it differs from case to case, the going rate for mechanical royalties on a song under five minutes in length is generally around 8 cents per copy. In other words, to use "New York, New York" on 500 CDs, Lendway should have paid GOP — wait for it — $40. Put another way, each GOP member would have received $13.33 in royalties. Of course, had the song become a commercial success, those numbers would have increased exponentially.
Much ado about nothing? Perhaps, though the principle is important, especially in a town where musicians swap partners like it's Saturday night at Plato's Retreat. Copyrights exist for a reason, and not merely to provide the grounds for frivolous legal action. They provide documentation and an avenue through which to protect the only asset most local musicians have: their music.