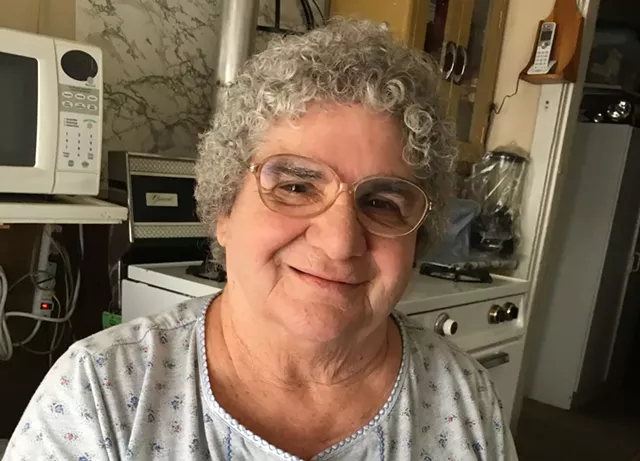 Matthew Roy
Frances Chandler
The Committee on Temporary Shelter opened its Daystation in a newly renovated building at 95 North Avenue about a year ago. Soon afterward, people started showing up at a door just a couple of blocks away — at 95 North Street.
COTS offers various types of assistance for the homeless. But the door at 95 North Street opens to a stairway that leads to a second-floor apartment. That's where Frances Chandler has lived for half a century and raised a family with her late husband, Frederick.
One of the first people to ring Chandler's bell by mistake was a woman in a suit who was looking for her "client." Soon, homeless people who needed help started showing up. One man told Chandler he followed GPS guidance to her doorstep.
Everybody was polite, and Chandler took it in stride.
"I realized they were looking for COTS, and I directed them down the street," she said.
The situation was not entirely new to her. The COTS building was once home to Burlington College. Chandler used to get the school's mail by mistake, and she'd give it back to the postman.
Chandler is sympathetic to the plight of the homeless, especially, she said, in light of Burlington's high housing costs. Years ago, homeless people slept in her yard.
Chandler's fond of her Old North End neighborhood. It's changed a lot over the decades; she lives above Everest Asian Market on a block that is also home to the Nepali Dumpling House and Thái Phát Oriental Food Market.
Chandler doesn't bear any ill will toward COTS. "From what I read, they're a good organization," she said.
But she got tired of answering the doorbell.
So she taped a simple hand-lettered sign to her front door. "This is not COTS," it says. "They are at 95 North Ave."
Matthew Roy
The door at Fran Chandler's home at 95 North Street in Burlington.
The strategy worked — for the most part. Now and then, somebody still rings the bell. "I'll go down, and they're walking down the street," she said. "I guess they read the sign."