It's that time of year when Vermonters are digging out their sweaters, mittens and caps — and when knitters, spurred on by dropping temperatures and perhaps by a plethora of holiday craft fairs, take up their needles with renewed purpose.
But we're not talking about your grandmother's knitting. A growing crop of Vermont crafters is using the age-old skill to whip up anything from stylish sweaters to offbeat children's costumes to sculptures with a social statement.
Seven Days tracked down three accomplished knitters to talk about the joys — and boundless possibilities — of their hobby.
Leslie Roth, Montpelier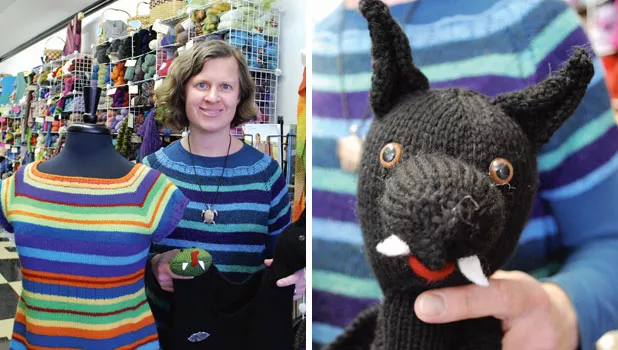 A 42-year-old mother of two, Leslie Roth isn't necessarily the type you'd expect to run out and commission a tattoo for her upper arm. But she did. And the tattoo itself is perhaps even more startling: a skeleton wielding knitting needles and a hank of yarn.
That just goes to show how devoted Roth, a co-owner of the Knitting Studio in downtown Montpelier, is to her favorite hobby. It also hints at her offbeat approach to knitting.
When she picked it up in her early twenties, Roth was attracted to the functionality of knitting; she liked knowing her leisure work resulted in something useful at the end of the day. "It's relaxing; it's creative; it's functional," she explains.
Pretty early on, Roth admits, she began deviating from patterns. "Some of us are not so good at taking instruction," she jokes. Now she specializes in original designs — from one-off creations she knits for herself and family members to freelance patterns she creates to share with other knitters.
That might sound revolutionary to hobbyists still wedded to their pattern books, but Roth insists it isn't.
"Knitting is not skydiving," she says. "You can mess up as much or as often as you want, and no one is going to get hurt."
Pulling projects from her tote bag, Roth describes some of her recent designs. She's knitted Halloween costumes — among them a lamb, a penguin, a pterosaur, a chimera and an Ewok — every year for her children, now 5 and 8. After hearing a radio feature about a musician who drafted a composition based on the number pi, Roth whipped up a dress in which each stripe represents, in color and number of rows, a digit in pi — out to 50 decimal places.
This time of year, she's juggling a few projects — holiday presents, knits for the store, socks.
"I'll knit with anything but wire," Roth says, and adds, "It's really popular right now. Just not with me."
Stephanie Vianelli-Nixon, Burlington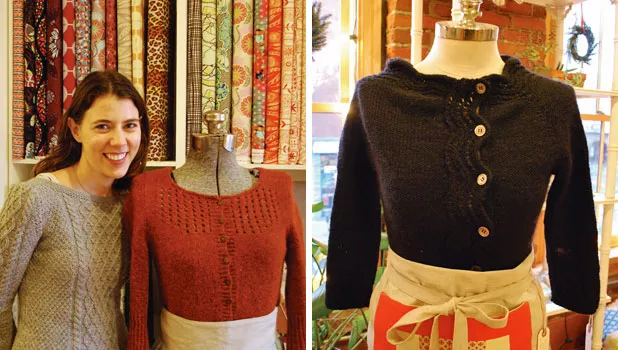 Stephanie Vianelli-Nixon begged for knitting needles as a child — and the crafter, now 30, remembers when Santa obliged the 7-year-old's request. "I wasn't instantly good at it," she admits, so she set the needles aside for some years. But her interest in the craft endured, and when her best friend showed her the ropes, Vianelli-Nixon, then a 24-year-old grad student, was hooked. "I would not have survived grad school if not for the knitting," she says.
A relatively recent transplant to Burlington — her husband snagged a postdoctoral fellowship at the University of Vermont — Vianelli-Nixon counts herself lucky to have lived in some great crafting communities. Now she works four days a week behind the bright, cheerful storefront of Nido, a College Street fabric and yarn store. Peruse the lovingly curated shelves there and you'll probably stumble on more than a few of Vianelli-Nixon's knit wares.
"This girl can whip out a sweater in — how long?" asks Nido owner Phiona Milano, glancing at Vianelli-Nixon. (The answer: a lightning-quick three weeks.) "I've never seen someone so able to produce so much."
Vianelli-Nixon admits that she does knit a lot of sweaters. "It makes you feel good when someone says, 'You made that?'" she says. Plus, after struggling for years to find clothes that properly fit her frame, Vianelli-Nixon found she was better off knitting something from scratch. She sticks mostly to patterns but has a strong sense of taste — a 1950s aesthetic, she says, that's fairly "vintage-y."
Most of all, though, Vianelli-Nixon is inspired by the fibers. Wandering through yarn stores as a child was what drew her to the craft, and her advice to aspiring knitters is, first and foremost, to find a yarn they love. "If you don't love it, you're not going to use it," she says.
Eve Jacobs-Carnahan, Montpelier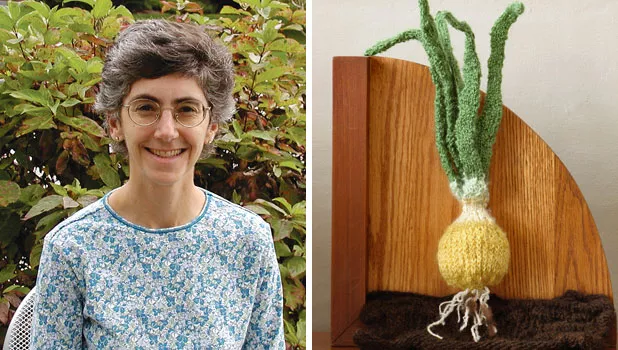 Eve Jacobs-Carnahan, 52, got her start knitting as a child — first with a pair of mittens, then scarves and hats. By the time she reached college, she was crafting complicated sweaters. But what the seasoned knitter remembers more vividly than those early projects is the moment, about 15 years ago, when she first realized that knitting could be more than just producing functional clothing: It could be art.
That realization came when Jacobs-Carnahan picked up the 1996 book Knitting in America: Patterns, Profiles, & Stories of America's Leading Artisans. "It just blew my mind," she says, remembering being particularly struck by a project called "Portrait of Alzheimer's" by fiber artist Katharine Cobey. The sculpture showed an intricate lace shawl that devolved into strange holes and shredded wool and silk.
For Jacobs-Carnahan, who had long worked from patterns, the shift to sculpture was "a big jump," she says. "It was a big, mind-opening experience to see somebody making something that wasn't clothing." Then again, she admits she was tired of sticking just to functional wares. "I wanted something more," she says.
Since then, Jacobs-Carnahan has knitted sculptural designs ranging from garden-inspired motifs to large, lacy tapestries, many from wool she spun and dyed herself. Several sculptures — including a series in which knitted hands or mittens figure — allude to knitting's traditional role in garments. Some act as political commentary; others express frustrations with group dynamics or concern for social and environmental issues. Most are constructed over an armature of wire that gives them a three-dimensional structure. Jacobs-Carnahan's work has appeared in exhibits throughout the United States and Canada, often along with that of other fiber artists. Even so, she says, sculptural knitting is fairly rare. And that means she's often looking to other forms of art — particularly sculpture in other media — for her inspiration.
In her day job as an assistant attorney general for the State of Vermont, Jacobs-Carnahan says, her work is to "write and read and analyze and work on cases that take years to complete." Knitting, she says, gives her an outlet that is tangible, physical and colorful — with more immediate results. "It lets me be creative with a different part of my brain," she says. "I really need to do both, I have discovered."