Jim Deshler
Anger Knives
Art, nature and culinary passion unite in the work of artisanal knife makers Nick Anger and Moriah Cowles. Both forge carbon steel blades by hand, one at a time, and affix them to elegant wood handles. Anger (pronounced ahn-jay), of Anger Knives, works in a garage behind a Main Street art-supply store in downtown Johnson. Cowles' shop, Orchard Steel, is in a space behind Feldman's Bagels on Pine Street in Burlington.
Physically, Anger and Cowles couldn't be more different. He stands at 6-foot-9, is fully bearded and knit-capped, and concedes that he's heard plenty of Paul Bunyan comments. She is slight in skinny jeans, dangly earrings and silken dark hair — though her beat-up sneakers, leather apron and eye protection suggest Cowles' inclination toward heavy machine work.
What the Vermont natives share are a love for the natural beauty of steel, a fascination with the way it transforms under heat and pressure, and the satisfaction of creating useful works of art — knives as handsome as they are effective.
Seven Days visited both knife makers to find out how they meld form and function.
Nick Anger, Anger Knives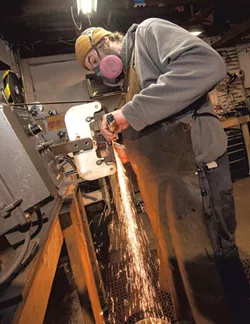 Jim Deshler
Nick Anger
The stick of steel glows bright orange when Nick Anger pulls it from the forge and clamps it into a vice, then twists it into a spiral as it cools to an ashen charcoal color.
Then the steel goes back into the oven, which sits just outside the open garage door of Anger's workshop and connects to a propane tank. Gripping tongs around this billet — a piece of parent material — Anger removes it from the fire again and pounds it on an anvil with a hefty hammer.
Next it returns to the forge, which is close to 1,900 degrees Fahrenheit. Several more times Anger pounds on the anvil. Alternately, under the pneumatic power hammer, the stick starts to flatten and stretch. Anger heats it again to shape the bolster, which holds the blade against the handle, and the short stem of a tang — the steel that extends from the tip to the bottom of the handle.
Anger works the metal again and again. Orange-hot under the 24-ton hydraulic forging press, it relents like butter. The press gives Anger another "squeeze" of the tight stack of steel, known as Damascus for its signature wavy patterns.
Damascus is Anger's forte. He creates custom patterns with as many as 400 layers of steel, which are forged into a cake of various alloys. Each one has a different chemical composition that leaves unique waves in the finished blade.
With the heat, it "gets a little bit loose, and it's able to accept other things into its matrix," Anger says. "And for me, that's supercool."
After the gauntlet of heat and hammer assaults, a small, rudimentary blade takes shape. It looks primitive, with no hint of the Damascus pattern. A dip into ferric chloride, which reacts with the various concentrations of nickel and other elements, brings out the design.
Not until Anger grinds the blade smooth on a belt and polishes it with finer and finer grit does its true character show. Some designs look like intricate flower petals or butterfly wings.
Anger's handles are made from native Vermont woods or exotic redwood. He uses no pins to set the tang in the handle but fits the steel stem into a bulb in the bottom of the handle filled with epoxy so strong it can be used to build sailboats.
"There's a shitload of unrecognized, underappreciated work in this," he says.
Anger, 35, grew up in Colchester. As a kid, he was fascinated with weapons and knives. "I always liked anything, really, that was shiny and sharp," he says.
After earning a bachelor's degree in anthropology and sociology from Johnson State College, he took a job with Laraway Youth & Family Services in Johnson. In 2007, he started to teach himself knife making through books and the internet. "When I first hit hot steel, I was instantly smitten with all of it," Anger says.
Over four years, while still working in mental health, he honed his skills as a blacksmith at IronArt, a custom metalwork shop in Stowe. He crafted railings, fireplace screens and other big items.
"Once you learn how to command the materials, in a sense, you can move that in whatever direction you want," Anger says.
By 2012, he had saved enough money to make a leap into full-time forge work.
Anger talks about knives and steel with a science-laden philosophy, even spirituality. "What I'm interested in is the redistribution of mass, of hidden potential," he says.
He eschews reducing his work to a single idea — and certainly not a single product. Anger's current repertoire includes daggers, cleavers, switchblades and axes. "I can make anything," he says. "I don't think I'm limited. What I seek is complete understanding of the physical world that I want to interact with."
Anger does not take orders. A select few patrons claim most of his production. And he will grant requested knives to certain customers, mainly friends, fellow artists and chefs — including Tyler Florence of Food Network fame. On his Instagram page, which has 14,200 followers, Anger features multiple images but rarely lists knives for sale. When he does, the cost is $75 to $100 per cutting inch.
Wannabe Anger knife owners will just have to wait for him to offer one up. "If I'm not feeling it, I can't do anything," Anger says. "That's why I can't have somebody expecting something from me."
Moriah Cowles, Orchard Steel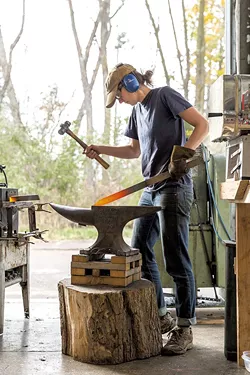 Oliver Parini
Moriah Cowles
When Moriah Cowles launched her knife-making business in Brooklyn in April 2013, she was getting up to four orders a week and fulfilling them in about two weeks. Then, 17 months later, the Wall Street Journal included her knives in a small shopping feature. Suddenly, Cowles had 40 requests per day, which extended the wait list beyond a year. In March of this year, Cowles had to stop taking orders so she could catch up.
"It was awesome," she says, "But it was also like, 'Oh, fuck.'"
Orchard Steel knives boast a sleek design that Cowles continues to tweak and perfect. The spine is totally straight. The handle creeps up the spine for higher grip. The belly of the blade rocks, but not too much, because some chefs told her their arms tire with constant up-and-down motion.
Because she makes each knife by hand, Cowles says, she knows how it feels to hold them. "One of the things that's really important is balance," she says. "The way that I created the design makes a balanced knife."
Orchard Steel offers paring, steak and chef knives ranging from five to 11 inches long and priced at $250 to $700. Each blade is etched with her "Mo" logo, and the handle pins are ornate, geometric designs by an artist in Oregon.
Having grown up at Shelburne Orchards, which her family owns, Cowles connects her artistic sensibility to the food produced on that land by creating a tool to slice through it. Many of her knife handles are made from the wood of apple trees from the orchard.
"Something that was missing from art for me was the feeling of function," she says. "There was this feeling of making something with my hands and then using it."
Cowles, 31, took her first blacksmithing class as a student at Colorado College. She immediately took to the fire, the hammer and the hard, inflexible substance that she could manipulate into something curved — almost feminine.
After she graduated and returned home, a farrier friend loaned Cowles an anvil, and her parents paid for half of her forge. She later trained in North Carolina and in Maine with the American Bladesmith Society.
During a trip to Mexico in between those courses, Cowles found her way to a longtime knife maker in Lago de Pátzcuaro and spent six weeks apprenticing in a workshop with a coal-fired forge and bicycle-powered grinder. "It was the first time I got a sense for watching someone take a knife through the whole process," she says.
Still, Cowles insists she'll never master the entire process. "There's so many nuances that change the way the steel performs," she says, noting the complex science behind it. "It feels like magic to me a little bit."
Cowles considered filmmaking and farming in addition to forge work, before a friend in Brooklyn told her about a nearby knife maker who was looking for help. "I met him and we were, like, totally nerding out on knives," she says of Joel Bukiewicz, owner of Cut Brooklyn. So Cowles left Vermont for New York and worked with him for two years.
Bukiewicz's method is known as stock removal. He draws and cuts his blades from sheets of steel, rather than forging them. Cowles refined her grinding techniques to get a near-perfect edge, down to 0.007 of an inch.
But she remained enamored of the power of fire over a blade. "You can change the molecular structure of the steel by heating it in certain ways," she notes.
Cowles uses primarily 52100 carbon steel. Once she gets her blades to their desired shape with a 2,000-degree forge and her pneumatic power hammer, she "quenches" them by plunging them in oil that drops the temperature to 400 degrees, locking in the structure so it's extremely hard and brittle but easily breaks or chips. Then she has to temper the blade to make it more pliable and durable.
"It's basically creating the perfect balance of hardness and flexibility and durability," she explains.
Bukiewicz also gave Cowles some business lessons. While she was working at Cut, kitchen-wares chain Williams-Sonoma offered him a deal that would have required a fast ramp-up of production — and would likely have compromised his artistry. Bukiewicz turned the retailer down, inspiring Cowles to contemplate her own goals, she says.
"That's really important to me, that I'm still doing something I love and not trying to crank out as many knives as possible," she says.
After Cowles left Cut and started her own shop in Brooklyn, she built a customer base slowly — that is, before the Wall Street Journal piece came out. In June, she moved the business to Vermont to be closer to family, her boyfriend, and the woods and ski slopes.
This month, as she's completing her orders from a year ago, Cowles hopes to make a few knives available for the holiday season. She's not sure about starting another order list, though, because, like Anger, she wants to enjoy the work without the pressure. "Part of the appeal," she says, "is that they're all made one by one."