James Buck
Rob Blum
Chef Rob Blum
Position: Owner, operator and baker of Knead Bakery
Location: Burlington
Age: 33
Restaurant age: 8 months
Cuisine type: Vegan
Education: Studio art major at Kenyon College in Ohio; on-the-job training in restaurants
Past experience: Front-of-the-house and cooking at local restaurants, including Skinny Pancake, Chubby Muffin, Essex Resort & Spa, Sneakers Bistro and Pingala Café
What's on the menu: Salads, sandwiches and sweets that feature plant-based and fermented foods
On the walls of Knead Bakery hang paintings by Rob Blum, the restaurant's owner and a former art major at Kenyon College. Painted in oil, the abstract pieces depict shapes rendered in a bold, warm blue.
In these paintings, Blum said, he is "unabashedly ripping off" Italian artist Giorgio Griffa, whose work he saw at the Fondation Vincent van Gogh Arles museum in France. While the art may be derivative, the bakery where the paintings hang brings a new touch to Burlington's Old North End.
Knead Bakery shares its building at 294 North Winooski Avenue with a theater company, a nonprofit performing arts center, a public-access TV station and other community organizations. It is a vegan bakery and café — though Blum prefers the term "plant-based" — that serves sandwiches on wonderful housemade breads, salads and breakfast all day.
Sandwich options include tofu with a cashew-based "cheese," roasted tomatoes and green-chile aioli; and seitan with sun-dried tomatoes, spinach and caramelized onions. Blum's lemon-basil cookie, a coolly flavored shortbread biscuit, delights with its taste and texture.
"Once you start thinking creatively, all these options open up to you," he said of cooking. "My wife always says becoming a vegetarian made her a better cook because she had to put some thought or intention into what she was going to cook."
SEVEN DAYS: How long have you been a vegan, and why did you become one?
ROB BLUM: I've probably been strictly vegan for five or six years. Before that, I was a vegetarian for the better part of 10 years. For me, there are a couple of different reasons, [starting with] the ecological impact of plant-based food systems. It's been pretty well shown that you can produce a lot more plant nutrition than you can animal [nutrition], so I like that aspect of it. There's also the animal welfare aspect. And, for my particular body, through experimentation, I found that this is the particular diet my body responds best to.
I think everybody eats in a style that works for them. And if you can have an eye on ethics while you're doing that, that's a really great thing, as well.
SD: What did you find was useful for you with a plant-based diet?
RB: I lost half my body weight when I was 18 and 19, through diet and exercise and having a strong community around me. Once I kind of landed in a healthier place, I started experimenting with foods that felt good to eat, and that meant I started cutting out some things. After cutting out a lot of processed sugar, I tried cutting out red meat.
My family is Italian; we mostly had red meat and fresh dairy at every meal. I stopped eating red meat, and I felt less laden all the time. I stopped eating dairy, and my sinuses cleared up. And I felt more energized overall, and I sort of ran from there.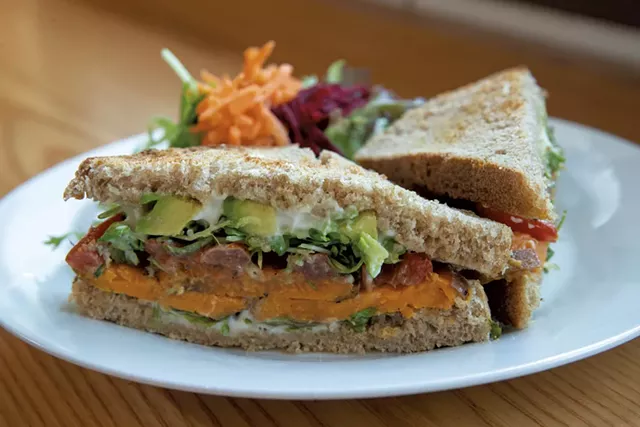 James Buck
Sweet potato sandwich at Knead Bakery
SD: What was a typical dinner in your family when you were a kid?
RB: Dinner was pasta with sausage and meatballs, sauce that my mom made, and a scoop of ricotta on top, and Parmesan that you could ski off of. And semolina bread from the Italian deli down the street. Fridays were pizza. Basically, it was some combination of carbohydrates, dairy and red meat.
My parents are very surprised how I turned out; I don't think I would touch a vegetable when I was a kid. My sister was a vegetarian when she was 8; she's vegan now. She inspired me, and I came around eventually.
SD: Why do vegan menus often try to re-create non-vegan items — cheese, bacon — at least in their marketing, instead of touting the goods for what they are?
RB: I think that it's a product of trying to find inroads for the 40 percent of the population that isn't necessarily open to plant-based foods to begin with. I don't really advertise that things are vegan, but I say it's plant based. I'm kind of hoping the food will speak for itself. The "cheese," for us, works as a spread. The only reason I call it a cheese is because I culture it. I want there to be some focus on fermentation.
SD: How do you turn cashews and other nuts into "cheese" through fermentation?
RB: You soak and blend cashews or nuts with seasoning and then introduce a known microbial culture, just like you would with a cow's-milk cheese. You culture it, let it ferment, and then you coagulate it, or thicken it. We use tapioca starch as our coagulating [ingredient]. The culture is doing the hard work of flavoring it, giving it that nice tang.
SD: How did you come up with the name Knead Bakery?
RB: It's pretty evident, or standard, that bakery names have to be punny, or are punny. I don't know where it came from — sort of out of the ether and into my brain.
SD: Are you surprised that, prior to Knead, there was only one vegan restaurant in this city?
RB: A little bit surprised, but I also think that Vermonters have been focused on food systems, and particularly their concern for local food — which is excellent. Knowing that Vermonters were thinking ethically about food, [I] thought that there would be a large number of people who would be open to eating a plant-based menu ... The vegan community, the vegetarian community, on day one just showed up and said, "What's going on?"
SD: The neighborhood has a Vietnamese restaurant, a bakery/pizza place, a gastropub; a taco restaurant is coming. How do you fit into the neighborhood food scene?
RB: I think it's no secret that this neighborhood is one of the last bastions of affordable rent in Burlington. I envisioned us as being another option for breakfast and lunch — which there aren't a ton of, especially on this block — and particularly an affordable one. I have an eye on trying not to price out the community that lives here.
SD: As a vegan who eats out a lot, what restaurants do you recommend?
RB: I really like the Great Northern right now; we've been a few times. It's a beautiful atmosphere, and they have a couple of vegan options. They did a great job with that space. It's a good date night.
Lemon-Basil Shortbread Cookies
James Buck
Lemon-basil shortbread cookies
Source: Rob Blum of Knead Bakery
Ingredients:
1 lemon and its zest
Powdered sugar
1 tablespoon ground flax seed
1 tablespoon water
3 cups all-purpose flour
1 ½ teaspoons baking powder
½ teaspoon salt
1 ¼ cup vegan butter (Earth Balance or similar)
¾ cup sugar
1 teaspoon vanilla
3 tablespoons basil, cut into small regular pieces
Directions:
For the glaze:
Juice the zested lemon into a bowl and add powdered sugar until it has the consistency of a glaze.
For the cookies:
Combine flax seed and water in a small bowl and set aside.
In another bowl, whisk together the dry ingredients (flour, baking powder, salt).
In a third and large bowl, combine butter and sugar, and cream them together well. Add lemon zest, vanilla and basil to butter and sugar.
Now that the flax has had time to hydrate, it should have a thick, viscous consistency. Add to wet ingredients and combine well.
Add dry ingredients to wet ones and fold. Stop when the flour is hydrated and homogenous.
Scoop and roll cookies into balls on a baking sheet coated with parchment paper. Bake at 350° for 10 to 12 minutes until they begin to develop a darker color. Makes about a dozen large cookies or a couple dozen small ones.