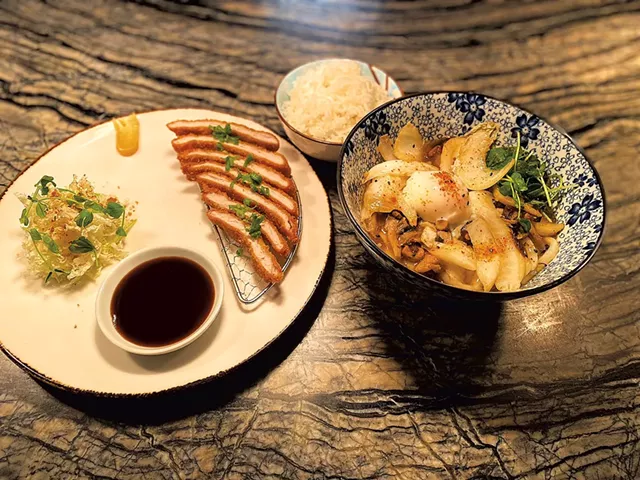 Courstey
Tonkatsu (left) and mushroom udon from Kitsune
Popular Stowe-based Japanese pop-up Kitsune has a winter home at Tälta Lodge. The nomadic biz, run by chef Matt Hiebsch and his wife, Alina Alter, offers dishes such as mushroom-and-bacon steamed buns, chicken katsu curry, and spicy miso ramen three nights a week at the hotel at 3343 Mountain Road.
Kitsune ran a seasonal pop-up at Spruce Peak in 2021, but it usually focuses on outdoor catering and events, such as Burlington's Truck Stop. Hiebsch and sous chef Karl Bauer cook over Binchtan charcoal on a traveling konro grill — now set up under the hood in Tälta's kitchen.
"Moving around is exciting and keeps it fresh, but it's nice to have a walk-in full of ingredients," Hiebsch said.
"And a roof over our heads," Alter added.
Courstey
From left: Alina Alter, Karl Bauer and Matt Hiebsch of Kitsune
Tälta recently renovated its lower lounge; throughout ski season, that space hosts Kitsune's full-service restaurant every Thursday (reservations recommended) and bar menu with takeout on Friday and Saturday. It's the first season-long culinary residency at the Bluebird by Lark hotel.
Currently, no signage hints at Kitsune's speakeasy-like presence in the downstairs bar. Following the tradition of izakaya spots in Japan, the couple places a red lantern outside when it's open.
Kitsune's menus change weekly and are largely focused on seafood in the winter, with regional ingredients from Wood Mountain Fish going into charcoal-grilled oysters with yuzu-sake butter and chilled lobster bao on handmade buns. The bar and takeout menus, including udon bowls, donburi (rice bowls) and ramen, are smaller than Thursday's dinner lineup but substantial enough for a full meal.
"We get a lot of our inspiration from the mountainous Hokkaido region," Alter said. "Ramen goes hand in hand with a ski town."