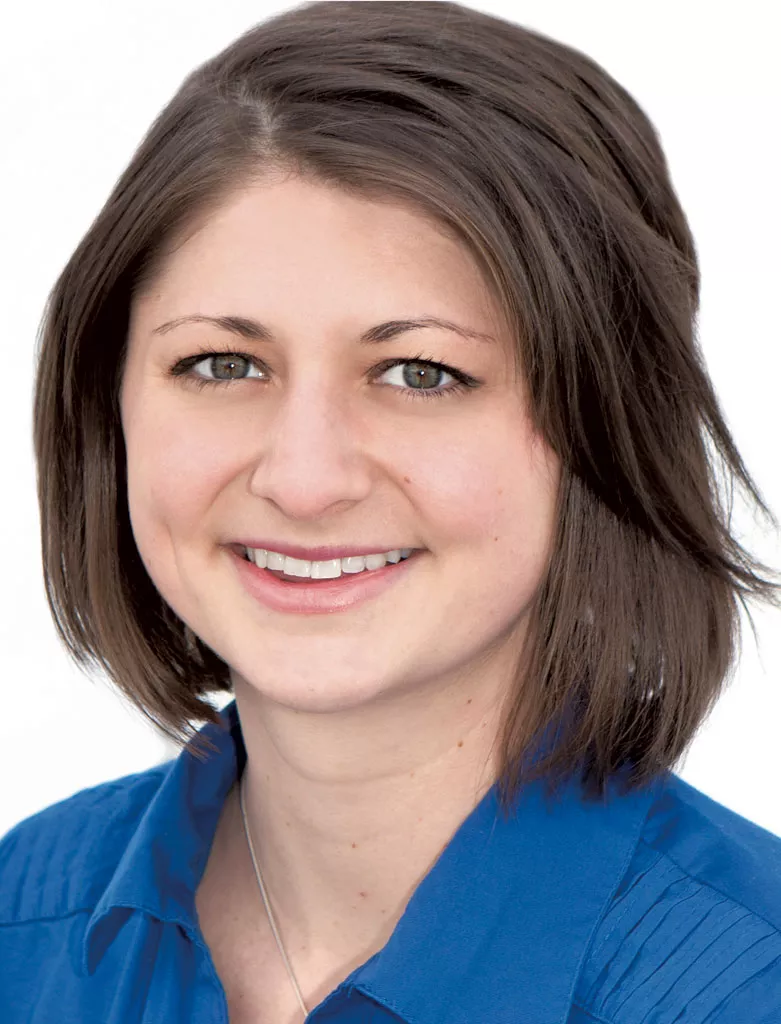 Kit Rivers is best known in the Burlington area for her standup chops. The Saint Michael's College senior broke into the local comedy scene during her freshman year and hasn't stopped performing since. "I was always sort of secretly looking for an outlet that I didn't know was standup comedy," Rivers says. "The first time I did standup, it was because I had funny things to say, and it was a form of performance I hadn't tried yet. But ... I always tell people I'm a far better actor than I am a comedian."
As a theater major, she's had opportunities to demonstrate her dramatic skills, appearing in such college productions as Romeo and Juliet and The Art of Dining. Last summer, Rivers showed up in Vermont Stage Company's "Bake Off" production of The 39 Steps.
This weekend, she'll merge student and professional performance — and drama and comedy — when she stages her senior work at Burlington's Off Center for the Dramatic Arts. It's Jane Wagner's The Search for Signs of Intelligent Life in the Universe, a two-hour, one-woman show written for, and made famous by, actor and comedian Lily Tomlin. Tomlin won a Tony for the show's Broadway run in 1986 and starred in the 1991 film version.
Rivers was a "theater kid" with years of acting experience, she says, before she dove into the world of standup. During her college years, she alternated between school theatrical productions and regular comedy gigs — open mics, paying shows and making finals at competitions such as the Funniest Comic in New England and Vermont's Funniest Comedian. "I never stopped doing either of them, and comedy opened me up more to professional theater work," Rivers says. Yet she acknowledges that standup took a lot of her attention. "It was only in this last year of college that I was like, 'Oh, right, I'm a theater major,'" Rivers jokes.
Performing Search will allow Rivers to show — and stretch — her thespian talents. The show has nearly a dozen fully developed characters whose storylines intersect through the central figure of Trudy, a madly vociferous Times Square bag lady. She communicates with extraterrestrial life forms via an unusual invention of hers: umbrella hats. Trudy's life also intersects with those of other earthlings, including a runaway teenager, a prostitute being interviewed by a student for his graduate thesis and a droll socialite. The play's feminist reputation comes from these female characters, whom the audience sees at pivotal moments of the women's movement — but Wagner never makes them political mouthpieces.
"The beauty of Jane Wagner's writing is that she writes all these characters without any judgment," Rivers says.
Search is not, she points out, your typical solo show. "It's a different type of theater," Rivers suggests. "One-woman or one-man shows are usually just a series of monologues. This is a play. It's a play with characters that grow and interact and have storylines."
The performer carrying the show must switch constantly among dozens of distinct voices, gaits and emotional states. It's a daunting feat for an actor of any age; Tomlin was in her mid-forties and an accomplished professional when Wagner wrote the piece for her. Rivers, who is 22, notes that older women usually perform the piece.
"In a way, my age has always been my Achilles' heel," says Rivers, the youngest of five children. But she insists that the play's feminist aspects make it especially appropriate for a young woman to take on. "With all the women's issues in today's headlines, and this reverse progression of old white men [in political power], I think there's value in a young female voice bringing up these issues that really haven't been dealt with," she says.
Another challenge: The play is set in New York in the mid-1980s, as second-wave feminism was beginning to decline. It was a time and place that Wagner and Tomlin knew well; Rivers, an Indiana native from a later generation, does not. She says she relied heavily on her director, Mary Carol Maganzini, to help her flesh out the historical and cultural markers embedded in the script.
"She didn't know about the '60s and '70s, the women's movement and what things were like then," says Maganzini, a St. Mike's theater alum who has remained involved with the department over the years and is a board operator at Vermont Public Radio. "It was like, [in the '80s] Post-it Notes were new! At times [working on the play], I felt like the oldest living person in the world," she adds.
Performing Search pulls Rivers outside her comedic comfort zone. She relishes the comic opportunities and witty zingers in the script. While some of her more abrupt onstage switches carry a trace of shtik, she has an impressive vocal and physical range that she and Maganzini utilize to its fullest — no two characters feel the same. And parts of Wagner's script are downright heartbreaking.
"There are characters with hearts of gold, and they're the most dismissed," Rivers says. She and Maganzini took the time to unpack the heavier parts of the script. Rivers says the "character development and, like, heart work" were the most rewarding — and challenging — parts of her process.
In a way, though, she's been rehearsing Search a long time. Rivers first performed sections of the play in high school, when she developed a few of its comic monologues for a humorous-interpretation competition on her school's speech team. "I loved the piece," Rivers remembers. "I was this little liberal feminist in Indiana. I've always had an interest in the whole piece and never really had a platform or a way to do it. Now, coming up on my senior work, it made sense that it would be my capstone [performance]."
The Search for Signs of Intelligent Life in the Universe, written by Jane Wagner, directed by Mary Carol Maganzini, performed by Kit Rivers. Friday and Saturday, March 7 and 8, 7:30 p.m., at Off Center for the Dramatic Arts in Burlington. $5-10 at the door. offcentervt.com