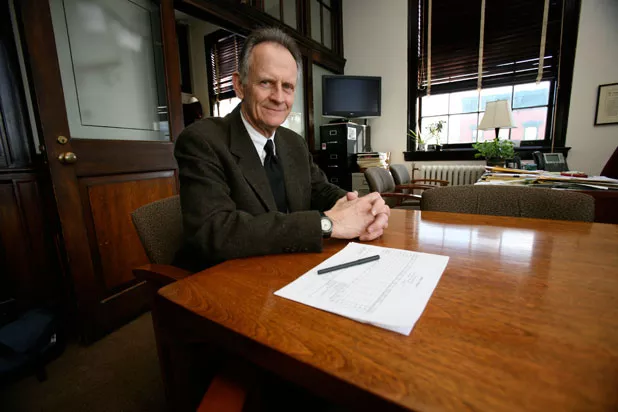 Burlington Mayor Bob Kiss
On a Thursday morning in early January, the Burlington Business Association hosted the first scheduled debate among the city's four mayoral candidates. The first question of the day went to the first-term incumbent, Mayor Bob Kiss, who was asked to define his job and explain how his "background, experience and style" fit the Queen City's personality.
In his typically cordial and soft-spoken manner, Kiss thanked the BBA for sponsoring the event and began outlining his achievements — all the while unaware that the microphone wasn't broadcasting his voice. When it was finally brought to his attention, Kiss continued where he'd left off, offering an almost textbook definition of the chief executive's job. As he ran down his list of accomplishments, the moderator silently motioned that his time was up. Kiss dutifully stopped talking mid-sentence, as if someone had yanked his power cord in the Main Street Landing Film House.
Kiss never got to explain how his leadership style suits Burlington's personality, but for several people in the room, his delivery said it all. Few will deny that Kiss is one of the nicest, gentlest people ever to occupy City Hall's third-floor executive suite. The mayor can speak knowledgeably and at length about policy, process and the politics of inclusion, in a tone and cadence that bring to mind his own pet doves. But anyone waiting for rafter-rattling oratory will be sorely disappointed. As speakers go, Kiss is no Barack Obama or Bernie Sanders.
Style often trumps substance in the political arena — even when a candidate has a long record on which to be judged. When it comes to Kiss' Burlington, the national media have weighed in. Over the past three years, the city's list of accolades has lengthened considerably: Country Home magazine selected Burlington as America's greenest city. The U.S. Centers for Disease Control and Prevention gave it a "healthiest city" ranking, and, according to Business Week, it's the best place to raise your kids.
Kiss has offered the Burlington City Council three balanced budgets. He's stabilized the finances of the city employees' pension fund and held the line on general-fund taxes and most other municipal fees. One exception: Burlington Electric Department raised its rates during Kiss' tenure — the first such increase in years.
The Kiss administration also saved taxpayers thousands of dollars by putting the city's self-insurance policy out to bid. Through a rigorous wellness campaign and workplace safety improvements, his administration has reduced workers' compensation claims. And, while Burlington didn't add municipal jobs during his tenure, it didn't lay off workers, either. In short, Kiss has governed without raising taxes or cutting essential services — an impressive feat in tough economic times.
Such behind-the-scenes results aren't the stuff of sexy front-page headlines. This may explain why one of the most common criticisms leveled at Kiss is that he's not "charismatic" or "dynamic" enough. Sure, Kiss is a competent chief executive, his detractors acknowledge, but a great city like Burlington deserves great leadership. And in the world of politics, where many voters yearn for colorful choices like mocha-cappuccino-chip cookie dough or guava-pineapple fudge swirl, Kiss is about as vanilla as they come.
"I think Bob Kiss is a very nice man, but I don't necessarily think he has the leadership qualities that we need to move Burlington to become everything we want it to be," said Sen. Hinda Miller (D-Chittenden), who lost the Burlington mayoral race to Kiss in 2006. This time, she's backing Independent newcomer Dan Smith. "We've done wonderfully well, but we're on the last sigh of the Clavelle era. And if we don't get our act together now to generate more revenue . . . we're going to lose it."
Local business owner and planning commissioner Yves Bradley agreed. Kiss has done a decent job "maintaining the status quo," he says. "Not a lot has gone wrong," during Kiss' tenure, "but I don't see us as having made significant progress in any way, shape or form, either."
Bradley, who also works for Pomerleau Real Estate, pointed to the lack of major development projects under way, particularly along the waterfront, as indicative of what's missing in City Hall leadership. "I've got a lot of respect for Bob, but I'm ready for something new," Bradley added. "And I think Burlington is ready for it, too."
Clearly Kiss has achievements to run on, but his big weakness as a candidate may be his reluctance to trumpet them. Even the mayor's own supporters admit that, as politicians go, Kiss has an almost preternatural aversion to taking credit for his hard work. A long history of community organizing shaped Kiss' populist world view and instilled in him an almost slavish devotion to consensus building.
"Unlike other politicians you meet, Bob doesn't toot his own horn or carry on about how great he is," said Sarah Kenney, a local domestic-violence victims advocate and Burlington police commissioner, who spoke at Kiss' campaign kick-off event earlier this month. "Instead, he brings people together to get things done. He puts his shoulder to the grindstone and credits others for the great work they do, but he doesn't always get the credit for the great work he does in bringing people together."
When pressed on the issue in a recent interview with Seven Days, Kiss remained unflappable, preferring to read from a pre-prepared list of accomplishments rather than fire back in his own defense.
"One thing that's true is that, over the years, I've been able to get results," Kiss said with characteristic understatement. "Making noise is not necessarily a measure of success. Getting things done is a measure of success." That's about as close to a sound bite as Kiss can muster.
Kiss overcame long odds just to get elected three years ago. He lacked the magnetism of his predecessors: There's no trace of Bernie Sanders' confrontational style or Peter Clavelle's chummy fraternalism. In 2006, Clavelle and other prominent Progressives threw their weight behind Miller. If it weren't for Burlington's instant-runoff voting system, and the second-place votes he got from Republican Kevin Curley, Kiss probably wouldn't have won.
Kiss, 61, was born on April 1, 1947, in Kenosha, Wisconsin, in a family with strong ties to the labor movement. He got his bachelor's degree in political science at Knox College in Illinois, then moved to New England. In 1969, a friend driving to St. Albans offered him a ride to Vermont. Kiss accepted and spent a summer in Burlington. He's lived in the Queen City since 1972.
Throughout the 1970s, Kiss worked almost exclusively in human services. In 1972, he volunteered at the nonprofit Bread and Law Task Force helping low-income Vermonters apply for food stamps. The next year, he took a job with the Vermont Department of Health as its first outreach worker for the Women, Infants and Children program. Through the mid- to late 1970s, Kiss worked for Child Care Services, Social and Rehabilitative Services, the Department of Social Welfare and the Chittenden Valley Agency on Aging.
In 1981, Kiss was hired as director of Chittenden Community Action (CCA), a division of the Champlain Valley Office of Economic Opportunity (CVOEO). Six years later, he was promoted to executive director, a position he held for 12 years. There he was intimately involved in the agency's expansion, helping it grow into an $8 million nonprofit with more than 100 funding streams. Under Kiss' leadership, CVOEO established many of the programs still around today. He left the organization in 1999.
Before becoming mayor, Kiss spent six years in the state legislature, where his voting record placed him on solidly progressive ground. The Vermont Alliance of Conservation Voters ranked him as one of the most environmentally friendly members of the House, with a 91 percent approval rating in 2001-02, and a 92 percent rating the following biennium.
Kiss brought his green leanings to City Hall, where, as mayor, he supported the installation of nitrogen-oxide reduction equipment at the McNeil Generating Station. These so-called "NOX units" now qualify McNeil to sell renewable energy credits to Massachusetts and Connecticut at a premium price, which will offset their own cost within two years. And, based on a model widely used in Copenhagen, Denmark, Kiss is looking into a pilot project that would recapture McNeil's waste heat to warm an estimated 8000 homes in Burlington's North End.
In the Intervale, Kiss negotiated a deal to sell 179 acres of Burlington Electric land to the nonprofit Intervale Center, which will keep it producing food in perpetuity. Kiss recalls that when author Michael Pollan came to visit, "he said that Burlington is 30 years ahead of most cities on the issue of growing food."
Vermont's business community has been less enamored of Kiss. On its 2003-04 "Legislative Report Card," the Vermont Chamber of Commerce gave him a 10 percent approval rating — the lowest of any House member. As for Kiss the mayor, his go-slow approach to developing Burlington's waterfront has been less than popular with some in the business community. Notwithstanding Kiss' success in gaining overwhelming voter approval for a Moran Plant redevelopment plan, he's remained cautious on this front. That may explain why many pro-development Dems and Republicans alike are backing his challengers, particularly Smith.
Kiss doesn't see his relationship with Burlington's business community as adversarial. As he puts it, "Burlington has to do what a city is expected to do well. If we do those things well, then people will choose [to do business in] Burlington."
Another way to evaluate Kiss' stint as mayor is by speaking to the people who work for him, many of whom are, understandably, reluctant to be quoted as supporting one candidate over another, particularly in a wide-open race.
One longtime city employee, who's worked under three Burlington mayors, said Kiss is often mistaken for a "softie" until people work with him on a project. "People underestimate Bob because he leads with his ears and not with his mouth," this employee said. "Many people misinterpret that as a lack of leadership."
Another common criticism — that Kiss defers leadership to his chief administrative officer, Jonathan Leopold — is also "off the mark," this employee added. Just because Kiss trusts the expertise of his staff doesn't mean he's inattentive to the details. As this employee noted, Kiss' management style is to "keep your nose in but your fingers out."
Mary O'Neil, an associate city planner and coordinator of Burlington's Certified Local Government Program, agreed. "I very much enjoy working with him," said O'Neil, an employee of the city since 2000. "I think his style of leadership is often misunderstood. I find him to be a very quiet leader. He's very attentive; he listens to everyone; he's extremely fair, thoughtful, reflective and inclusive."
O'Neil, who emphasized that she's not endorsing Kiss or commenting on his challengers' qualifications, admitted that Kiss' style can work against him.
"Because he's quiet, I think it can be misunderstood for inactivity or disinterest," O'Neil added. "But that's never been my experience . . . There's an awful lot going on with him that most people don't see."
Outgoing City Councilor Craig Gutchell, a moderate Republican from the New North End, has been impressed with Kiss' leadership. And he's the guy who introduced fellow Republican and City Councilor Kurt Wright when Wright announced his run for mayor. Gutchell isn't endorsing Kiss, but he thinks the mayor has done well by taxpayers.
"I don't view the city as a social experiment. I view it as running a business," Gutchell said. "And in that regard, Bob has done very, very well."
Gutchell is critical of some aspects of Kiss' record, notably his handling of the Adam Cate affair, during which a Parks and Rec employee was publicly maligned for wrongdoing before city officials had reached such a conclusion. Nonetheless, Gutchell said he respects Kiss deeply, despite his "less-than-outgoing" style.
"Overall, I'd give him a B-plus to A-minus, even though I'm a Republican," Gutchell added. "I like for people to be treated fairly and get credit where credit is due."
Burlington economist Doug Hoffer said Kiss' personal manner doesn't matter a whit to him; it's the results that count.
"Is the city being run well? I think it's fair to say that it is," said Hoffer, who endorsed Kiss three years ago. "I think Jonathan [Leopold] has been a big part of that, and the fact that Bob selected Jonathan and persuaded him to come in says a lot about Bob. He knows good talent."
In fact, according to Hoffer, since Kiss took office in 2006, Burlington has been responsible for nearly all of the new private-sector jobs created in Vermont. From the first quarter of 2006 through the second quarter of 2008 (the last quarter for which data are available), Burlington created nearly 1400 new jobs, while the rest of the state generated just over 200. Put another way, Burlington's growth rate was 4.9 percent, while the rest of the state grew at an anemic 0.1 percent.
"For anyone to suggest that the city isn't doing comparatively well, or even relatively well," Hoffer added, "they just haven't looked at the data and don't know what the hell they're talking about."
Mayor Kiss is too polite to speak so bluntly. But if, as some of his supporters suggest, this is his race to lose, there may come a time when Kiss has to raise his voice, at least enough to be heard.
Editor's note: This is the first of four profiles of the candidates running for Burlington mayor.