RICK KISONAK: What better place than our year-end wrap-up to note that in 2013 the end itself proved a major trend? I don't know what was in the pop-culture water (global warming, the NSA, the Jonas Brothers breakup?). But the end of the world as we know it featured prominently in enough films for a festival.
The year saw end-of-the-world-athons such as The World's End, After Earth, It's a Disaster, Oblivion, Snowpiercer, The Colony and This Is the End — which, on November 11, coincidentally was the last title ever rented by Blockbuster. Terrence Malick's To the Wonder could be about the end of the world, too — who can say? One thing we can say with certainty, and sadness, is that it was the last title ever reviewed by Roger Ebert.
The end, it became painfully clear this year, has come for film itself, with venues across the country facing a ticking Go Digital or Go Dark time bomb. For many small theaters and drive-ins (did you know the country's smallest is in Bethel, Vt.?), the $70,000 to $100,000 conversion cost was too steep, bringing an end to a way of life, business and art. Hey, way to kick things off on an upbeat note, huh?
MARGOT HARRISON: For sure, this has been a difficult year for theaters. (If you want to keep your local art house or drive-in alive, support it!) And the closing of Burlington's Waterfront Video was a sad day for local movie lovers.
More and more viewers get their entertainment from the small screen — but, on the plus side, that entertainment can be far more adventurous than what they find at the multiplex. Netflix has started producing its own programming for the older demographics that Hollywood ignores. And, thanks to cable's pioneering in that department, this year we heard more media buzz about Walter White than about Superman.
Most Stellar Performance
RK: Cate Blanchett in Blue Jasmine. Not! Chiwetel Ejiofor, Julia Louis-Dreyfus, Matthew McConaughey, Greta Gerwig, Bruce Dern and Joaquin Phoenix all impressed the hell out of me this year, but the performance that pierced me was James Gandolfini's. Not because it was his last — it wasn't — but because it was brilliant, hilarious, affecting and revelatory in every respect. Enough Said.
MH: Joaquin Phoenix in Her and Adèle Exarchopoulos in Blue Is the Warmest Color both pulled off the same feat: telling stories with their faces. Their acting kept me enthralled even when their close-up countenances were the only things on screen.
Honorable mention to Tom Hanks, my Most Annoying Performance awardee last year, for his raw and unaffected portrayal of Captain Phillips.
Most Annoying Performance
RK: Sean Penn was pretty frickin' annoying in Gangster Squad. Ditto Benedict Cumberbatch in The Fifth Estate, Inside Llewyn Davis' Oscar Isaac and everybody in The Hangover Part III. But I've got to go with everything the pod version of Robert De Niro did this year — pandering paycheck parts in The Family, Last Vegas, Killing Season (direct to video!) and The Big Wedding — one of 2013's biggest flops, according to Forbes.
MH: Joseph Gordon-Levitt and Scarlett Johansson in Don Jon. Yes, they're great actors. Yes, their broad impressions of a Jersey guy and gal were meant to be annoying. Why director Gordon-Levitt chose to torment the audience with these caricatures remains unclear to me. Honorable mention to Tobey Maguire's mugging in The Great Gatsby.
Best Comedy
RK: 2013 kept the apocalypses and the laughs coming with high-quality comedies like Noah Baumbach's moving ode to inertia, Frances Ha, and This Is the End, which would've been my choice for Best Comedy if I hadn't seen and fallen madly in love with Enough Said. I can't say enough about how wonderful Nicole Holofcener's latest is. Elaine and Tony — in a million years, would you have thought you'd live to see this matchup? And see it work so perfectly?
MH: I laughed a lot at In a World… and Joss Whedon's wonderful Much Ado About Nothing. But my choice is The World's End, Edgar Wright's successor to Hot Fuzz and Shaun of the Dead. Middle-aged buddies take a last-hurrah pub crawl in their hometown, and the results are even more bizarre than what happened in The Hangover.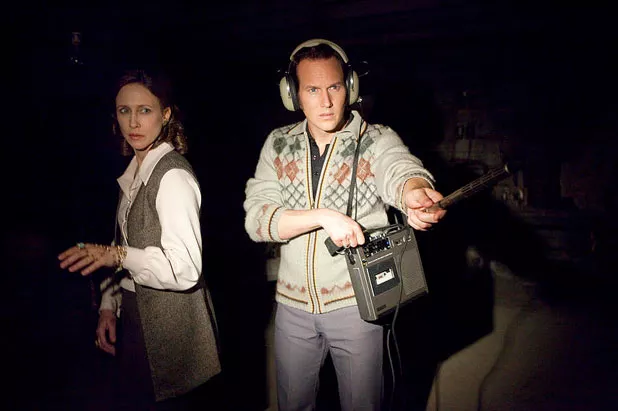 The Conjuring
Lamest Comedy
RK: The Conjuring. Because, surely, they had to be joking with those super-hokey old-school scares. That aside, I'd have to say it didn't get a whole lot lamer than Jackass Presents: Bad Grandpa. For the first time, a Jackass feature went for "Punk'd"-style hidden-camera yuks. My suggestion: Next time, hide the whole thing.
MH: This year I managed to see only one lame comedy: A Haunted House. Granted, it was a Paranormal Activity spoof in which Marlon Wayans experienced the trauma of ghost rape. So, yeah, lame.
Biggest Letdown
RK: The Fifth Estate, Jobs and Renoir all should've done better by their complex, culturally significant subjects, and I was not impressed by Inside Llewyn Davis. But the biggest bringdown for me was simply that yet another year went by without a new movie from Jack Nicholson.
MH: Let me count the letdowns. The Counselor, The Canyons and Only God Forgives were all gruelingly unpleasant movies from writers and filmmakers I respect a great deal. For some reason, all three also featured terrifyingly vacuous, spray-tanned women.
Biggest Surprise
RK: No. 1 That someone is finally trying to entice Jack back; and No. 2 that, of all the people who could take on this mission impossible, the guy trying to make it happen is everybody's favorite couch-bouncing Scientologist. Which inspired me to tweet: "'No More Tom Cruise Jokes,' World Promises, 'If You Pull This Off.'"
MH: That Blue Is the Warmest Color was as much about talking and eating as about sex, and that all those activities were weirdly compelling. Abdellatif Kechiche's drama reminded me that movies can immerse us in someone else's sensory experience, Avatar-style, without using a lick of digital illusion.
Film That Was So Forgettable, I Didn't Remember Reviewing It Until Doing This Year-End Review
RK: I swear I'm not making this up: I read something about somebody believing Dead Man Down deserved nomination in some category, and, drawing a blank, I went to Rotten Tomatoes to find out what the movie's about. What do I find staring back at me but my very own review.
MH: Emperor. Actually, I do remember this tepid historical drama starring the glistening tears of Matthew Fox, but only because my cat died the same week.
Best New Name to Watch in Front of the Camera
RK: You probably didn't catch Mickey Sumner's Patti Smith impersonation in the ghastly CBGB. If you had, though, there's no way you would have recognized her as Greta Gerwig's BFF, Sophie, in the fabulous Frances Ha. Sumner's a woman of a million faces, and an infinitely more inventive, nuanced actor than her dad (himself impersonated in CBGB), Sting.
MH: We disagree on Oscar Isaac, star of Inside Llewyn Davis. I first noticed him in Sucker Punch and hoped he'd get a better showcase one day. He's attractive, he's personable enough to make us care about a prize jerk like Davis and, durn it, he can sing!
Best New Name to Watch Behind the Camera
RK: A close one. J.C. Chandor's second feature, All Is Lost, is such a 180 from his 2011 debut, Margin Call, that you wonder what the writer-director can't do. And with his riveting, heart-rending, fact-based debut, Fruitvale Station, writer-director Ryan Coogler took both the Grand Jury Prize and the Audience Award at Sundance. Finally, while Netflix is hardly a new name, what the company is suddenly pulling off behind the camera is completely unprecedented. It used to just rent movies and TV shows. Now it makes them. And very well.
MH: Cultists already knew Shane Carruth for Primer (2004), but by making, starring in and self-distributing the hypnotic Upstream Color, he carved out a place in the annals of oddball art cinema.
Most Inexplicable Hit
RK: Philomena for all practical purposes is this year's The Best Exotic Marigold Hotel with the minor difference that it blows like Duke Ellington's horn section in hell, flames shooting out the saxophones and the devil doing the mashed potato in reverse. I've seen Lifetime movies with more artistic integrity. Judi Dench totally pulls a De Niro.
MH: I saw many formulaic blockbusters this year, and their appeal to their core audience — wide-eyed 14-year-olds — was perfectly explicable. Yet I had to marvel at the waste of talent and beloved source material in Oz the Great and Powerful, the year's eighth-highest-grossing film and one of its least memorable.
Most Inexplicable Flop
RK: There was a time when Spike Lee could do no wrong. It was a long time ago. These days the embittered auteur can't buy a hit. Thirty million should've bought a movie as stylishly wacked as Oldboy some overdue love, but, with ticket sales of slightly more than $1 million, it wound up one of the biggest flops of 2013.
MH: Maybe the problem was that everybody who loves stylishly wacked movies had already seen the Korean Oldboy. Speaking of Asian pop-cultural diaspora: In a summer of heavy-handed spectacles about metropolises being destroyed, Pacific Rim stood out for me as the rare one that was just plain fun. Naturally, it sank.
Freshest, Most Creative Screenplay
RK: This one's a no-brainer, because the past year gave us a brainy, heartbreaking new movie from Spike Jonze. His films are like comets. They don't come around often, but when they do, you want to go out and get a look. That's certainly the case with Her, a story of the love that blossoms between a lonely man and a sophisticated digital operating system. The filmmaker and his stars, Joaquin Phoenix and Scarlett Johansson, do the most fantastic work of their careers.
MH: With Before Midnight, Richard Linklater and his two stars kept me interested in the usually not-so-scintillating topics of commitment fatigue and marital woes.
Most Formulaic, Cliché-Infested Screenplay
RK: James Wan's 2004 breakthrough, Saw, was the definition of torture porn. His latest, on the other hand, was simply torture. There's a reason so many reviewers described The Conjuring as a throwback to horror films of the '70s. The script appropriates tropes and motifs from a decade's worth of movies — and, in the case of one cheeseball chestnut, offers a virtual remake. Welcome to The Amityville Horror 2.0.
MH: Olympus Has Fallen. Yes, I imagine it was pitched as "Die Hard in the White House." But with groaningly obvious plot twists and unmemorable one-liners, it isn't fit to kiss the hem of John McClane's stained wife-beater.
Best Omen of Civilization's Impending Downfall
RK: I might've said Sofia Coppola's The Bling Ring until I saw Harmony Korine's Spring Breakers, a portrait of four female college students who embrace a break in routine as an opportunity to leave behind not only reading, writing and arithmetic but also their sense of right and wrong. And I'm not talking about taking drugs. I'm talking about taking lives. Coppola's film depicted events that actually happened. The creepy thing is, Korine's story of girls gone wild shows us stuff that, while unthinkable, is no longer unimaginable.
MH: The hilarious scene in The Counselor where Cameron Diaz has sexual congress with a Ferrari is not, in my view, an omen of civilization's impending downfall. The fact that Cormac McCarthy evidently wanted us to interpret it that way is. Unless the Pulitzer winner was punking us all with his screenplay, which is a distinct possibility.
Best Movie With No Movie Stars
RK: Upstream Color. Not only did it have no stars; it had no discernible story. It was so out there it made Mulholland Drive look like Mary Poppins. Plus, there's a guy whose head is made out of material from the sun. Of course, Vermont comes up — an association I doubt the tourism bureau will jump on. I didn't understand a single minute, but I loved it!
MH: Hey, we agree! Besides Upstream Color, I want to mention Drug War, one of the year's best action flicks. Its actors are probably considered stars in its native Hong Kong, but not here.
Worst Movie With an All-Star Cast
RK: One movie would be hard-pressed to squeeze in more A-listers than August: Osage County. Plus, the play it's based on won a Pulitzer. The movie charges out of the gate like Who's Afraid of Virginia Woolf? with offspring that aren't imaginary, but it fizzles into such a dysfunctional family formula that you end up wishing they were.
MH: The Counselor. This glossy, pretentious, portentous muddle is my least favorite film of the year, and the presence of Diaz, Michael Fassbender, Brad Pitt, Penélope Cruz and Bruno Ganz didn't help. Only Javier Bardem managed to make McCarthy's overwrought dialogue sound halfway natural.
12 Years a Slave
Who We'd Like to See More of at the Movies
RK: Jack Nicholson and Gene Hackman have stopped making films, and I wish they'd reconsider. On the other hand, Timothy Bottoms — who peaked in '73 with The Paper Chase — has made a new movie or two nearly every year since. He's great; we just never get to see the movies because they aren't. Somebody should give the deserving actor his Bruce Dern moment.
MH: I'd like to see more of Bryan Cranston in big-screen roles that exploit his talent. No more generic stuffed-shirt characters, please. (And let's agree to forget Rock of Ages.) You'd never know this is the same guy who mesmerized the "Breaking Bad" audience with his slightest twitches and intonations.
Who We'd Like to See Less of at the Movies
RK: Daniel Brühl has made 13 or 14 pictures since Inglourious Basterds, and he's just gotten less fun with every one. After Rush (No. 83 on Box Office Mojo's domestic scorecard) and The Fifth Estate (declared "The Year's Biggest Flop" by Forbes), something tells me we'll be seeing a lot less of the Brühlster. I can live with that.
MH: This is an unpopular opinion, but I'm bored of Brad Pitt. He's talented, and at this point he can afford to stick to roles that make him stretch, as in Burn After Reading or The Tree of Life. There was absolutely no reason — except bankability — for him to pop up toward the end of 12 Years a Slave.
Best Documentary
RK: Blackfish, director Gabriela Cowperthwaite's infuriating and enlightening report on the consequences of keeping creatures as sentient as orcas in conditions capable of driving them literally insane. Thanks to the film, SeaWorld is the new Sun City. At press time, the list of performers who've cancelled appearances there after watching the film includes Willie Nelson, Heart and the Barenaked Ladies.
MH: The Act of Killing. Like 12 Years a Slave, Joshua Oppenheimer's documentary concerns the institutionalization of inhumanity. The difference is, the people who committed these atrocities are still alive and happy to reenact their crimes for the cameras. What it all means, and whether Oppenheimer should have offered his footage to the world, continues to provoke fascinating discussion.
Worst Picture
RK: There was no shortage of big-screen boners this year, but the low point of awards season has to include such well-financed failures as Stories We Tell, Philomena and Inside Llewyn Davis (you watch; almost nobody's going to see that). Those look like The Godfather next to Saving Mr. Banks, though, which isn't just the most cloying and annoyingly pinheaded film of Tom Hanks' career but of the entire year as well. Somebody in his circle should've spent more time thinking about saving Mr. Hanks.
MH: I've already mentioned my strong feelings about The Counselor, but at least it kept my attention. Not so After Earth, which was less a sci-fi adventure than an extended Will Smith motivational speech illustrated by M. Night Shyamalan.
Best Picture
RK: Nebraska, Captain Phillips, Frances Ha, Enough Said, Her and Fruitvale Station, among others, were all top drawer. But for me, the year comes down to a pair of remarkable pictures: one in which human beings do amazing things in the present, and another in which they do appalling things in the past. It came down to a contest between beauty and ugliness, between Gravity and 12 Years a Slave. Call me a cop-out, but I call it a tie.
MH: Excellent films both. And I haven't seen American Hustle or a few other things yet. But for now, I'm going with Her.
I've been waiting for a movie about people's dependence on their handheld devices — the very phenomenon that's helping kill big-screen presentation. But I expected something cheesy, preachy or both. I certainly didn't expect Spike Jonze to concoct a genuinely affecting romance between a boy and his software that doubles as a stealth prequel to The Matrix or The Terminator saga. You wait — in a few years, machines will be reviewing the movies and making them!