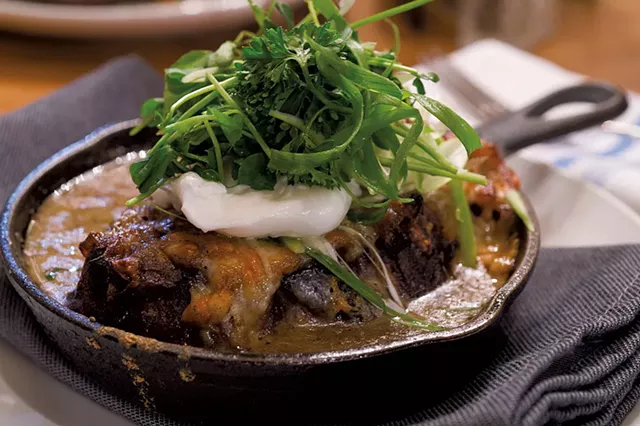 File: Jeb Wallace-brodeur
Kismet's bread pudding
Crystal Maderia, chef-owner of Kismet, has moved her Montpelier restaurant back to its original location at 207 Barre Street, where she opened its casual café offshoot, Kizy, in early 2019.
Maderia started Kismet in 2007 and operated her farm-to-table restaurant on Barre Street for four years before moving to the larger location at 52 State Street.
Her State Street lease expired at the end of August, "and I made the difficult decision not to renew it," Maderia said. "It was too expensive to do any kind of hybrid of takeout and reduced seating."
The State Street space is up for lease with the restaurant fixtures and equipment, which a new operator could purchase from Maderia.
Kismet will reopen in place of Kizy by the end of September with takeout and delivery of prepared-meal components for customers to reheat, assemble and plate at home. The three-course, seasonally inspired dinners will change weekly and be offered three to four days a week, along with wine and bottled cocktails.
A sample menu might include Leaves and Seeds salad with honey vinaigrette; house-rubbed strip steaks topped with braised onions and mushroom cream with a spinach-cheddar gratin; and brown-butter almond cake with caramel sauce.
Available for pickup Friday and Saturday, brunch will include Kismet favorites, such as biscuits and gravy, and Portuguese baked eggs. À la carte options include the popular kale salad from Kizy's menu in kit form and Kismet's caramelized-onion-and-cheese bread pudding.
"Everyone's going through their own version of difficult right now," Maderia acknowledged. Her new direction, she said, is giving her "so much healing and comfort from revisiting the classics."
Maderia has also been busy as a cofounder of the Vermont Restaurant Coalition, which advocates for the restaurant industry. While the struggles are far from over, that work "has been fortifying," Maderia said. "I have felt like our voices have been heard."