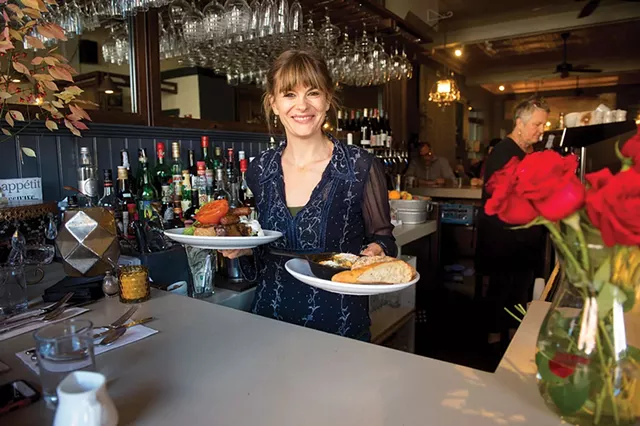 Jeb Wallace-Brodeur
Kismet
Picture a blustery October's eve: The wind sends leaves skittering across the sidewalk and cuts through a too-light coat to chill you to the bone. Soup weather, some might say.
On nights like these, diners appreciate that Kismet's menus are tightly attuned to the season. In late fall, the Montpelier restaurant's plates are calibrated to comfort and warm — think blushing pork chops perched on cauliflower mash and sided with jammy cranberries. Or a tangle of housemade tagliatelle, its wild mushrooms redolent of the forest floor.
Location Details
Kismet
207 Barre St.
Barre/Montpelier
Montpelier, VT
802-223-8646
American (New) and Eclectic/Fusion
In the early, hopeful days of spring, fare turns brighter: fork-tender beef short ribs with radishes, mashed celeriac and fresh greens, served alongside an herbed spritzer or gin cooler.
Kismet opened at 207 Barre Street in late 2007; a few years later, it moved to 52 State. Since the beginning, chef-owner Crystal Maderia has crafted nearly everything by hand with organic food from nearby farms.
Jeb Wallace-Brodeur
Kismet
"When people come to my restaurant, I want them to feel like they're being nourished," the chef says. In addition to sourcing high-quality, wholesome ingredients, she makes a point of creating dishes that are or can be made gluten-free.
Locals eat it all up. On any given evening, guests fill the dark-wood banquette along the restaurant's west wall. Others sit at the bar beneath the soft glow of crystal chandeliers, snacking on toasted and pickled beetroot served over smoked lentils and housemade lebneh cheese — or dipping crusty sourdough bread into mashed eggplant with Middle Eastern spices and whipped feta.
Servers glide in and out of the kitchen with casual grace to deliver, perhaps, cups of risotto for dessert. Beneath a dollop of cream, long-simmered wild grapes — tart but sweetened with spiced honey — combine perfectly with bits of toasted almond and cool but creamy rice.
Jeb Wallace-Brodeur
Kismet
More than a decade into her tenure as a restaurant owner, Maderia still finds magic in the season's eatings. That's why, to the delight of regulars, she opened a sister café and juice bar called Kizy in late 2018. As fate would have it, it's located in Kismet's original space.