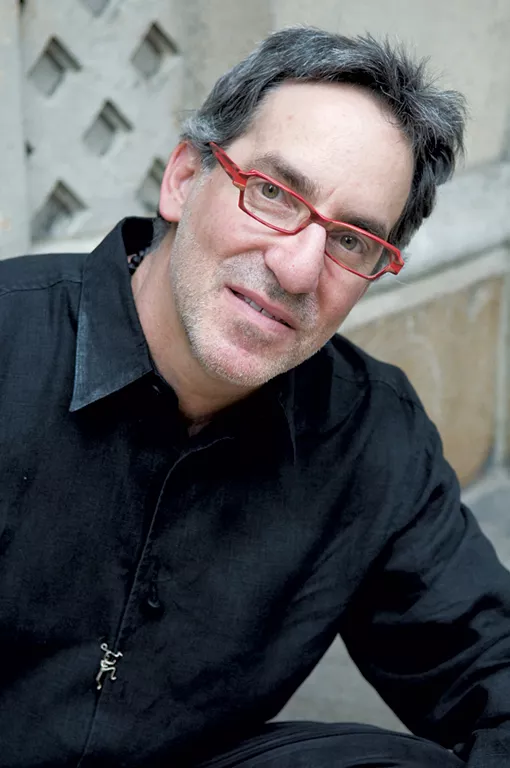 At a prayer service at B'nai Jeshurun, a synagogue on Manhattan's Upper West Side, Rabbi Andrew Hahn chants the Sh'ma, the most important prayer in Jewish daily worship. A video clip shows him holding each Hebrew word with a long, mournful resonance, the congregation echoing his chants in similar style. Ordinarily, the Sh'ma is brief, but Hahn often extends it as long as 20 minutes, as though it were an Eastern mantra.
"To do it right," he explains in a recent phone interview, "you have to be willing to dwell in the chant for as long as it wants to go."
Hahn, aka the "Kirtan Rabbi," combines traditional Jewish liturgy with the Eastern call-and-refrain chants of a Bhakti yogic practice called Kirtan. This week, he comes to Burlington as the weekend scholar-in-residence at Ohavi Zedek Synagogue. There he'll offer a free Saturday night Kirtan concert that's open to the public, among other educational events and services.
Sanskrit for "repeat," Kirtan, or "ecstatic chanting," originated in India as a way to heighten participation, communal feelings and ecstatic communion with the Divine, Hahn explains.
Elsewhere in the video of Hahn's service, worshippers seem upbeat, dancing and twirling in the aisles. They wave their arms and clap their hands with their eyes closed, as though they're in a trance or at a Grateful Dead show. In these moments, Hahn accompanies his chanting on the harmonium, as robed musicians sit cross-legged at the altar and join him on bass guitar, tambourines and drums.
Hahn, 58, is a Pittsburgh, Pa., native who was raised in a classical Reform Jewish congregation — what he calls "high-church Judaism, with the choir and the pipes." Trained in classical guitar at Carnegie Mellon University, he later became a rabbi and earned a PhD in Jewish philosophy.
In 2004, while visiting his brother in Boulder, Colo., Hahn listened to Indian Kirtan for the first time. "The moment I heard that CD I thought, Wow! This would work really well with Hebrew," he recalls. As he explains, the Hebrew language lends itself to being sung and has many of the same "vibrational qualities" as Sanskrit.
Hahn has since produced three Jewish Kirtan CDs and is working on his fourth. Although he isn't the first rabbi to apply Kirtan to Jewish liturgy, he's widely acknowledged as having popularized the practice among American Jews looking for another way to connect with the faith. With no congregation of his own, he serves as a "circuit rabbi," traveling the country teaching Kirtan to different congregations.
And he doesn't limit his outreach to Jews. Hahn frequently attends and brings Hebrew Kirtan to yoga festivals. There, he says, he often encounters people who were born and raised Jewish but pursued Eastern religions in adulthood.
"Very often people say, 'I've been chanting in the yoga world for 30 years and always felt that something was missing. With Kirtan, this is the first time that I connected,'" he recounts.
OZ Rabbi Amy Small describes Kirtan as "enveloping and very heart-connecting. It isn't about what you're thinking. It's about what you're feeling."
Hahn says one of the best testimonials he's received came from a woman who approached him after an appearance at Maryland's Lovelight Yoga + Arts Festival. Her terse review evokes a haiku: "Born Jewish. Never connected. Thirty years. This did it."
Correction, March 31, 2017: An earlier version of this story misidentified the synagogue in which a video of Rabbi Andrew Hahn was recorded.