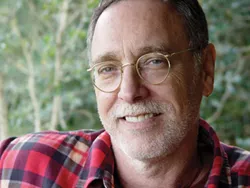 "Guess what my nickname on the court was, knowing me to be the spiritual person you see me as?" asks Krishna Das mischievously, sipping a densely brewed coffee at Muddy Waters in Burlington.
"The Leaping Angel," I suggest, caught a bit off guard, and knowing about the former basketball player's light-heartedness as well as his fiery, true-blue-New-Yorker persona. But I wasn't even close.
"Animal!" he exclaims. Das chomps into a chocolate biscotti and takes a big gulp of his coffee. "You put me on the court, and it was insanity!"
This is not exactly what you might expect from a man whom many now regard as a spiritual teacher, a man who has performed — that is, sung — for world leaders and luminaries, including the Dali Lama. But in fact, Krishna Das was once a star basketball player named Jeffrey Kegel who had been recruited by legendary Boston Celtics head coach Red Auerbach. Now he's an internationally renowned, New York City-based musician particularly beloved among Yoga practitioners. Instead of scoring points, Das leads kirtan, a form of Indian devotional singing, and teaches Bhakti, a practice known as the "Yoga of devotion," or "Yoga of the heart."
In much the same way that postures and breathing exercises are practices of Hatha Yoga, kirtan is a musical practice of Bhakti Yoga. While these two forms and their associated practices appear different on the surface, the results are similar — an uplifted state of consciousness, a sense of equanimity within oneself and in the world.
When he went to India and experienced the spiritual music for the first time, in 1970, says Das, "I thought, Wow, this is THE SHIT! I really felt plugged in to myself, and life in general, for the first time." But kirtan is not exactly a form of self-expression, he clarifies. "I'm singing to my guru — guru means that which removes darkness. I'm connecting with my deepest place," Das explains. "What everybody feels is the strength of my guru's love."
In Sanskrit, the word "kirtan" means "song." As such, a kirtan performance is characterized by the call-and-response singing of Sanskrit mantras in which names of the divine are ecstatically celebrated. The mantras themselves tend to be relatively short and easy to learn — sometimes only two words, such as Jai Ram, which essentially means, "Yay, God!" The mantras are sung melodiously, sometimes in a traditional way with the intention of evoking the quality, characteristic or mood of each particular deity within ourselves.
Every kirtan "show" is different, Das notes, because "every time I sit down to sing, I'm coming from a different state of mind . . . It's not about the music or how it sounds; it's about how much of my heart I put into it."
Depending on the tone of the song, kirtan can be highly energetic and uplifting or extremely calming and meditative. While it is spiritual by nature, kirtan is non-denominational, drawing on the essence of Yoga, which emphasizes principles of unity.
Like other forms of devotional music, such as gospel, kirtan involves the audience. You don't need a good voice to enjoy it; no prior experience or musical background is required. As the division between performers and audience disappears, the music evolves into powerful, soulful reveries.
Last year Das came to Burlington and filled City Hall Auditorium, floor to balcony. What draws 400 people to sing and dance with the kirtan guru for three ecstatic hours? Is it Das' deeply hypnotic and moving voice? The influence of musicians such as Sting, Grammy-nominated guitarist David Nichtern or tabla virtuoso Alan Bruggerman, who frequently appear on Das' albums and in live performances? Maybe it's the heart and spirit in which Das approaches his work.
Besides, Das suggests, singing kirtan with other people is an opportunity to give something to yourself. And the present? "It is the perfect opportunity," he suggests, "to get present!"
***************
Tickets are available at Spirit Dancer in Burlington (660-8060) or Phoenix Rising in Montpelier (229-0522). For more info, visit http://www.krishnadas.com or call Matthew Walker at 793-2656. Kirtan with Krishna Das is sponsored by Matthew Walker Yoga Arts.