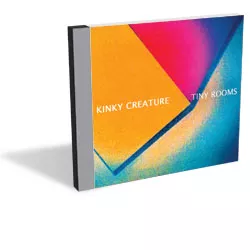 (Self-released, CD, digital download)
In 2009 — which seems like forever ago in local music time — Burlington-based indie rockers the Fifth Business released their debut album, Fiction Pilot. While not a groundbreaking effort, it was a solid first attempt. The band followed that up in 2011 with a superior sophomore record, Time of Year. On it, the band began to shed its formative influences and craft an identifiable personality and sound, which suggested these players would soon be an intriguing addition to a flourishing local scene. Aaaand … then they broke up.
Following a short hiatus, three of the band's members, vocalist and guitarist Deane Calcagni, bassist Ted Calcagni, and drummer Mike Healy, reconvened and began working on what they presumed would be a side project, Kinky Creature. Fortunately for the indie-loving masses in Burlington, they were wrong. So taken with their lean new sound were these Creatures that they decided to give it a go as a real, honest-to-goodness group. They even enlisted a real, honest-to-goodness producer, Kyle "Slick" Johnson, to captain their freshman EP, Tiny Rooms.
Where the Fifth Business favored comparatively straightforward indie jangle, Kinky Creature tread in a more danceable direction. Some credit for that may belong to Johnson, who produced Cymbals Eat Guitars' critically lauded 2009 record, Why There Are Mountains. Production throughout Tiny Rooms is muscular and focused. But nifty knob tweaks aside, the real story is the evolution of Deane Calcagni and mates as a collective songwriting force.
At times, he resembles the Strokes' Julian Casablancas at his most rakishly disaffected; in others, perhaps a less-silly version of the Japandroids' Brian King. The band follows suit with razor-sharp pop hooks shot through a dirt-encrusted prism. Free of precious phrase turns that marked Fifth Business material, Calcagni plays the part of rock-club rogue to near perfection. He's always been clever, but now he's loose. The combination can be devastating, as on woozy opener "Ennui," grimy centerpiece "Mr. Michael the Sun Rises!" and crafty EP closer "Alchemy."
Losing the Fifth Business at precisely the moment they seemed to find themselves was a drag. But Kinky Creature are more than just a consolation prize. With Tiny Rooms, the band delivers on the late promise of its previous incarnation, and stakes a new claim as one of the area's most exciting new acts.
Kinky Creature release Tiny Rooms at the Monkey House in Winooski this Saturday, September 1. The album is available at kinkycreature.com.