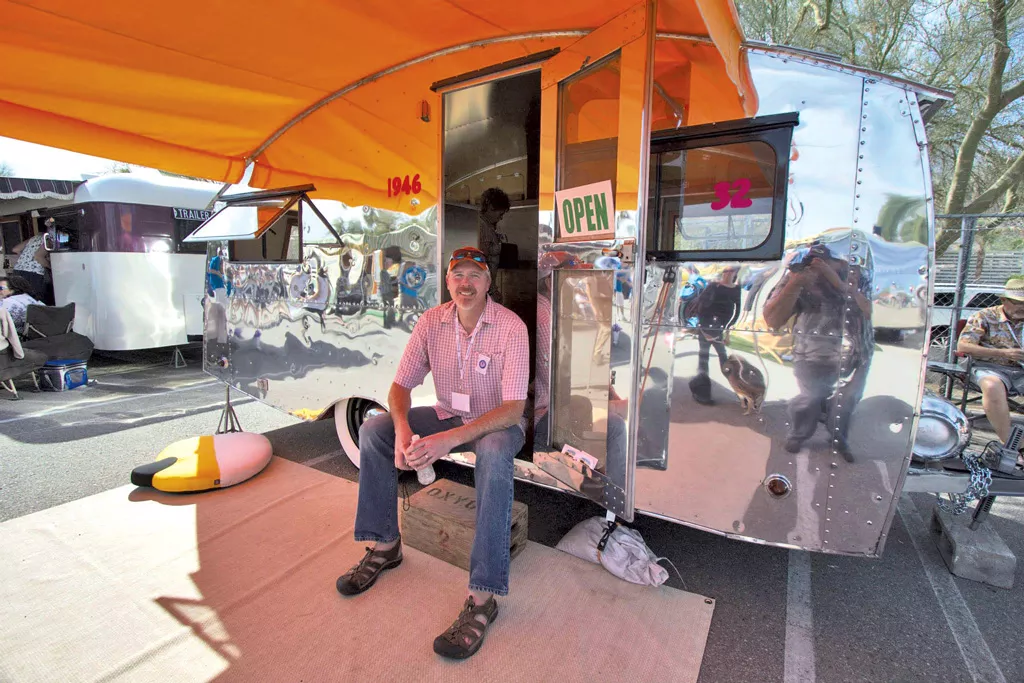 Courtesy of Steve Hingtgen
Steve Hingtgen
For one day this weekend, the streets and parking lots of downtown Montpelier will look like the site of an alien invasion — or at least a time-travel voyage back to the 1950s, '60s and '70s. On Saturday, August 8, the capital city hosts its first-ever Vermont Vintage Trailer Show. It will feature plenty of shiny, aircraft-grade aluminum trailers, such as those made by Airstream and Spartan, as well as the more compact and flat-sided "canned hams," including products of Shasta, Fan and Serro Scotty.
The one-day event, which is free and open to the public, will draw dozens of vintage travel trailers (sorry, no motor homes) from eight states and two Canadian provinces. Visitors will be able to enter and walk around each one, check their features and talk to the owners. Owing to space limitations, most of the trailers won't be permitted to showcase their large, signature awnings, nor can their owners camp downtown overnight.
The vintage trailer show is the brainchild of Steve Hingtgen, founder and owner of Vintage Trailer Supply of Montpelier, who organized it with Jesse Jacobs of Montpelier Property Management. Hingtgen, 49, is a Cedar Rapids, Iowa, native who founded his business (originally called AirstreamDreams) in September 2000, mostly because he couldn't find spare parts for his '67 Airstream Caravel.
Today, most of Hingtgen's business comes from the West Coast, where consumer interest in travel trailers far exceeds that on the East Coast and in middle America. That's in large part, he points out, because the weather out west is more amenable to year-round outdoor recreation.
Car shows have been held in Vermont for years; indeed, the 58th Stowe Annual Antique Car Show also happens this weekend. But to Hingtgen's knowledge, his will be the first-ever vintage trailer show in the Green Mountain State. Typically, travel-trailer enthusiasts congregate at rallies, often held in state parks and attracting upwards of 300 trailers.
Of the 35 or so trailers expected this weekend, Hingtgen reports that about half will be restored or renovated Airstreams from the 1950s and '60s. Even if you don't immediately recognize the Airstream name, you've probably spotted the silver bullets sailing down highways, parked in campgrounds or featured in countless movies, ads and TV shows. Their sleek, art-deco designs have captivated consumer interest since the first ones rolled off a Los Angeles production line in the mid-1930s. Since then, these and other aerodynamic homes-away-from-home, like those made by Spartan, have been used by everyone from U.S. military commanders to NASA astronauts to Hollywood celebs.
As for the condition of the trailers, Hingtgen says they'll range from ones used for camping nearly every weekend to "really beautiful custom-work showpieces." In fact, three of the trailers will come from regional trailer-service shops, including Colin Hyde Trailer Restorations in Plattsburgh, N.Y.; ESK Productions in Townshend (brought by Justin Taylor); and Airstream Haven and Logistics in Windham, N.H. (brought by Wayne Moore).
"Everyone who's coming is aware that this is a show, and lots of people will be coming through in their trailers," Hingtgen says. "So they're all specimens inside and out."
These days, travel trailers are no longer the inexpensive family getaways they once were for middle-income Americans. Today, even a basic, stripped-down model can retail new for more than $30,000, and customized models can cost hundreds of thousands of dollars. And, while the price of gasoline has fallen considerably recently, it's still exponentially higher than the 19 cents-per-gallon rate when the first Airstreams hit the roads in 1936.
So what's driving this growing fascination, even obsession, with America's modern-day covered wagons?
Hingtgen suspects that part of the trailers' appeal is due to the "tiny-house thing, the minimalism and the escape." Among older Americans, especially retiring baby boomers with the time and money to invest in them, there's a real nostalgia associated with travel trailers, he suggests.
Yet Hingtgen points out that some trailer enthusiasts are folks in their twenties or thirties, either single or with young families, who do "gig work." For them, travel trailers provide a good base of operations in the context of a highly mobile existence.
Hingtgen says he's excited by the prospect of bringing trailers into a Vermont downtown. He points out that other cities around the country now encourage so-called "urban camping": Trailer owners are permitted, even encouraged, to set up overnight. In cities such as Los Angeles and Las Vegas, he's seen the top levels of parking garages permanently set aside as space for RVs — a kind of urban "bed and breakfast."
Hingtgen believes that trend could easily catch on in Vermont, which already attracts high numbers of tourists from May through October. In fact, if this weekend's event proves successful, he hopes future travel-trailer shows will become multiday events featuring overnight camping, barbecues and maybe even a bonfire. (Hingtgen is providing this year's trailer owners with a free weekend stay at Little River State Park in Waterbury.)
"The truth is, we could have had 100 trailers" this year, he says. "It's just the space limitations in our village."