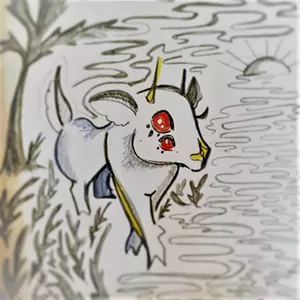 (Self-released, digital)
The video for Ian Morris Greenman's song "Churchy" shows the Burlington musician in a bedazzled cowboy hat, shirt open, growling out the track while surrounded by trippy, kaleidoscopic images. If this video were my first exposure to Greenman's music, I'd have expected the rest of the songs on his debut solo project, Mitochondriac, to sound similarly like a hybrid of Queens of the Stone Age and Grimes.
Turns out, Greenman, whose musical moniker is Kingporgie, is unpredictable. He experiments with a different genre, from funk and jazz to pop and R&B, on nearly every track.
The seven-song collection starts with "Is there Life on Mars? (and are dogs allowed?!?)," an experimental and mostly instrumental selection featuring spoken-word samples in which the speakers consider life on other planets. Greenman, who wrote and recorded the bulk of Mitochondriac in his bedroom while quarantining in April and May, surely wasn't the only person puzzling over existential questions during a year so calamitous that describing it as a dumpster fire is passé.
Still, Greenman expresses optimism in "Coddiwomple," singing, "So baby don't you fret, there's adventures yet to be met / When we're in the world you'll get a splendor so divine."
"Hungary" opens with shimmery, discordant bleeps trickling over a synthetic beat, then morphs into an ambient R&B slow jam sprinkled with sweeping harp effects.
In "Valleity," a stoner-rock riff gives way to a full-on pop song with an electronic beat and Auto-Tuned vocals. Here Greenman sounds like a darker version of pop singer-songwriter and Vermont expat Isaac French, and it's a lot of fun.
Rhythms range from funk to jazz to rock in "Coddiwomple," and "LiL sTaR" is full-on reggae.
Greenman, who also plays in Queen City folk-rock group the Jesse Taylor Band, handled the bulk of vocals and instrumentals on Mitochondriac. Tyler Dawson contributed bass on the album opener, and local vocalist Cathy (yes, just Cathy), lent her voice to a couple of tracks. In fact, Greenman even time-warped and pitch-shifted Cathy's voice to create a synth part for the disco-inspired "Getting to Know the Dark."
If one song on Mitochondriac isn't doing it for you, stick it out 'til the next one. With so many styles represented, chances are you'll hear something that catches your ear. What's impressive is that throughout all the genre hopping, Mitochondriac makes a cohesive musical statement with through lines of fuzzy filters, electronic effects and a psychedelic bent.
Mitochondriac is available at kingporgie.bandcamp.com.