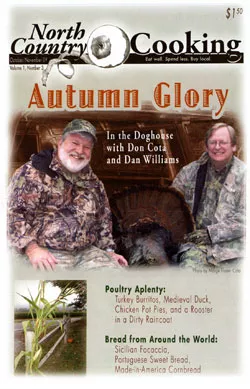 What with the media blitz around Hardwick, the Northeast Kingdom has made a name for itself in recent years as a foodie haven. The logical next development: a homegrown publication to cover the bounty. With the debut of North Country Cooking, editor Denise Brown has produced just that.
Brown had two pilot issues of the bimonthly magazine distributed free to gauge interest before the release of the October-November edition, which is available for $1.50 at bookstores and markets all over the Northeast Kingdom. Annual subscriptions cost $18 ($9 for seniors).
A Lyndonville resident and writing instructor at Lyndon State College, Brown says her project is targeted at "people who enjoy cooking, enjoy being in the kitchen and feeding their families well, but who don't want to spend a huge amount of money." The current cover story discusses the practice of turkey hunting. Other features include a piece by Susan Greenall, author of Vermonters' Guide to Gathering, Growing & Cooking with Local Foods, about using roses in the kitchen; a profile of Eden Ice Cider; and sections about bread, pickles and pumpkins. "My goal is to keep the magazine useful but beautiful and to have lots of good recipes; to make it reader friendly," says Brown.