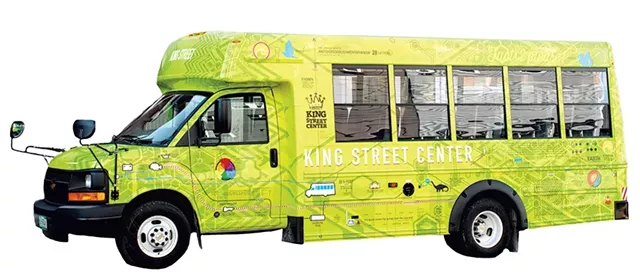 Courtesy of King Street Center
If you see a tennis-ball-green minibus whizzing down the road, it's likely filled with Burlington kids headed out on a community adventure. The King Street Learning Bus hit the streets last month, thanks to a grant from Dealer.com and additional funds from Champlain Valley Head Start. After an unveiling at the Magic Hat Mardi Gras Parade in early March, the green machine — which replaced an older vehicle known as Clifford the Red Bus — will be taking kids of all ages served by the King Street Center, the Boys & Girls Club of Burlington and the Greater Burlington YMCA to Shelburne Farms for barnyard frolicking, the Edge Sports & Fitness for tennis and Wind Ridge Fjords & Friends for horseback-riding lessons. The vehicle even has built-in car seats with three-point harnesses for preschoolers.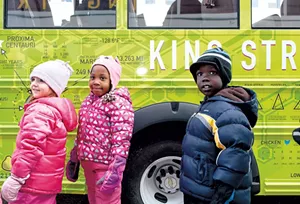 Courtesy of King Street Center
The bus is decorated with engaging and educational illustrations, designed by artist Scott A. Campbell, that show the highest and lowest points on Earth, the most commonly spoken languages in the U.S., and a color wheel. There's also an apt quote paraphrased from Alice's Adventures in Wonderland: "Where should I go?" it reads. "That depends on where you want to end up."
Look for the King Street Learning Bus around town. For more information about the King Street Center, visit kingstreetcenter.org.