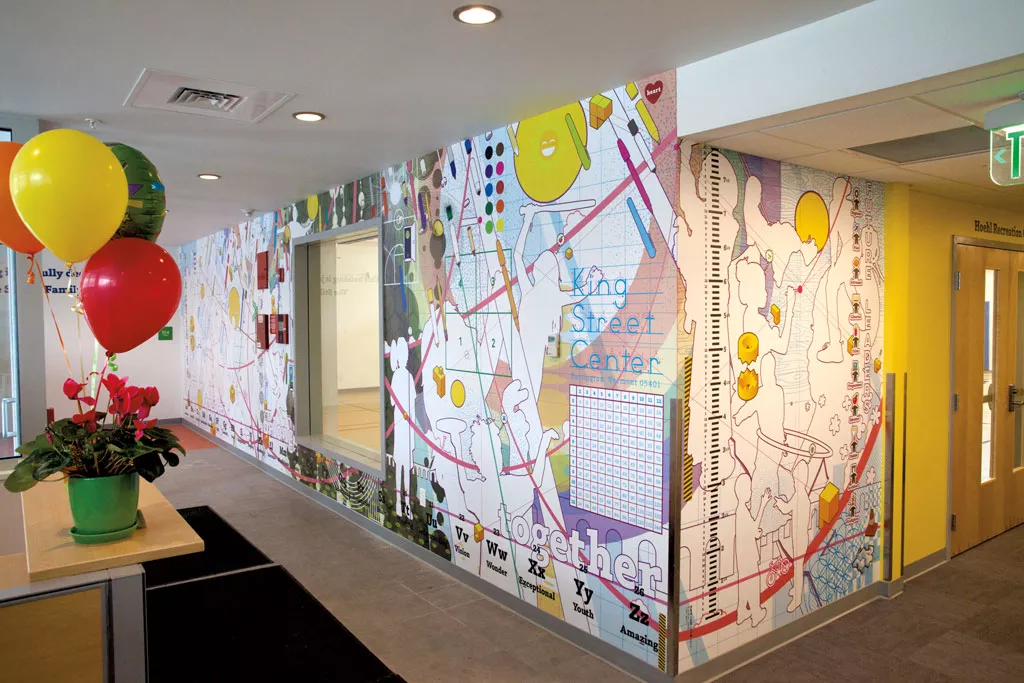 Scott Campbell with members of the King Street Center community
After a full year in temporary quarters, the kids returned quietly to King Street Center late last month — well, as quietly as children ever do. But they, along with the adults who care for them, will raise a joyful ruckus next Wednesday, February 18, when they celebrate their center's grand opening.
Make that reopening. King Street Youth Center, as it was formerly called, bought the building at 87 King in 1992. The nonprofit organization serves Burlington-area children and teens from low-income families with Head Start preschool, after-school, tutoring, mentoring and other programs. Currently, some 120 kids pass through on any given day.
As KSC evolved over time, its home became sorely inadequate. In 2013, the center launched a $5.1 million capital campaign to refurbish the building. Thanks to the success of that effort, to financing through Housing Vermont's New Markets Tax Credit program, and to the contributions of TruexCullins and Engelberth Construction, construction began about a year ago. The handsome new King Street Center is double the size of its predecessor, at about 23,000 square feet.
Photos: Matthew Thorsen
Kelli Shonter, Susannah Kerest and Vicky Smith
The sleek red exterior is modern, yet it still fits the character of the neighborhood, an important consideration to principal architect Rolf Kielman. Passersby are not likely to observe that the roof sports solar panels — and a play area with a great view of the neighborhood. But if they peer in the front window, visitors can see straight through an entryway and the gymnasium to the playground out back, a neat touch that makes the place seem even bigger than it is — and lets in more light.
Stepping inside, a visitor immediately notices the art wall — not a display of kids' art, but a single work that signals the presence of children without being childish. Indeed, it's rare to find a family-friendly artwork of such sophistication.
Created by former Burlington artist Scott Campbell — who recently moved to LA — the airy, 39-by-9-foot work is not a mural, per se, but a graphic design printed on laminated 3M vinyl paper and adhered to the wall. The installation was painstaking work, courtesy of Marty Feldman of Winooski's Light-Works, who also did the printing. But the resulting wall looks as fun and inviting as a coloring book. And, in case anyone uses it as such, the surface is washable.
"I've been doing this kind of work for years," says Campbell of his digital creation, "but usually for print. This is by far the biggest piece I've done." How did he feel when he saw the work installed? "Terrific," says the artist simply. "It's a double validation when people are really excited about it."
Campbell's dynamic design incorporates so many elements, it's hard to know where to look first — and you see more every time you do, says KSC co-development director Susannah Kerest. Outlines of kids, based on photographs, appear in various sizes and engaged in different activities. Their dress and features suggest multiple ethnicities, reflecting a population that includes New Americans. In their lack of specificity, the line drawings convey both diversity and equality.
The wall also depicts a height chart, a multiplication table, a variety of playful graphics, and icons that suggest potential careers, among them firefighter, architect, educator, tailor, librarian and astronaut.
Matthew Thorsen
Kelli Shonter, SusannahKerest and Vicky Smith
"Kids need to think about being future leaders," says Jill Badolato, corporate responsibility director at Dealer.com, which donated funding for the art wall. "This beautiful space says, 'I'm worth it.'"
"We wanted [KSC] to be a modern, kind of edgy place," says Vicky Smith, KSC's director since 2007. "Jill heard that and thought the kids should be exposed to art."
Dealer has been a benefactor of KSC for several years, and Badolato has taken the center on as a personal mission, spending time there and talking with both staff and kids. She selected Campbell for the art wall, confident he was the right choice. She was right.
"All three of us burst into tears when we saw this," says Kelli Shonter, co-development director, referring to Kerest and Smith. "Jill and Scott both really took their time and really got us, the kids," she adds. The wall "is not just for preschoolers, it's for grown-ups, too."
Architect Kielman agrees. "I loved it — I thought it was wonderful right from the beginning," he says. It helps that Campbell's vision is in sync with the rest of the project. Kielman, along with TruexCullins colleagues Peter Burns and Andrew Chardain, made aesthetic and structural choices that support the building's multiuse functionality while invigorating the rooms with streamlined design and rich colors. Like Campbell's wall, the place is sophisticated but kid-friendly.
Over the months that KSC spent in its temporary home at the Committee on Temporary Shelter's former day station on South Winooski Avenue, Engelberth essentially gutted the cramped, worn quarters at 87 King, adding a basement and a full second story. The gymnasium, a couple of classrooms and the playground remained largely intact, explains Smith, but everything else is new: an early-preschool room, a tutoring space, an art studio, a performance/meeting room, a dining room, three after-school classrooms, a designated teen room and that rooftop play space.
More art appears in hallways throughout the building: nine 30-by-40-inch color portraits of participants in KSC's Kids on the Ball program by Burlington photographer Michael Sipe.
"The whole point was to provide a place that respects our kids and provides them academic support, food and cultural enrichment," says Smith. "We're very excited to share our space with others in the community."
What lies ahead for King Street Center, now equipped with a home that presents uncharted opportunities?
"Board development, staff growth, program development," says Smith. And, like the director of any nonprofit, she points to the endless fundraising those activities require. "At the beginning of every fiscal year, we go back to zero and have to raise $1.2 million for our annual budget," she notes.
Meanwhile, KSC's staff and all its families will throw a party to inaugurate the new digs. For a building that began life as a typewriter factory, 87 King Street has come a long way.