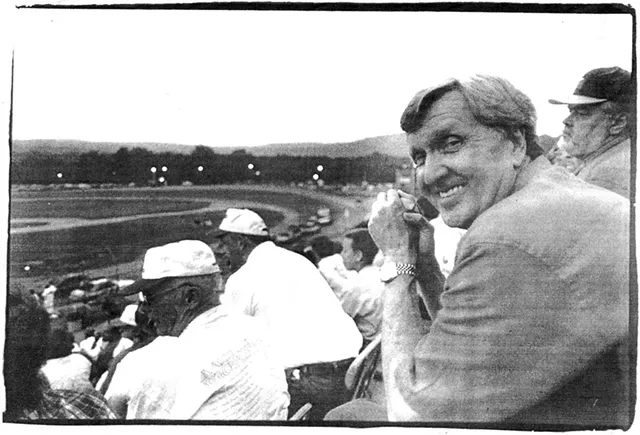 Paula Routly
Ken Squier
Twenty years ago, Donnie Allison and Cale Yarborough were neck and neck in the final lap of the Daytona 500 when they collided at 190 miles an hour on the back stretch, about a mile before the finish line. Not only did they survive the wreck — Richard Petty went on to win the race — but they came out fighting. Each other. The announcer, Vermonter Ken Squier, delivered the blow-by-blow in a live television broadcast that changed auto racing forever.
Up until that point, television execs had never thought of circling stock cars as entertainment — except to recap the fiery highlights as sensationalist filler. But Squier knew otherwise from growing up trackside in the geared-up Green Mountains. Then a CBS sports announcer, he helped convinced the network to give the sport the air time it deserved. The ratings soared. "That was middle America saying, 'This is what we identify with, these are our heroes,'" says 64-year-old Squier, whose national celebrity has grown apace with the popularity of stock car racing, organized by NASCAR. What was once considered a step up from televised contour plowing is now the number-two televised sport in America.
Everyone agrees Squier was in the right place at the right time. But the role of national media mogul is not one he cultivates. You would never guess from his windowless office in Waterbury that he is on good terms with guys like veteran racer Petty, actor Paul Newman, downhill racer Franz Klammer and musician Delbert McClinton. "He is as big in auto racing as you can get," says Bob Bahre, co-owner of the New Hampshire speedway that recently hosted the Winston Cup. "But it hasn't gone to his head, you know what I mean? Success hasn't destroyed him. He is still a shit kicker."
That comes through loud and clear on WDEV-AM, which Squier proudly describes as one of the last remaining "cow stations" in Vermont. He inherited the radio property from his father, Lloyd, and has made very few programming changes since the "Old Squier" died in 1979. "Music to Go to the Dump By," by far the most eccentric and irreverent program on Vermont radio, is Squier's personal favorite on Saturday morning. In the world of "big box" broadcast monopolies, DEV is the radio equivalent of a general store: useful, eclectic, labor-intensive and endangered.
Squier calls it "relevant radio," as opposed to "putting a box of records on." And he intends to uphold that vision, even if it means subsidizing his stations with his out-of-state earnings — he also owns WDEV-FM in Warren, WLVBFM in Morrisville, WCVT-FM in Stowe and WKDR in Burlington. As much as he excels in auto racing, Squier's first love is broadcasting "news of your neighbors" — a charge he inherited from Dad. "We like to tie it into the community as much as we can," says program director Jack Donovan. "The cracker barrel is there, and we kind of sit around and talk with local folks."
No doubt that is what inspires Squier to call in to Waterbury twice a day, from wherever he is in the world, to host a live sportscast that airs on 96.1 FM out of Warren and 550 AM from Waterbury. Supplied with scores faxed to him from the home office, he blends national and local sports news with egalitarian enthusiasm. "He'll be doing the time trials in Daytona and have Buddy Baker with him. Then he'll switch to the Vermont Expos," says WCAX-TV reporter Anson Tebbetts, who grew up milking cows to the sound of DEV and later became its news director.
The populist values that drove Squier to auto racing in the first place keep him rooted, and fully committed, to Vermont. Nowhere is that more apparent than at Thunder Road — the racetrack Squier built 40 years ago and still co-owns with Tom Curley. Perched above the quarter-mile circle of asphalt, you can watch the sunset, and the scoreboard, while Vermont racers with names like Laquerre, Bruno, Dragon, Cilley and Bigelow drive out their dreams.
On Thursday nights in summer, Squier does his evening sportscast from the "Road," which in the hyperbolic Vermont tradition started in Tunbridge, calls itself "the nation's site of excitement." He rolls up the windows on his Ford Explorer and picks up his cell phone to exchange insults and sports scores with Donovan — never forgetting to acknowledge the sponsor, Gracie's Restaurant, with a live, low-tech plug. Their banter booms over the track loudspeakers, and in that rare moment, his two local business ventures — racing and radio — are one.
"He is just as happy at Thunder Road as he is at Daytona," says Tebbetts. "There is no doubt about that."
Kenley Dean Squier was literally born into the broadcast business — he came into the world in 1935, the same year his father inherited WDEV. Lloyd Squier had become a surrogate son to Harry Whitehill when Ken's grandfather failed to return from the first World War — legend has it he got kicked out of the Army after a brawl, returned to Canada and made his fortune as a prospector.
Starting as a "printer's devil," the Old Squier worked his way up to editing the Waterbury Record and the Stowe Journal, both of which belonged to Whitehill. Then his boss had an epiphany: The future was in radio. He launched WDEV-AM 68 years ago last week. Lloyd Squier overcame a stutter — and a distaste for audio engineering — to become one of the most distinctive voices in Vermont.
Housed on Stowe Street in Waterbury along with the town telephone and telegram offices, the radio station was where it was happening. "From the time we were 8 or 9, you couldn't get us out of here," Squier recalls. "It had records. There were all these personalities." Along with old -timers like Rusty Parker, the station spawned dozens of newshounds, including Tebbetts, Tim Lewis, Brian Joyce, Peter Freyne, Mark Johnson, Joel Najman, Brian Harwood, Frank Balch and Catherine Hughes.
The Old Squier took his public responsibility as a broadcaster very seriously. That meant "you had to prove you were meeting the needs of your community," young Squier explains. "What were you doing for women? What were you doing for minorities? Here in Vermont it was agricultural. We had a microphone on Governor Wills desk in the 30s. That was a real issue with my dad."
He also practiced an early form of public access. Surrounding towns like Waitsfield, Montpelier and Barre had weekly hour-long shows. "There'd be eight bands a day, and they would read the news while the next band came in to set up," Squier recalls. "It was live radio. They brought their poets and their ministers and their choruses."
The Old Squier met his wife-to-be when she came to the station to sing — "I don't know if it was the Hardwick, Craftsbury or Wolcott hour," Squier admits. He describes his mother as a "taskmaster of the highest order" who led the revolution to raise the town's traditional nickel-dip supper to a dime a dip. "You can imagine the ramifications of that," he says with a guffaw.
More than 50 years later, Squier and his second wife, Elizabeth Thompson, met under similar circumstances — in the studio. She was working as the station's "book-review lady." With a shared interest in literature, they hit it off.
But it was not racing, and not reading, that fascinated Squier as a young boy. His father dragged him along to various county fairs, where the Old Squier called and broadcast harness races. But Ken was captivated by the stunt shows — daredevils like Jimmy Lynch and the Death Dodgers and Lucky Teeter and the Hellraisers. "They were truly spectacular," Squier says, recalling head-on collisions at 45 miles an hour and motorcycle crashes into brick walls.
Those shows gave Squier an appreciation for drama — and suspense — that influenced his own style of sports announcing. He likens it to being a circus ringmaster, whose goal is to "embellish the experience" by directing the viewer to where the action is — and that's not necessarily at the front of the race. "These are common people doing uncommon things. You need to elevate them, and make them special. I try to do that with words," he says.
Squier put that philosophy into practice at age 14, hitchhiking to races every weekend to pick up extra money working as an announcer. "Jalopy racing was sort of disdained," Squier recalls of the original stock car races. "They were the people with four cars in the dooryard — most of them were mechanics." But then, as now, there was a special thrill that came from putting everyday cars into extraordinary circumstances. In the South, where "stock car" racing still reigns, drivers cut their teeth as whiskey-runners staying one lap ahead of the law.
After World War II, stock car racing caught on all over the country — there were five tracks in the Burlington area alone. "Everybody had come home and they just needed to get their rocks off," Squier says. And before roll bars and fuel cells became mandatory safety features, driving a tin can down a fast dirt track was not unlike going into battle. Squier saw lots of guys go up in flames, and one spectator literally lose his head — in Essex Junction.
Squier tried it behind the wheel for a couple of years. He lost some teeth and broke a few ribs before he realized he was having more luck maneuvering a mic. "It was an either-or situation, and announcing came relatively easy," he explains. "Naturally, you always want to do the other." His parents were relieved, to say the least. "Neither of them thought it was such a hot idea, and the way I drove, they were probably right."
There's no crotch belt on the passenger side of Squier's sports utility vehicle, but you still feel like you're on a racetrack riding shotgun to Thunder Road. Squier creeps right up on people's bumpers, then cuts sharply left to pass. Cursing occasionally, he is on a racing reminiscence roll. Not only does he have the scoop on virtually every big-name driver since the Depression, he is a Vermont racing genealogist. Tonight Thunder Road is honoring 18-year-old Jen Bigelow, whose grandfather raced on the track's opening day 40 years go.
Squier communicates with his fans in audio clips — a phenomenon that never ceases to amaze his Australian-born wife, who raises sheep on their 30-acre farm in Stowe. "People come up to him in airports and say, 'Gee, remember how Kenny Schrader got wedged between someone and someone on the fourth turn? And they all remember,'" Elizabeth says with disbelief. "You feel like you are in a totally separate reality. It's like they're talking in code."
But for all the racing trivia Squier seems to have at his fingertips, he's fuzzy on details about his own history. Like how he found his way back to Vermont after four years at Boston University and built Thunder Road, at age 26. Like the exact ages of his two children, Ashley Jane and Travis Graham. And by what means he and then-partner Tom Cooley came up with the cash to construct a 9,000-seat amphitheater that would bring hundreds of Vermont racers up through the ranks.
"All I know is we kept adding grandstands every week," he says. "And the day it opened, 40 years ago, we tied up traffic through town all the way to the Barre-Montpelier Road."
Squier was busy quelling crowds and doing radio work when he got an invitation to announce at Daytona in 1965 — he's been a regular at what he calls "redneck high holy days" ever since. His debut performance led to some pit reporting for ABC, a job on the short-lived Sports Illustrated television show and on CBS as a Charles Kuralt-style sports reporter. He did half-time features, ski races — "everything from body building to speed skating" — before he met producer Fred Rheinsten at a bicycle race in California.
Together, in 1980, they decided to form their own television production company that could shoot, edit and package sporting events for cable and network clients. It elevated Squier from a face-for-hire to a sports entertainment broker. "At the time stock car racing was coming along, there weren't a lot of people in New York who knew about it," Squier explains. World Sports was able to hit the ground running, with a half hour weekly racing feature on the Turner network. His Atlanta-based company will produce 115 events this year, for clients that include CBS, ABC, NBC, TBS, TNN, Speed Vision and ESPN.
The work kept Squier close to the action, and he hooked up with a number of hot-wheel Hollywood types, including Hal Needham, who did stunt work for Paul Newman and Burt Reynolds before he got into directing. When he ran the idea for Smokey and the Bandit by his friend Ken, "I told him it was the dumbest idea I have ever heard in my life," Squier recalls with a chuckle. Needham gave him a bit part in the sequel, and in subsequent movies, including Stoker Ace, Hooper, Cannonball Run and Rad.
Squier also came along for the ride when Needham was trying to build a vehicle that could break the sound barrier — a rocket car. The first attempt, on a dry lake in Nevada, nearly killed Needham, who was at the controls. But at Edwards Air Force Base in 1979, it was a different story. Clocked at 733 miles an hour, with the blessing of fighter pilot Chuck Yeager, the car blasted off to a permanent position at the Smithsonian Museum. Squier got it all on film.
There was one other lucky break that put Squier out front. On a trip to Australia in 1981, he discovered the in-car camera — a device that revolutionized race reporting as much as that first footage of Daytona. Getting inside the car, and seeing through the eyes of the driver, transformed the audience experience of stock car racing. Not even the best announcer could make the crowd really see.
"People sat back and said, 'Oh, my heart. There really is something to this,'" Squier says. "They would be up under each other's bumpers, running less than a half second apart. That is pretty tight stuff. All of a sudden stock car racing became a fantasy sport, as opposed to a reality sport. Those are the ones that get the ratings."
It doesn't take much in the way of high-tech coercion to get a crowd in the grandstand at Thunder Road. Getting them to clap is another matter — it's a no-bullshit crowd that foregoes beer to better focus. Many of them know the racers personally. Several dozen are plugged into the pits through earphones that pick up conversations between the drivers and members of their teams.
Squier both fits in and stands out in a denim jacket and low-slung cowboy boots. He is tall and long-legged, with a handsome, slightly weathered face. Despite all those years on camera, he seems a little shy, especially when called upon to talk about himself. He is a smooth, soft-spoken operator with a wicked sense of humor. A live promo for "The Roadkill Cafe" show on Saturday morning gives you a taste of it. Anyone who can work the expressions "Oh, my heart" and "rectal flutter" into the same sentence is not your average joe.
Squier looks, and sounds, just like what he is: the one that got away without ever really leaving. That gives him access to both the woodchuck crowd and the symphony set — and the politics to match. The "Old Squier" was conservative, and his son shares that same fiscal restraint. "He's frugal," Donovan sums it up. But on the subjects of lifestyle and land use, Squier, who lives in Stowe, is pretty liberal. Using Switzerland as an example, he supports regulations to protect small-scale agriculture in Vermont. Rhetorically, he suggests, "I would have to be independent, wouldn't I?"
Squier says he might consider running for the legislature some day — "if I got it all done first," he suggests. In fact, Westinghouse is in the process of buying World Sports, which will cut down on his travel and provide him plenty of lunch money. But that doesn't mean Squier, who is accustomed to working three or four months without a day off, is ready to retire. He's ready to race. Actor Rusty Dewees is taking Squier's Buick Skylark out for a virgin spin next Thursday at Thunder Road.
First and foremost, Squier wants to get back to radio, in the state he loves. Despite all he has done for televised racing, he feels most fulfilled off camera, doing creative broadcasting for Vermonters in the studio where he grew up. Describing the appeal of his station, he is also speaking of himself. "Everybody wants to get back to something they can hold onto in all this electronic roar. I think that is probably our place."
It's not exactly full circle. Squier faces a lot more competition, and has four more stations, than his father did. There is also Vermont Public Radio, which Squier never tires of trashing for "riding both sides of the track. They are paying no taxes, getting this stipend from the federal government that is bigger than my budget and begging for a week at a time from a $1,400,000 palace," he says. Squier launched WCVT in Stowe two years ago to give classical music listeners an alternative to VPR.
If commercial radio were more like WDEV, there wouldn't be a need for public radio, Squier insists. The station does five hours of award-winning local news and features a day — more than any other in Vermont. Squier collected five first-place awards, and a special citation for his "unending and strong commitment to broadcast news," at the most recent meeting of the Vermont Associated Press Broadcasters' Association. News of the Kennedy plane crash was on first thing last Saturday morning — before that homemade tune by Danny and the Dumpers.
"If it's the right thing, he'll do it," says Tebbetts, who believes DEV will survive "as long as Ken is around." And it looks like he plans to be.
"There is an awful lot of bullshit in televison. Coming home to Vermont is what has kept him sane," says Elizabeth. "It is the fact that he can go to Daytona and everybody bows and scrapes, and he comes home to the Grand Union and the lady says, 'I want to see some ID.' He loves that."