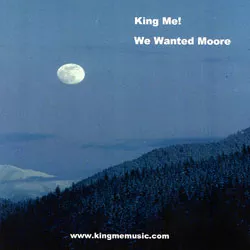 Ah, Breakwater Café. The lakeside retreat is a bastion of Bud Light-fueled, Hawaiian-shirt-clad shenanigans. It's cheesy, but we love it anyway. Summer in Burlington just isn't complete without spending a few late afternoons shirking work and soaking up some sun along with a daiquiri or four. In some ways, then, it's fitting that the insert accompanying We Wanted Moore from Underhill-based acoustic rock outfit King Me!, features a sepia-toned picture of the trio plying their trade at the Queen City's answer to Margaritaville. In some circles, that last statement could be perceived as a slight. It's not. Rather, it's meant as a summation of the breezy fare found on the group's debut album, which is likely best experienced with your feet up and a can of cold beer in hand.
Appropriately enough, the disc leads off with "Summertime Blues." It's a blues number in chord structure only. While the tune hints at some hazily defined romantic trial, the chorus suggests a resolution involving eating pork-fried chicken and drinking cheap port wine. Sounds good to me.
The following tune, "Honest Are Our Desires," sets the tone for the remainder of the album. Songwriter Shaun King's reedy croon is set adrift over twin brother Shelby's bouncy acoustic guitar lines. Saxophonist Allison Frazier chimes in with tastefully restrained licks, augmenting the trio's easy, laid-back groove.
As a lyricist and front man, Shaun King is certainly capable. His vocal delivery, while not overwhelmingly impressive, is solid throughout. Save for the occasional extraneous "ooh-ooh, yeah," he largely resists ornamental over-singing. And while his songwriting at times relies on clichéd sentiments such as "walk a mile in my shoes," everlasting love and thin metaphors involving celestial bodies, his pleasing, pop-inflected delivery largely helps to gloss over any undue earnestness.
As an ensemble, the group plays well together, rarely stepping on each other's toes. In particular Frazier's sax work adds a nice touch to the proceedings, which otherwise can be a tad predictable.
King Me! is a solid band, and We Wanted Moore presents a satisfying, if somewhat lightweight, debut. But just as kitschy joints like Breakwater Café hold a special place in our hearts, so, too, do bands that aim for little more than to please our ears and ease our minds on a summer day. Now, where's my coozie?