© Julia A. Reed
Martin Philip, baker at King Arthur Flour
During the coronavirus pandemic, every day at King Arthur Flour is like the Wednesday before Thanksgiving, according to baker Martin Philip. As more people stay home, they're turning to their kitchens to feed their families and pass the time. And Norwich-based King Arthur, which has long maintained a baker's hotline and robust social media presence, is often where they turn for baking advice.
In March, King Arthur received more than 34,500 messages on Facebook, Twitter and Instagram, a 228 percent increase over March 2019 numbers. The company's 25-person call center received more than 23,000 calls in a month. On social media, King Arthur representatives respond to nearly every comment, offering tips, applauding inventive suggestions and acknowledging frustrations about the difficulties bakers now have finding flour and yeast on grocery store shelves.
"I think that nobody in the industry does it in the way that we do it, with the energy that we do it with and the intention to share our joy for baking, however it manifests," Philip said. "We're breaking all the records."
A professional baker at King Arthur since 2006 and the author of Breaking Bread: A Baker's Journey Home in 75 Recipes, Philip typically teaches classes and consults with professional clients. Now, he's filming his home baking for the King Arthur social media channels, offering advice on how to dive into bread making and work with whatever is in your pantry. Philip spoke to Seven Days on the phone in early April from his home in White River Junction.
SEVEN DAYS: Can you give me an overview of what the last few weeks have looked like for you and for King Arthur?
MARTIN PHILIP: Like for many businesses, this has just never happened before, on so many different levels. King Arthur was, I think, ahead of the curve a little bit in trying to assess and identify the need for people to work remotely. So I've been at home for — I've lost track of days. It might have been a year, but I think it was probably more like a couple weeks.
I'm baking all the time at home, with my son. I recognize everything that I'm baking, and I'm using a lot of the same words that I always use. But the playing field has totally changed. There really is very little to sort of grasp on to, in terms of things that are recognizable, beyond baking, which is why I think people are gravitating toward that. It's something that brings us together and fosters community. It's comforting, and it's also a distraction. It fosters focus and quiet.
SD: You folks have been doing a lot on social media and seeing increased engagement. What kinds of questions are people asking?
MP: They especially want to bake bread right now. It's a lot of, "How do I make bread? What do you need to make bread? Can I start sourdough today and then make sourdough bread tomorrow?" If only.
We're getting a lot of substitution questions right now, too: "Can I use white whole wheat in a recipe that calls for all-purpose?" We are proud to be a resource for those kinds of questions and support bakers.
SD: King Arthur social media comments seem to be mostly really happy. But people are still stressed and frustrated if they can't get all the ingredients they need. How does your team handle more disgruntled comments and messages?
MP: I think that what we try and do is be really consistent in our messaging and explain the problem. The reality is that there's been quite a rush on ingredients. Grocery stores are open fewer hours with reduced staffing. And those staffing shortages extend all the way up the supply chain.
Fortunately, there is no lack of wheat supply. There's plenty of wheat that can be milled. It's just a matter of things being replenished, and we ask for everyone's patience. I think the vast majority of people understand that these are unprecedented times.
I have begun to see pictures and news coming from customers from all over the country of flour on the shelves. My wife shopped today for the first time in a week and a half. She said there was flour on the shelves in Hannaford.
SD: So you're buying your flour just like everybody else? You're waiting for it to come into the grocery store — no inside track?
MP: Not really. We're in the same boat as everybody, and I don't feel like it's fair for me to cut the line, anyway. My only inside track is that [at King Arthur] we have a studio, which is well stocked, and we had to cancel all shooting, so we have some flour in there kicking around. I can go in there and sort of pilfer.
But the other day I was down to a cup or two. And I said, "Man, what am I going to do?" That's when I started thinking about tortillas. I took a regular white flour tortilla recipe and subbed in buckwheat and whole wheat and all these other things. It's not just being frugal. It's also a matter of boosting flavor. We're making it work like everybody else.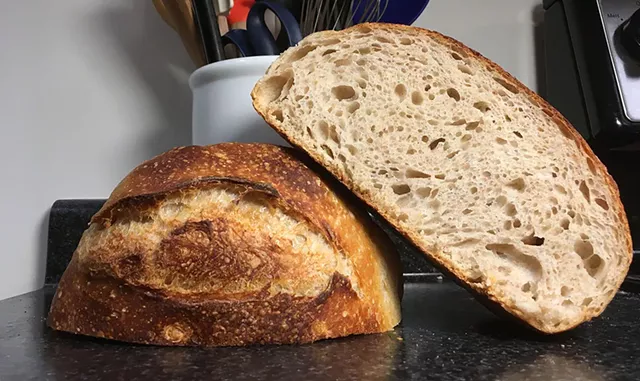 Margaret Grayson
Homemade sourdough bread baked by Seven Days reporter Margaret Grayson
SD: Do you have any frequently asked sourdough questions or troubleshooting tips that you find are helpful to people?
MP: I'll give you my stump speech. Begin with high-quality ingredients that are consistent. That's a great place to start with any type of baking. Measure them properly. There's no guesstimating with a digital scale. If you take 10 people in a room and you have everybody scoop a cup of flour, there will be 10 different results. But if you have everybody scoop 120 grams — now we're talking.
What a lot of people forget as it relates to bread is that the yeasts, which are present in either commercial yeast or in the sourdough culture, are ambient beasts. They respond to their environment. Temperature controls are more important than people realize.
And make sure that you're using a recipe that is tried and true. Don't necessarily chase the first rabbit-hole recipe that you find on the internet. Find a source that you know is reliable, that tests their recipes not once or twice but 25 or 50 times. Don't waste your valuable ingredients.
I find it all interesting because it's what I do, but at the end of the day, there's an old French saying: The proof comes out of the oven. If you think about it in relation to baseball, it doesn't really matter how cool the windup looks. What matters is how the ball crosses the plate. Baking is the same way. If the people in your house like the bread you make, then what you're doing is good enough. Let that be your proof.
SD: Your son, Arlo, has appeared in some of your videos. Did you guys bake together often before this?
MP: We call him the roti master because, since he was a little kid, he was there with the longest tongs I could find in the house, flipping a roti — which is like a stovetop naan. I think the kids have it in their veins. My middle child [15] has a little cottage cupcake thing going on, and she makes fantastic cupcakes. My oldest [17] has had her hands in the mixing bowl since before I was even a professional baker.
I feel like I've been lucky to get Arlo [11] involved. And he's been loving it. The comments have just been insanely positive. So many people are sort of uplifted by seeing us work together.
SD: Do you have any particular tips for people who haven't baked with their kids before and want to start?
MP: Start with things that are short, that they can eat quickly. Sourdough bread may be that thing where they're like, "What, come back tomorrow? This sucks."
Do things that they can see — beginning, middle and end — and that they can also touch. Have them help with mixing. I don't know if I'm uptight in the kitchen, but I like things to look nice and have a good texture and those things. But let them make some shapes, proof them and put them in the oven and see how it goes. Be willing to take some risks. I think you'd be surprised what they become in terms of serious bakers.
SD: My last question for you is about what, for me, is the most dreaded part of the baking process. What's your strategy for doing the dishes?
MP: When I bake, there are no dishes.
SD: What?
MP: If I'm making bread, I mix in the bowl, and as I'm mixing I scrape down the sides. The dough ferments in the bowl. When I'm ready to shape, I scrape it out, and the bowl really needs very little work. Bread in general requires few tools. The big tool that we use, you carry around with you all day. It's your hands.
At the bakery at King Arthur, there's a reason that the dish pit is on the pastry side and not on the bread side. Pastry is a little bit more painful. A good strategy is to have a bowl with leftover dishwater in it. And as soon as you use a tool, put it in the water, and it will clean up much more easily. And you can always selectively apply that other rule, which is that if you cook you don't clean.
This interview has been edited and condensed for clarity and length.