On Lienna: Tea Collection Malati Kantha embroidered dress, $49. Pink Poppy sparkle bow, $3.90. LeBig Sparkle bag, $23 at Bumblebell.
Visit a neighborhood like Brooklyn's Park Slope or Noe Valley in San Francisco, and you can't walk a block without hitting a children's clothing store. In Vermont, it's a different story. Shops that specialize in children's fashion are few and far between.
On Lincoln: New Duds anchor tee, $20. Mayoral red jeans, $35 at Little Citizen. On Lienna: Little Miss multicolored romper, $58 at Little Citizen.
Maybe that's due, in part, to our long, harsh winters. Who cares about looking cute when braving below-zero temps and knee-high snow drifts. Or maybe the dearth of kiddie fashion is a reflection of Vermont's values. Stylish children's clothes, which often come with a hefty price tag, suggest a frivolity and materialism that's so not "Vermont."
But whatever your budget or beliefs, you have to admit that clothing for little people is pretty cute. As winter drags on, we thought you might enjoy a little eye candy to remind you that warmer weather is right around the corner. We asked the following Vermont-based children's clothing retailers to put together some fun, bright outfits that scream "Spring!"
Little Citizen, a 500-square-foot boutique on the top block of Burlington's Church Street Marketplace, opened in November. Owner Bridget Huffman worked in a kids' clothing boutique in Colorado before relocating to Vermont. She's filled her shop with clothing and accessories most adults would envy, including brightly colored jeans, broken-in hoodies, graphic tees, aviator sunglasses, and funky scarfs and hair bands for babies and kids up to size 16.
Bumblebell, on Mountain Road in Stowe, has been around since 2009. Owner Sheila Bronner says best-selling items include stylish dresses, leggings and tops from Tea Collection (up to size 8) and super-soft cotton separates from Splendid (up to size 14). The shop also sells books, jewelry, puzzles, games and toys.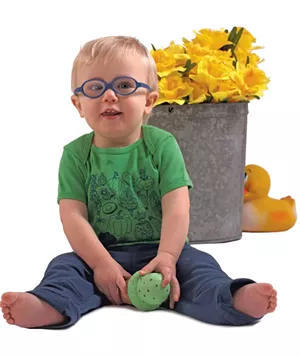 On Jay: New Duds vegetable onesie, $20. Splendid pants (part of a two-piece set), $53 at Bumblebell.
Two Montréal-born moms raising their kids in Vermont are at the helm of online retailer Minou Kids. Marie-Michelle Gaudreau and Julie Harvey have stocked their online store, launched in 2014, with clothing in sizes 0 to 6 from up-and-coming designers from around the world, such as Australia-based Munster Kids and Denmark's Bangbang Copenhagen. Temporary tattoos, bedding, stuffed animals and wall decals are also available. Their philosophy for dressing kids, says Gaudreau, is "easy, cozy and playful."
Finally, we got some cute cotton onesies and tees with garden veggie and bicycle motifs from Winooski-based New Duds. Husband-and-wife screen printers Torrey and Tessa Valyou — parents to two young kids — started selling clothes in 2008. They designed these creations, which look like the sort of thing you might see the Park Slope set wearing.
Turn to page 22 for a list of stores where you can shop for secondhand clothing, based on our readers' Facebook recommendations. After all, this is Vermont.
Shopping Info
Bumblebell: 1056 Mountain Road, Stowe, 253-1955
Little Citizen: 20 Church Street, Burlington, 489-5993
On Parrish: Vintage Havana Good Vibes tank, $35. Headbands of Hope elastic bow, $12. Yellow tank and jeans model's own. On Jazzy: Junk Food Clothing Peace & Love tank, $34. Mayoral violet leggings, $45. Headbands of Hope Fiesta buff, $15 at LIttle Citizen.
Minou Kids: 999-5247
New Duds: 450 Weaver Street #2, Winooski, 310-6803
Thrifty Threads
Kids' clothing can be expensive, so we've compiled a list of places to find high-quality, gently used clothing for little ones.
Buttered Noodles (consignment section), 64 Harvest Lane, Williston, 764-1810
Dirt Chic, 67 Main Street, Burlington, 863-1461
Goodwill, 329 Harvest Lane, Williston, 879-0088 and 1080 Shelburne Road, South Burlington, 658-5359
The Green Closet, 40 Bridge Street, Waitsfield, 496-4333
Heather's Nearly New, 62 River Street, Montpelier, 229-4002
Junebug, 5 Park Street, Middlebury, 388-1055
Once Upon A Child, 38 Taft Corners, Williston, 878-5434
Scampers, 42 Merchants Row, Swanton, 868-4299
Shalom Shuk, 188 North Prospect Street, Burlington, 238-4888
Lincoln Safran
On Lincoln: Appaman grey shirt, $48. Appaman plaid tie, $27. Mayoral red jeans, $35 at Little Citizen. Shoes, model's own.
Age: 8
Town: Burlington
Favorite color: Light red
Favorite animal: Penguin
Favorite book: Diary of a Wimpy Kid by Jeff Kinney
Favorite item of clothing: His basketball jersey
Hobbies: Listening to music — especially Bruno Mars and Maroon 5
Fun fact: He was born on Valentine's Day during the snowstorm of 2007.
Lienna Hazel Monte
On Lienna: Munster kids Warrior top, $40. Mini & Maximus Mountain leggings, $35 at Minou Kids.
Age: 4
Town: Burlington
Favorite color: Purple
Favorite animal: Kitty
Favorite movies: Here Comes Peter Cottontail and Frozen
Favorite item of clothing: Her princess dress
Hobbies: Playing dress-up and doing puzzles
Fun fact: She has a baby brother.
Name: Jay Cline Lucey
On Jay: Munster Kids Say It long-sleeve tee, $40 Mini & Maximus No Falling Allowed pants, $55 at Minou Kids
Age: 15 months
Town: Burlington Favorite color: Blue (because of his glasses)
Favorite animal: Chickens (he has some at home)
Favorite book: Where's Spot by Eric Hill
Favorite item of clothing: Any pair of shoes
Hobbies: Wrestling and chewing on toothbrushes
Fun fact: His big brothers decided that, because of his strong will, persistent personality and penchant for destruction, Jay's spirit animal is a honey badger.
Name: Parrish Cormier
On Parrish: New Duds paisley women's sweatshirt, $32. Vintage Havana drawstring pants, $42 at Little Citizen.
Age: 11
Town: Shelburne
Favorite color: Cyan
Favorite animal: Dolphin
Favorite book: Lock and Key by Sarah Dessen
Favorite item of clothing: Her Barca soccer sweatshirt
Hobbies: Basketball, singing, softball, soccer and reading
Fun fact: She's been kissed — on the cheek — by international footballers Gareth Bale and Thierry Henry.
Name: JaZaher (Jazzy) Cormier
On Jazzy: Vintage Havana watermelon tank, $35. Mayoral printed leggings, $25 at Little Citizen.
Age: 9
Town: Shelburne
Favorite color: Pink
Favorite animal: Horse
Favorite book: Scat by Carl Hiaasen
Favorite movie: Napoleon Dynamite
Favorite item of clothing: Pink sweatpants
Hobbies: Soccer, horseback riding and math homework
Fun fact: She can lift one eyebrow.
Plush toys provided by Winooski-based toy manufacturer Rich Frog, richfrog.com. Flowers provided by Creative Habitat, creativehabitatvt.com
The original print version of this article was headlined "Local Color"