At 7 a.m. on Tuesday, August 13, while most 15-year-olds were likely still sleeping, Geo DeBrosse of Hinesburg was leaving Port Kent, N.Y. for a 6.5-mile swim across Lake Champlain.
Accompanied by his dad, John DeBrosse, in one boat; his mom, Suzie McCoy, and neighbors in a second boat; and his friend, Seb Jacobs, on a paddleboard, the rising freshman at Champlain Valley Union High School touched Vermont sand at Delta Park in Colchester at 10:45 a.m., followed by a lengthy soak in a hot tub.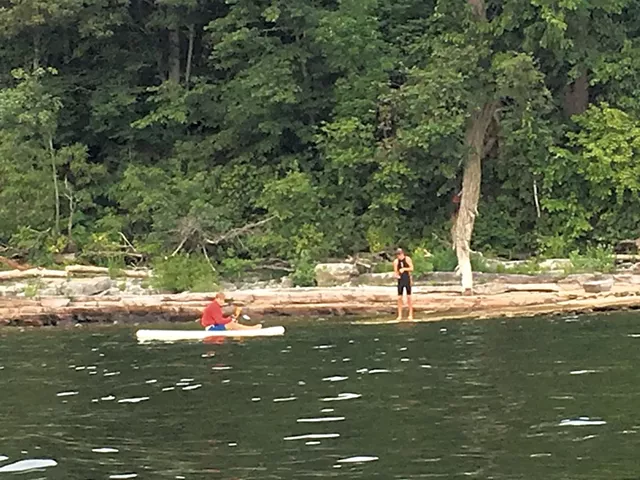 The teen is no stranger to the water. He swims competitively for Burlington Tennis Club in the summer and the Greater Burlington YMCA Dynamo in the winter. Earlier in the summer he placed first in the state in his age group for the 50-meter butterfly and third in the 100-meter freestyle and 100-meter butterfly.
Stopping for an energy snack
The lake swim was the culmination of Geo's 8th grade graduation project at Hinesburg Community School. He researched the variables involved in a long-distance lake swim, planned it for after the summer swim season and waited for a day where the forecast for the lake was calm, with light winds.
The water conditions turned out to be wavier than predicted but, said mom Suzie,"Geo persevered!"