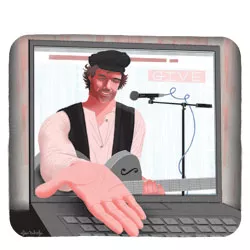 If prostitution is the world's oldest profession, singing for one's supper may be the second. For as long as there has been music, musicians have scrambled to find ways to support their art financially. And it's often a losing battle. Full-time songwriters rarely have a steady paycheck, never mind health insurance or 401(k)s. The average modern artist may not be "starving," but he or she is still taking a gamble on success.
Recent trends have generated still more uncertainty about the music industry as a whole. Online file sharing and illegal downloads have produced a generation of music fans who expect to get their tunes for free. While the digital era has also created an unprecedented opportunity for independent artists to reach new audiences, no one has quite figured out how to translate that visibility into dollars and cents. Throw in a gloomy economic climate, and the conundrum deepens.
But all this uncertainty has spurred artists to do what artists do best: get creative. Rather than relying solely on traditional revenue sources such as album sales and gigs, many are experimenting with online models that blur the line between consumer and producer, fundamentally altering the relationship between artists and fans.
One popular model is Kickstarter, a website that allows artists of all kinds — musicians, writers, filmmakers, visual artists and others — to host fundraising campaigns for specific projects. Not unlike a public-radio pledge drive, a Kickstarter campaign solicits donations from fans while offering various incentives, such as signed albums or posters. Projects are allotted a given time to reach a specified funding goal. Unlike a public-radio drive, however, it's all or nothing. If the goal is not reached, no money changes hands — and that puts the onus on artists to motivate donations.
Some Vermont artists have successfully used this method. Heloise and the Savoir Faire recently completely a drive to pay for their next recording. The Vacant Lots used a Kickstarter campaign for travel expenses to and from the South by Southwest music conference in Austin, Texas, last month.
"It's a way to further bridge the gap between artists and fans," says the Vacant Lots' Jared Artaud.
Local songwriter Myra Flynn is dubious about fundraising through Kickstarter, even though her husband, songwriter Justin Levinson, used the site to help pay for a recent project.
"I don't understand the need to put deadline pressure on yourself," she says.
Flynn has taken a slightly different tack toward raising money. Through her own website, myraflynn.com, she has set up an "online tip jar" that links to a PayPal account. Last year, she experimented with offering album-presale packages. Fans could choose packages ranging from $25 — for which you'd get the album and a mention on her website — to $5000, which netted everything included in the lesser packages plus a day of shopping with Flynn.
"If music isn't enough, you have to dig down deep and figure out what people would want," says Flynn, who also dabbles in fashion design — hence the shopping date. The irony of asking fans to help fund a new record, she notes, is that "music is the one thing you can't offer" immediately.
Gregory Douglass inspired Flynn's presale concept. A working singer-songwriter since the mid-1990s, the Burlington-based musician has been offering such packages for years. But Douglass has found a way to give his fans music in the meantime. Every Monday night since May 2010, he has hosted a 90-minute concert on Justin.tv, a video-streaming website. The weekly show is entirely request driven; patrons are encouraged to donate via online tips or by preordering Douglass' next record. And it's working. As of last month, he had raised more than $14,000, donated primarily by what he estimates to be "15 or 20" fans who log in on a weekly basis.
Douglass has long been fascinated by the changing dynamic between artist and fans. He believes an element crucial to his continued viability as an artist — and to that of the music industry in general — will be fans taking a more active role, even having a stake in their favorite artists' success. It's an idea he tries to impress on his online audiences each week.
"My favorite one-liner is 'Don't think of yourself as a fan. Think of yourself as a patron of the arts,'" Douglass says.
He may be on to something. Though it seems like a relatively new concept in popular music, the idea of patronage in the arts is centuries old. Where would Leonardo da Vinci and his artsy Italian Renaissance pals have been without the support of the Medici family?
Historical precedent aside, Douglass' sentiment raises a larger question about the relationship between artists and fans. Namely, is it fair for artists to expect their fans, many of whom are also struggling to make ends meet, to go above and beyond supporting music through traditional avenues such as buying records and attending live shows?
"I think it is fair for artists and fans to equally realize there is a new perspective to be recognized in today's music industry," says the Vacant Lots' Artaud.
In other words, support is becoming a two-way street between the producer and consumer, with the latter funding in-progress as well as finished work. Like arts patronage, that model is not unprecedented. A modern example would be community-supported agriculture. CSA customers eagerly prepay for a summer farm share of vegetables because they know doing so helps support local farms, which in turn provide healthy food and run green enterprises, environmentally speaking.
Granted, you can't illegally download veggies. But Douglass' album-presale concept would seem to be an ideological cousin to the CSA and a potential solution for a musician trying to make a living. The question remains whether fans and artists will manage to adapt to one another's evolving needs.
"It is still very important for fans to support the bands they like by going to shows and buying albums, but it is also important to realize tradition is changing," Artaud says. "The way we listen to and cultivate music is entirely different than it ever used to be. For bands to think all their money is going to come from record sales, and for fans to think that all the music they want will be free, seems a bit off, no?"
His solution?
"I think the key will be to find inventive and creative ways for artists to present their music," Artaud says. "I think in the days to come, you'll start seeing all sorts of weird packaging ideas, bundles of stuff. And the weirder the better."