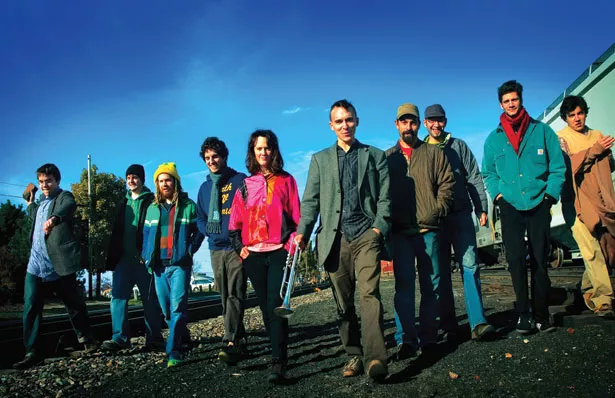 Afrobeat conglomerate Rubblebucket Orchestra are one of the most exciting groups to come out of Boston in recent memory. Their co-leaders are the amorously linked duo of trumpeter Alex Toth and vocalist Kalmia Traver - both University of Vermont grads and members of renowned funk act John Brown's Body, as well as former Burlington krunk-jazz outfit The Lazybirds. The 10-piece Orchestra thumbs its nose at the well-worn conventions of jazz-fusion, instead drawing on influences both traditional (Fela Kuti) and unpredictable (Bjork). The result is a genre-mashing maelstrom of hot-blooded West African funk rhythms and scorching soul melodies unlike anything that's come before it.
Seven Days recently spoke with Toth by phone, on his way to a show in Princeton, N.J., about the band, his relationship and the group's forthcoming debut record, Rose's Dream.
SEVEN DAYS: Generic rock journalist question: How did the band come together?
ALEX TOTH: Jeremy Frederick from Swale called me one day during Jazz Fest last year. The Lazybirds had a ton of [Burlington] shows that weekend and John Brown's Body wasn't really doing anything. So anyway, he called and asked if I wanted to do this Afrobeat jam down at The Hood Plant.
So I got a rhythm section together and he got a bunch of drummers together, and we just made up music. It was a pretty wild party. It went late into the night. A ton of Burlington musicians and people showed up. It was a good hang and a sweet place for a party. We just made up this music, you know, all night. Song after song these really cool things came out.
Then in July, I didn't have that much freelance stuff going on and The Lazybirds were kind of on their way out because they're all up in Vermont and we're in Boston now. I just decided I wanted to put together a big band based on the Afrobeat framework.
SD: But you guys are hardly a traditional Afrobeat band.
AT: From the beginning I knew I didn't want a traditional Afrobeat band. To me, I think that music is beautiful and I love rhythm. But the idea is to bring really fresh musical ideas to it. To get away from jazz, to get away from old Afrobeat funk. But to use the ideas and try to create some fresh music.
I really took a lot of inspiration from, like, Bjork and Portishead. I really admire Bjork. You can't really define it, but it's Bjork's music and she just brings really cool sounds together. So I want to try and achieve that level of depth on the sound front, but be able to rock a house rhythmically. Everything has just been shaping from that.
SD: Was it challenging to transfer that type of energy into the studio?
AT: We recorded everything live, which was difficult. We had the rhythm section and the horns on different floors. But I really wanted the album to be something that you couldn't do in a live show.
Recording live limits the ability to manipulate stuff in the studio. But we did a fair amount of stuff in post-production and with overdubs, which I'm happy about. I don't want it to be this sprawling, jammy Afrobeat thing. I don't want the band to be that, and I definitely didn't want the album to sound like this live, sprawling thing. So we were really careful about editing it and probably could have edited even a bit more than we did.
But I amamazed. It blows me away to hear the album. A live show has its own charm and you can't capture that on a recording. So on a recording, I feel it's important to take advantage [of the studio].
And I was really tired of the whole jazz thing. A bunch of jazz heads get together and record and it's about the "purity" of it. I just hate the production on almost every modern jazz album. It just doesn't do anything for me. So I was really interested in exploring those old techniques.
We recorded on analog and used really old microphones. So it does have a little bit of a retro sound to it. I'm really glad we put the extra effort into producing it right.
SD: That sounds like quite a balancing act. Does your relationship with Kal help in that regard?
AT: She balances me out on an emotional level. And there's a direct parallel between that and the way that we balance each other out musically. Like, I'll slap you across the face with rhythm and all this intense stuff. And Kal really brings a sense of warmth and melody and this femininity that has actually taken over Rubblebucket Orchestra . . . There's something that comes through the music, filtering through that intensity.
The cool thing about all of these folks is, their focus is so strong. They saw right away what I was trying to do with this. The music I brought in initially, they had never heard anything like it and quickly latched on creatively. There are a lot of fiery, creative souls in this band and we all just kind of fire each other along. Everybody seems to be aligned with the vision of the music, of wanting to really do something different and take it somewhere that it hasn't gone before.