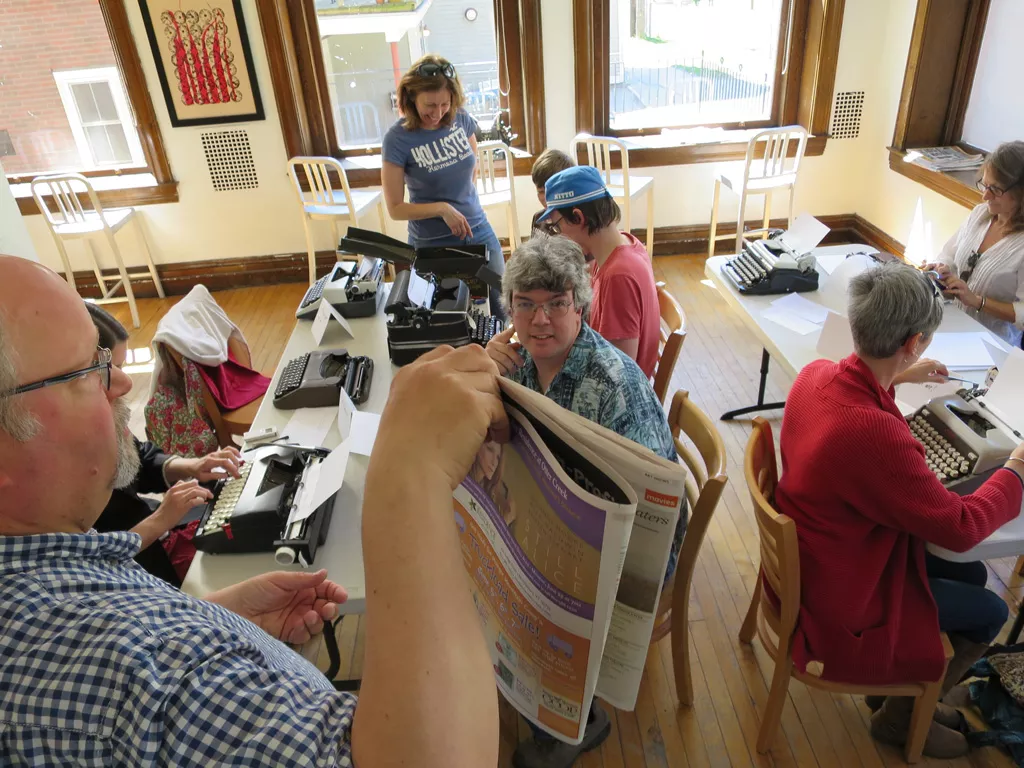 Matthew Thorsen
David Wells leads typists in an exercise at Maglianero Café
Last Saturday afternoon, Burlington's Maglianero Café filled with a sound eerily familiar to people of a certain age: the tapping of manual typewriters.
The typists, ranging from grade-schoolers to boomers, came from around the state. What they had in common was a fascination with the ingenious, durable machines that once represented state-of-the-art personal communications technology. And, contrary to a certain image of typewriter enthusiasts as cooler-than-thou, their enthusiasm for the bygone world of Wite-Out and manual carriage returns was frank and contagious.
That enthusiasm started with organizer David Wells. "You're in the right place at the right time, and I see an Underwood!" he cried, welcoming a newcomer to the gathering.
In his day job, Wells, 51, is the principal of Underhill I.D. Elementary School, where he works to equip kids with the latest technology. In his off hours, Wells runs a blog called Vermont Vintage Typewriter, in which he chronicles his acquisitions of new-old machines and the stories behind them.
For the first-ever Type-In, Wells trucked seven of his typewriters from Montpelier to Maglianero and set them up on a long table with paper and instructions to "Please type on me."
Among those who obliged was Ryan McPhee of Wells River, owner of the Underwood that Wells had been excited to spot. Like the other eight or nine rotating Type-In attendees, McPhee wanted to sample different machines — such as a 1964 Sears model that produces exclusively italic text. "I'm going to try to get to all of them," he said, tapping away. "It's nice to hear this noise and not have me be the only one creating it."
McPhee's typewriter-collecting habit started a decade ago and "escalated"; he now has about 20 machines. A self-confessed "bit of a Luddite," he was attracted to the old typewriters' "aesthetic, the mechanical feel," though he admitted he has to "invent reasons" to use them. (Many attendees cited personal letter writing as a prime opportunity to use their typewriters.)
While some came just to type and talk, others hoped to get a vintage machine back up to speed. Repair help was on hand in the form of Sam Carlson, who made a striking entrance with a 1947 Underwood Standard strapped to the back of his yellow bike. Once dismounted, he unpacked a second treasure: a 1960s Rooy Portable that folds "as small as an iBook," Carlson noted, thanks to a trapdoor mechanism.
A molecular biologist about to embark on a doctorate, Carlson runs a hobby business called SamFixIt, offering $10 vintage typewriter tune-ups. People come from neighboring states for his hard-to-find services, he said — not to mention supplies such as the 300 ribbons he bought from a typewriter shop before it went out of business.
Carlson's own interest in the machines began when he wanted to write old-school letters, and "My handwriting sucked," he said. He discovered that the "finality" of typing improved his "sentence gymnastics." Not to mention his digital dexterity — when Wells held the afternoon's typing contest, Carlson won handily with 42 words per minute.
While some of the Type-In attendees were old enough to remember when manual typewriters were the only way to produce a readable poem or term paper, others were digital natives who'd never experienced them purely as functional machines. Fifteen-year-old Gillianne Ross of Monkton, a nascent creative writer, said she was drawn to the historical associations embodied in a quote often attributed to Hemingway about writing: "All you do is sit down at a typewriter and bleed."
Eight-year-old Derek Hefel of Underhill came to the event with his mom, Nicki, who said her son types every day on his thrift-store Olympia — an "unplugged" activity that she's happy to encourage. The idea didn't originate with his parents, though: "I like complex machines," Derek explained. When he saw his first typewriter — "I think maybe online" — he thought "it looked like it would be cool to have one."
Wells said he likes to show his typewriters to his elementary schoolers, who are "fascinated with them." He bought his first one for his daughter, only to have her sister demand one, too. Now he has 11 or 12, most from sources like Goodwill and antique shops, ranging in price from $40 to $150. A plethora of typewriters can be found on eBay, of course, but sellers "have to know how to send them," Wells cautioned, to avoid damage to moving parts like the carriage.
Angela Palm, a writer and editor who works upstairs from Maglianero at Karma Bird House, stumbled upon the Type-In by chance. She settled at a table with her 1929 Remington — sporting a rare two-tone body — and her two young children, who busied themselves tugging on the carriage and tapping the keys.
The Remington had a tangled ribbon, and Carlson offered his services. "This is my lucky day!" said Palm, a recent winner of the prestigious Graywolf Press Nonfiction Prize. She didn't grow up with typewriters, she said, but likes what they do for her writing: "When I sit and type, it's more conducive to how I think through a sentence. It slows down the process."
These "obsolete" machines, it seems, are many things to many people — aids to creativity, intriguing objects, pieces of history. Along with one of his acquisitions, Wells was psyched to discover an original manual full of "Mad Men"-era copy that describes a personal typewriter as an invaluable tool for a man's career advancement — or a woman's home-based charity activities.
Those gender roles may be history, but the typewriter endures. The manual machines' physical durability, Wells pointed out, is key to their appeal. When today's state-of-the-art desktop PCs are tomorrow's doorstops, it's hard not to marvel at a device that can still do exactly what it was designed to do 50 or 70 years ago — turn thoughts into legible words.