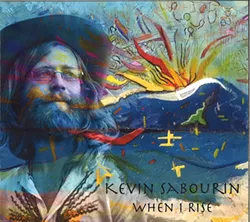 (Self-released, CD, digital download)
If you're attuned to rock and roll in the North Country, you're probably at least peripherally familiar with Plattsburgh's Lucid. The band is a long-tenured and hard-touring act on both sides of Lake Champlain but maybe hasn't gotten the recognition it deserves on the Vermont side. Lucid's primary creative architect, vocalist and guitarist Kevin Sabourin, is one of the region's most accomplished and prolific songwriters and recently released his debut solo album, When I Rise. Compiled and recorded over 10 years, it offers an intriguing glimpse into Sabourin's creative process.
Lucid's catalog includes three fairly solid full-length records. Each is professionally recorded and immaculately produced and presents the band's dynamic jam-rock fusion with polish and skill. That muscular sound creates something of a safe haven for Sabourin as a songwriter. Backed by a formidable band, the nuances of his writing have space to explore — or hide, depending.
That's not the case on When I Rise. The record is essentially a collection of demos and bedroom recordings. The sharp fidelity of Lucid's records yields to a more intimate and fragile aesthetic. It's as if Sabourin is playing and singing without the intention that anyone will ever hear him. This leads to some moments of pure ingenuity, of an artist freed from the pressure of producing for an audience and creating for creation's sake. By the same token, among the album's 21 cuts are some experiments that could have been left behind.
The opening title track falls firmly in the former category. The sweet, breezy song speaks to the simple bliss of waking up next to someone you love and basking in morning sunlight, sipping coffee and sharing "a spliff for two."
"Keepin' On" plays like a G Love B side when the singer was still experimenting with melodic folk-rap. It's a good representation of Sabourin's rapid, tongue-twisting flow, but little else — as are most of his ventures into pseudo-rapping.
"Dum Things" is a subtle highlight. Over a rolling, fingerpicked acoustic line, Sabourin muses about life's trials and tribulations. As evidenced on the opener, he has a knack for observing and finding meaning in small details and using them to speak to larger points, often by twisting commonplace phrases, like this one: "If you can't stand the kitchen, then get out of the heat." "Turquoise Blue" is an affecting heartbreak song and another example of Sabourin's grasp of fine details.
Travel and sense of place are running themes on the record and account for some of Sabourin's best songs. "South on the Northway" is a sturdy road song in the Guthrie/Dylan/Springsteen lineage. "Lonely Desert" is a windswept country ballad that evokes isolation, emptiness and homesickness. Conversely, "Adirondacks" is a touching love letter to home. "Fire" paints a cozy picture of winter in the North, closing the album with the warm, reassuring line, "I'll be your fire.