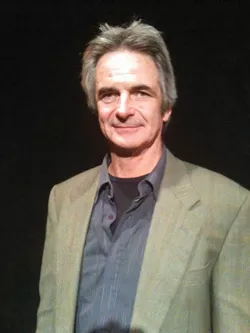 Many McKenzies missed the fête at the Met — that is, the Metropolitan Opera House in New York City. So last weekend, the Burlington family known for its meat-packing business welcomed home the clan's most famous member — Kevin McKenzie — for a local celebration of his accomplishments in the rarified world of ballet.
The youngest of Ruth and Raymond McKenzie's 11 kids, McKenzie ranked among the top male dancers in the world in the '70s and '80s. After he stopped performing, he switched roles — from dancer to director of American Ballet Theatre. The company was on the brink of financial disaster when McKenzie took over in 1992. In the 20 years since, he has deftly led ABT through crushing debt, recession — and all too many Nutcrackers — to solvency. He helped the company establish a new school and saw Congress pass a resolution recognizing ABT as "America's National Ballet Company."
The 58-year-old former altar boy may be the biggest local celebrity Vermonters have never heard of. But the McKenzies proudly claim him, even if most know more about Lake Champlain than Swan Lake. A crowd of about 100 — at least half of whom were relatives — gathered at South Burlington's StudioThree last Saturday to watch the video tributes they'd missed in New York back in June. The first told the story of how McKenzie made his way from South Burlington's now-defunct O'Brien's School of Dance to the finest stages in the world.
Billy Elliot? "That was me," McKenzie said in the video, referring to the title character in a British film and Broadway musical about a lad who emerges from a working-class background to become a ballet dancer — inspired by a true story.
McKenzie's second video tribute contained congratulations from choreographers all over the world, including modern-dance pioneer Mark Morris; 99-year-old Frederic Franklin, formerly of the Ballet Russe de Monte Carlo; and reps from England's Royal Ballet, the National Ballet of Canada and Nederlands Dans Theater.
Then, while McKenzie's relatives and friends noshed on meatballs, local independent media producer Fran Stoddard interviewed McKenzie on a makeshift stage, where his wife and former dancing partner, prima ballerina Martine van Hamel, later joined him. A natural storyteller, McKenzie recounted how his father encouraged him to accompany his sister to a tap-dancing class, and "I loved it," he said. He later admitted that his father may have been disappointed he didn't follow in the footsteps of Fred Astaire.
McKenzie also revealed how he got hired at ABT, after auditioning unsuccessfully for five years in a row: Van Hamel, who is tall for a dancer, requested the right-sized McKenzie when her regular partner sustained an injury.
In between Stoddard's questions, family members asked their renowned relative to retell stories they'd half heard, as if they were fans requesting songs at a rock concert. They wanted to know about McKenzie's first encounter with Jackie Kennedy Onassis, a generous ABT donor and former board member for whom the ballet school is named; about how he wound up in a steam room with basketball player "Pistol Pete" Maravich; about the time McKenzie's luggage got swapped with a priest's.
He obliged with grace and good humor. Neither McKenzie's star power nor the formality of the "set" diminished the intimacy of what was essentially a family reunion.
McKenzie's brother Michael stood up and said, "Kevin has never forgotten who he is back home." His cousin, Pete Beck, spoke for many when he thanked the tall, distinguished gentleman at the front of the room for the "vicarious pleasure you have given us," referring to the knowledge that "our family has produced one of the top dancers in the world."
McKenzie owes a lot to his loving family, too. Growing up with 10 siblings — in close quarters — approximates life in a touring ballet company. While the youngest McKenzie differentiated himself as a principal dancer, he was also perfectly prepared to embrace the less glamorous role of supporting a team, a family.
One more thing he may have inherited from his clan: business acumen. After shrinking ABT by half — from a $27 million budget to a $13 million one — McKenzie has built it back up to a $40 million enterprise. Who knows what this practical "prince" will do in Act III?
Fran Stoddard's interview with Kevin McKenzie will air on Burlington's RETN Channel 16 on November 13 at 8:30 p.m. and November 25 at 8 p.m.