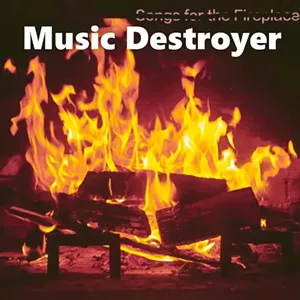 Courtesy
Kevin Lewis, Music Destroyer
(Self-released, digital)
The age of the grand recording studio has largely passed. Gone are the days of bands holing up in some decadent mansion or dank studio to craft sounds. Now, factoring in quarantine life as well, more artists are making music alone from home, with varying degrees of success.
Kevin Lewis has been doing it solo for a while. His previous record, Songs From the Fireplace, was also a DIY effort. The Burlington-via-Plattsburgh, N.Y., musician mixed and mastered the record by himself — no small feat — as he did for his new one, Music Destroyer. The result is a supremely mixed bag of inconsistencies: good ideas, bad execution, promising bits and occasional moments of true inspiration that can only hope to break up the more unlistenable moments of the record.
"This Way" comes out of the gate with a laid-back groove straight from the '90s, all acoustic guitar and off-the-cuff singing. It's sloppy but charming, with Lewis singing a melody in his comfort zone. That's something a producer might have pointed out to him before moving on to other tracks, such as "Mermaids."
I can imagine a scenario in which I find myself being tortured by the CIA and the waterboarding just ain't cutting it. All they'd have to do is play "Mermaids" on repeat, and I'd admit to faking the moon landing — anything to make this song stop. It starts out fine enough, coming in like a lo-fi Dinosaur Jr. track, full of energy and fuzz. About halfway through the guitar solo, Lewis decides to say "Fuck it" and finds every bad note available.
It seems like a conscious decision, as if he decided dissonance would service his songs. That thought has merit. There are certainly times to pop out of key and just get violently weird with one's playing. But the tactic doesn't work in what is essentially pop rock. It's even more misplaced when Lewis does it vocally on songs such as "Change Me."
Lewis has a distinctive voice, capable and effective when used properly. But when he attempts to push it out of that comfort zone, the results can be tough to deal with.
A good songwriter lurks behind these missteps, however. "Sunflower" is a slice of breezy chords with somber, introspective lyrics about enjoying life before it's all over. "Treat yourself while the rose is in bloom / Treat yourself and howl at the moon," Lewis sings. He delivers those lines with self-confidence. And he steps up his production skills on this track, as well as on the bizarre yet intriguing "Catch Lightning."
Though afflicted by the requisite inconsistencies of a DIY record, these two tracks are high-water marks on Music Destroyer, featuring Lewis' best playing, singing and producing.
His albums are full of promise but also poor decisions. If Lewis can just shift the balance a little, he'll be onto something.
Stream Music Destroyer at kevinlewis.bandcamp.com.