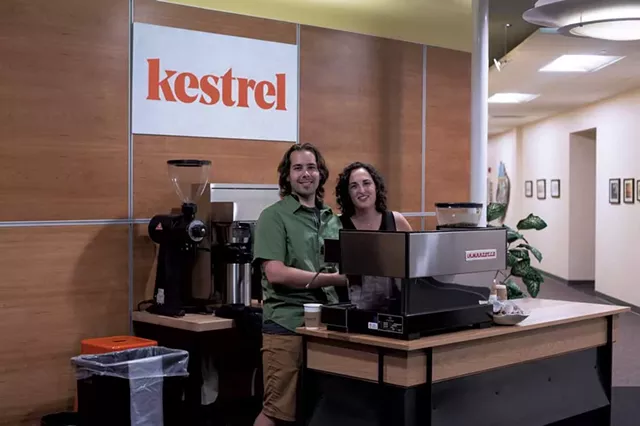 Courtesy Of Kestrel
Johnny and Charlotte Steverson
South Burlington will have a new coffee roaster this week when Kestrel Coffee Roasters, at 30 Community Drive in Technology Park, roasts its first batch of single-source beans from Colombia, said Charlotte Steverson, who owns the company with her husband, Johnny.
The Steversons moved to Vermont from New York last year to start their company. Johnny is a graduate of the New England Culinary Institute.
"We always loved Vermont," said Charlotte, 29. "We took a lot of trips here and decided to make a move that coincided with opening our business."
Kestrel has been open since early July, selling coffee and espresso drinks, as well as tea, lemonade and snacks, at its kiosk weekdays from 7:30 a.m. to 3 p.m. Up to now, the Steversons have been using beans roasted in upstate New York.
Kestrel's space is still under construction. When complete, likely in six months, it will include a sit-down café with an atrium where customers can eat avocado or nut butter toasts, or buy sandwiches and salads to go.
The couple met at the famed Blue Hill at Stone Barns restaurant in Tarrytown, N.Y., where Johnny, now 32, was director of coffee and Charlotte worked as a dining room captain. More recently, Johnny has been working as a coffee roaster in suburban New York.
"We're getting the final touches on the installation," Charlotte said. "Starting this week, all the roasting will happen right here in South Burlington."