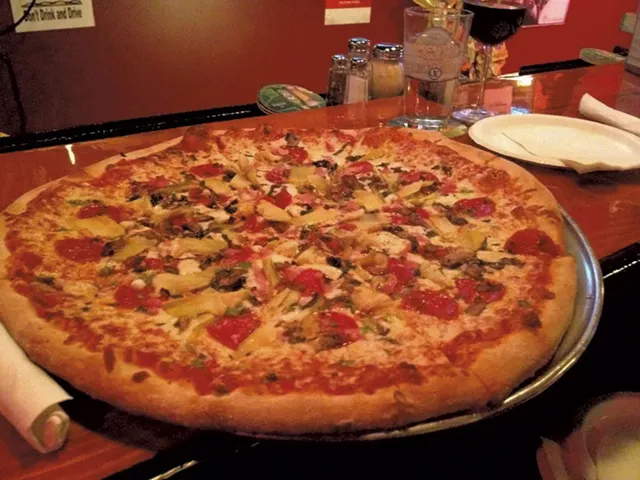 Courtesy Of Ken's Pizza And Pub
Pizza at Ken's Pizza and Pub
After nearly half a century of serving pizza and subs at 71 Church Street in Burlington, Ken's Pizza and Pub is expanding to include a new space at 170 Bank Street.
The pizza place is taking over the former site of Burlington Records, said Deb Miller, who owns Ken's with her husband, Tom. Ken's is gutting and renovating that space, which will accommodate a new and larger kitchen and the restaurant's takeout business.
Moving the takeout area to a separate (but physically connected) location will make Ken's more "user-friendly," Deb Miller said. The space currently occupied by the open kitchen and pizza counter, where customers place to-go orders and pick up slices, will soon become part of the dining room. Ken's will add tables, barstools and TVs to that area, Miller said, making it "more like the pub side." Overall, "The Ken's space will be much more open and will accommodate bigger parties" after the renovation, she said.
A third-generation family business, Ken's Pizza and Pub was started in 1973 by Tom Miller's parents, the late Ken Miller and his wife, Peg. Tom and Deb operate it with their three children, sons Stuart and Tyler and daughter Bentley.
Ken's also operates an adjacent outdoor seasonal business, Captain Tom's Tiki Bar.
The full menu will be available for takeout when the Bank Street entrance opens, which Miller expects to happen on April 1.