Luke Awtry
Kelsey Adams, owner of West Lane, in her Winooski backyard
Kelsey Adams didn't grow up gardening. Before she and her partner bought a house in Winooski, she hadn't done much of it at all. But that first summer, in 2015, she installed raised beds and grew vegetables.
Two years later, Adams dug out the entire lawn, transforming her backyard into an urban oasis of flowers and shrubs with a chicken coop in one corner. Countless plant varieties line a maze of gravel paths: zinnias in pink, cream and red; fluffy hydrangeas; towering millet and wheat; vining hops; and a single apple tree that grows six varieties.
Adams, 31, describes herself as a person who can't do anything halfway. If something catches her interest, she's going down the rabbit hole. In 2017, planning her wedding, she decided she wanted to do all the flowers herself.
"I got talked out of that, which was good," she said.
Just three years later, though, Adams officially became a full-time flower farmer and florist. Her business, West Lane — named after her street in Winooski — sells bouquets and arrangements for weddings and other events. (The bouquets on her website sell for $20 to $95.) She's even started growing flowers in two friends' Winooski yards, bringing her total garden space to about 3,000 square feet.
During the pandemic, she's been getting business from out-of-staters ordering flowers for friends or relatives in Vermont; Adams and a helper deliver them to doorsteps. She said she's enjoyed hearing from both senders and recipients about how happy it makes them.
"It's just an emotional time, so to bring a little bit of joy is very rewarding," she said.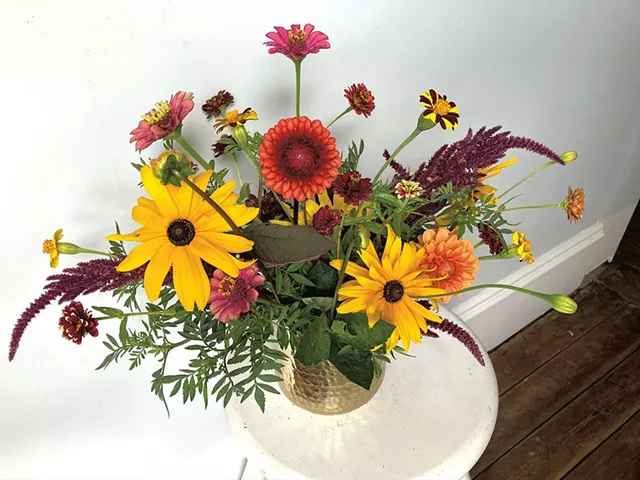 Courtesy Of Kelsey Adams
Flower arrangements by Kelsey Adams of West Lane
Adams' arrangements are unique; she often wraps them in paper and incorporates different textures and materials. A bouquet from West Lane might include bunches of tiny currant tomatoes, apple foliage or herbs. If the flowers don't have a scent, she adds flowering oregano, mint or lemon balm to the mix.
"I also really like adding brown to things," Adams said. "I've definitely been growing more weird brown textures."
She recently handled the flowers for a small wedding in Waitsfield. Rachel Adams (no relation) picked West Lane because she'd met Kelsey and watched her business grow for a few years. The original plan was for a wedding with 150 guests, but in the face of the pandemic, Rachel and her partner scaled back to just 12 people.
Adams can offer such small-scale services because she grows the flowers herself, she said. Wedding florists who buy flowers wholesale wouldn't be able to make just a handful of arrangements profitable.
"I was not one of those people that had a Pinterest [board] or a vision. I had no idea what I was looking for," Rachel said of her wedding plans. Adams proposed a palette and an array of options for her approval. The arrangements focused on white and peach tones, with foliage mixed in and little seed pods in the boutonnieres.
"I love her stuff, because it always feels a little wild but still elegant," Rachel said.
Akin to the slow food movement, there's a "slow flower" movement that advocates for picking local plants in season. The cut-flower industry is huge, representing more than $9 billion in global trade, according to online data source the Observatory of Economic Complexity. The U.S. alone imported some $1.8 billion worth of cut flowers in 2018. In 2019, UPS shipped 89 million flowers from Latin America to the U.S. just for Valentine's Day.
Luke Awtry
Kelsey Adams in her Winooski backyard
Slow flower advocates recommend purchasing local flowers as a more ethical approach, especially when you consider the environmental costs of moving all those blossoms around the world, usually refrigerating them along the way.
Adams puts a lot of thought into her environmental impact, not just in using organic practices but in choosing eco-friendly plastic to wrap her stems in and quality vases that customers will want to keep and reuse. This year, she will source fresh flowers and houseplants in the winter, but she aims to ship them all from greenhouses in the eastern U.S., within New England if she can.
September might seem like the tail end of Vermont's flower season, but Adams said there's still time to make the most of the bounty.
"Now is a great time to try and dry some things for winter," she said. "It's not too late to be cutting flowers." She plans to fill her basement with flowers hanging upside down to dry, which she'll sell during the winter months.
Fall is also a good time to plant perennials and, of course, bulbs for next spring. Adams said she's planning to plant "thousands" of tulip bulbs in preparation for Mother's Day. She advises buying bulbs now to put in the ground after the first frost.
Every gardening season brings opportunities to learn new skills, Adams said, from picking the right perennials for your space to keeping rabbits and woodchucks from munching all the greenery. She does not miss having a lawn. Bees and butterflies now frequent her garden, as well as crickets, which the neighbor kids catch along the edge of her fence.
"Monoculture isn't good for our ecosystem," Adams said. "I definitely feel like I've created a haven for insects that wasn't here before."