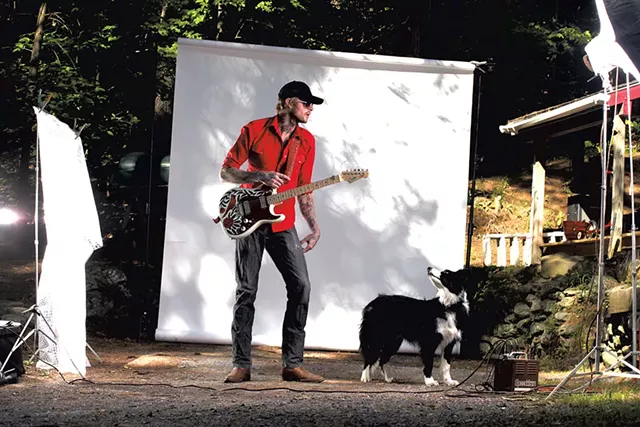 Matthew Thorsen
Kelly Ravin and Ron
Kelly Ravin is where he often is these days: standing on the stage of a small local bar. He's tuning his low-slung guitar as I cross the threshold of the Monkey House, my vision adjusting from the bright, late-summer sun to the dusk of the Winooski juke joint. When he sees me, Ravin smiles and waves a long, rail-thin arm.
"Hey, man," he says. Then, "Oh, don't mind Ron. He's just the town drunk."
I look down the bar and see a youngish, scruffy-looking fella bellied up to a Bud bottle. Ron? Then my gaze shifts to the floor. A small black border collie with an adorably stubby white nose is padding over to sniff my legs. Ron.
I scratch Ravin's friendly four-legged roadie behind the ear and sidle up to the bar to order a Bud bottle of my own — inspired either by the barfly or by the battered Budweiser trucker cap that Ravin sports above his blond hair. As I tip the beer back, he gently picks on his guitar, a newly minted Creston Electric Telecaster. It's white and emblazoned with bright-red roses and cardinals, painted by Burlington artist Sarah Ryan in her signature western style. As Ravin begins to sing, his effortless rasp mingles with the clack of pool balls and mild bar chatter.
"You may not be old enough to breathe," he sings. "But you'll never be old enough to leave." Then: "You're making me the man I want to be. You bring me to my knees."
The song is called "Engine." Ravin wrote it for his newborn daughter, Virginia, shortly before her birth — her name is also painted on the back of his new guitar. Quietly beautiful, the tune briefly silences the smattering of early Monday evening drinkers. Even the bartender stops to listen. When he finishes, Ravin, normally breezy onstage, offers quick thanks and takes a minute for himself before launching into his next song.
Later, over Buds and Jim Beam at a dive bar a few blocks away, Ravin tells me, "It took me a long time before I could make it all the way through that one without choking up." Given that a tear nearly fell in my own beer while he was singing the song, I'm inclined to believe him.
"Engine" doesn't appear on Ravin's new record, Bonneville, which comes out this week. But he'll most likely play it at the album-release party on Saturday, September 24, at ArtsRiot in Burlington. Of all the songs in his latest suite of material, perhaps none embodies Bonneville's fundamental theme so much as the song that's not on it.
"It's really about changes, transitions," says Ravin of the record, sipping on his neat whiskey.
The birth of his child surely tops the list of changes in his life. But there have been others, too. Notably, the recent hiatus of his band, Waylon Speed, long regarded as one of Burlington's most promising and successful acts.
Ravin, 31, is tall, lean, handsome and heavily tattooed. He's almost impossibly laid-back, with a goofy, boyish charm that contrasts with his neck-to-toe ink. But he turns contemplative when asked about the past, present and future of Waylon Speed. Ravin's alert blue eyes dim as he grasps his beer bottle with both hands on the bar. He's visibly reluctant to talk too much about the band, or to divulge why it unceremoniously stopped playing.
"It was my favorite fucking band ever," he blurts out, before seeming to catch himself speaking in past tense. "I love playing with them, and I love those guys."
Though he's careful, even stingy, on the subject of Waylon Speed, Ravin's pain and regret come through.
"They taught me pretty much everything I know about making music," he adds.
Matthew Thorsen
Kelly Ravin
Lately, he's put that knowledge to good use. Ravin doesn't have a day job and plays solo gigs in bars from Burlington to Bristol to Montpelier almost nightly. That routine has helped him hone and elevate his craft. The result is Bonneville, which, simply put, is the finest album of his career. It also marks the completion of another, longer transition for Ravin: from acoustic pop troubadour to alt-country bard.
His first exposure to the Vermont music scene was as the front man of Lucy Vincent, a modestly popular groove-pop trio that claimed residence in both Burlington and Martha's Vineyard in the mid- to late 2000s. Ravin is the first to admit that trio's beachy disposition was sunny bordering on cheesy. (Think a New England version of G. Love & Special Sauce.)
"We made a lot of mistakes," he says, grinning. "But that band was a lot of fun, too."
After Lucy Vincent's dissolution, Ravin released his first solo record, Barbed Wire, in 2008. He had only just separated from LV, and the record evidenced elements of his beach-bro songwriting past. But something else was in the mix, too: a rustic, blue-collar edge was fraying the seams of his saccharine pop hooks.
"I had really gotten into James McMurtry, Steve Earle, Townes Van Zandt," Ravin explains. "And that's the kind of stuff I wanted to be writing."
Ravin's transition had its clunky moments, but in general he evolved slowly but surely. On his 2010 album Music From the Mason Jar, released shortly after he joined Waylon Speed, he took a boot-clad step in the right direction. Ravin followed that up in 2013 with a starkly beautiful semi-live album, Leathered, Weathered, Worn & Wiser, recorded in his home state of Maine.
Last year, with the aid of Future Fields' Eric Maier and Jer Coons, Ravin released the excellent County Tracks. That record, which landed in this paper's list of the best local albums of the year, seemed torn from the playbooks of fellow country-rock torchbearers Jason Isbell and Chris Stapleton.
On Bonneville, Ravin again worked with Future Fields. But instead of playing every instrument himself, as he did on County Tracks, he enlisted a slew of guest players. Son Volt guitarist Mark Spencer, who produced Waylon Speed's 2014 record Kin, plays pedal steel on seven of the record's 11 tracks. Tucker Hanson adds fiddle, and Timothy Short plays accordion on the closer, "Headline Show" — a not-so-subtle lament for Waylon Speed. Ravin's fellow WS front man, Noah Crowther, sings backing vocals on two cuts. Ditto local songwriter Lowell Thompson, a frequent collaborator and gig partner.
Update Required
To play the media you will need to either update your browser to a recent version or update your
Flash plugin
.
The material on the new record could be seen as an extension of County Tracks; the dusty imprint of Earle, McMurtry and others is readily apparent. Ravin doesn't exactly transcend those influences so much as he refracts them. Plenty of stock Americana imagery appears in his writing — roads, cars, whiskey, lowlifes. But Ravin navigates twangy tropes with remarkable depth and nuance.
On "Fourth of July," he uses a boozy backwoods Independence Day party both to critique and to embrace flag-waving patriotism. On "Five Dollars and Joint," which could be a lost Waylon Speed cut, he playfully writes about being broke and high. The record's title track is an oddly touching love song about buying drugs for your sweetheart.
Ravin approaches the flawed subjects of his American gothic tales with empathy. Even with the slight twang he affects when singing, that compassion lends his music authenticity — a quality sometimes in short supply in the crowded Americana field.
Ravin's music is genuine because he is. While he may have had designs on stardom in his earlier years, he's now embraced music not as a vehicle for fame but as a way of life. You can hear that in his songs.
When we part ways, Ravin gives me a bear hug and saunters off to his pickup truck, where Ron waits patiently in the passenger seat. In the back is the baby's car seat, along with an amp and a guitar case. It was probably a scene just like this, heading home some night after a gig, that inspired one of the most affecting lines in "Engine." Its sentiment should be the centerpiece of Ravin's next great album: "I'm going to pack it up and get my ass home / because I'm never going to leave you alone."
(Disclosure: Kelly Ravin is married to Seven Days calendar writer Kristen Ravin.)
Correction, September 21, 2016: The song Kelly Ravin wrote for his daughter Virginia is called "Engine." A previous version of this story contained an error.