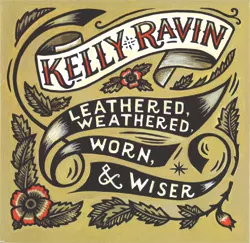 (Self-released, CD, digital download)
The transformation of Kelly Ravin has been fascinating to watch. And it might be a revelation to those who know him only as the lanky, inked-up guitar slinger and co-front-man of local outlaw-country-metal band Waylon Speed. When first we met him, Ravin was the leader of the jammy acoustic trio Lucy Vincent, a Martha's Vineyard-based band whose sunny disposition shared more in common with beach-pop troubadour Jack Johnson than, say, Waylon Jennings. On his two subsequent solo records, Barbed Wire (2008) and Music From the Mason Jar (2010), Ravin began to distance himself from LV's feel-good vibe, delving into darker, twangier territory — material that would eventually lay the foundation for his current work with Waylon Speed.
While he's still one of the most likable people you're apt to meet, time seems to have hardened Ravin. His latest solo effort, the aptly titled Leathered, Weathered, Worn & Wiser, was recorded live at a tattoo shop in Maine. It presents him as a world-weary troubadour, armed with nothing more than an electric guitar and a batch of sad songs. It is a gritty, stark and beautiful record.
Stripped of the muscular trappings of Waylon Speed, Ravin lays himself bare. His reedy vocals are raw and aching, the open tones of his reverb-laden guitar echoing uncertainty and hope in equal measures. Through 10 gut-wrenching, impassioned songs, Ravin ruminates on wasted days born of wasted nights, and the endless procession of broken hearts and emptied bottles along the way.
"Beef Jerky and Beer" is a bleary-eyed ode to life on the road. "Days Remain the Same" laments a friend trapped in a cycle of self-destruction. "Betty" is a teeth-gnashing breakup song that pulls no punches. "Slow Burn" is exactly that, a loping song about the frustrations with a restless lover prone to staying out until dawn — the aforementioned Betty, maybe? The bluesy "City Girls" closes the record with winking Southern charm and slick slide riffs.
Throughout his two previous solo works, Ravin seemed to be still searching for his musical identity. While the fundamental elements were evident in pieces — his gift for melody, his knack for clever turns of phrase and that golden, impossibly expressive voice — he never quite put it all together. Perhaps the leathering and weathering of age truly has made him wiser. Or maybe the third time really is the charm. Because Leather, Weathered, Worn & Wiser is a quiet gem, an affecting record that stands as Kelly Ravin's finest.
Kelly Ravin celebrates Leathered, Weathered, Worn & Wiser with a release show at the Higher Ground Showcase Lounge in South Burlington this Thursday, November 21. Concrete Rivals open.
Leathered, Weathered, Worn & Wiser is available at cdbaby.com/cd/kellyravin.