Burlington City Arts curates exhibits in three areas of the airport: the Skyway, the area above the escalator and the walls facing security for Gates 1 through 8. Whether you've arrived early for a flight or are waiting to pick up passengers, do take the time to look around!
From April through July, the Skyway features fine art nature photography by Kelly O'Neal. The artist hails from Florida and has lived in North Carolina, Hawaii, Texas and Massachusetts, but work brought her to Vermont in the fall of 2008. As she tells BTV, she "fell in love with Burlington the moment I crested the hill on Main Street and could see Lake Champlain and the Adirondacks."
Her painterly photographs celebrate that very view. "I spend the bulk of my time shooting sunsets on the shores of Lake Champlain near Burlington, or shooting ice formations in the winter," O'Neal writes. "Because of the seasons here, the landscape changes dramatically, which provides a lot of new challenges, color palettes, and light to play with. The colors we get in sunsets over the lake are consistently some of the best I've ever seen."
O'Neal's self-taught photographic style is quite unique. Instead of documenting landscapes as our eyes see them, the artist intentionally moves her camera during exposure, wiggling or panning it to construct emotive, abstract scenes of shape and color.
As she explains on her website, "Creating my art is a way of grounding myself, enjoying some quiet time, and basking in the beauty of this little blue marble we all get to live on. In sharing it with you, I hope you can find your own little island of peace, if only for a moment."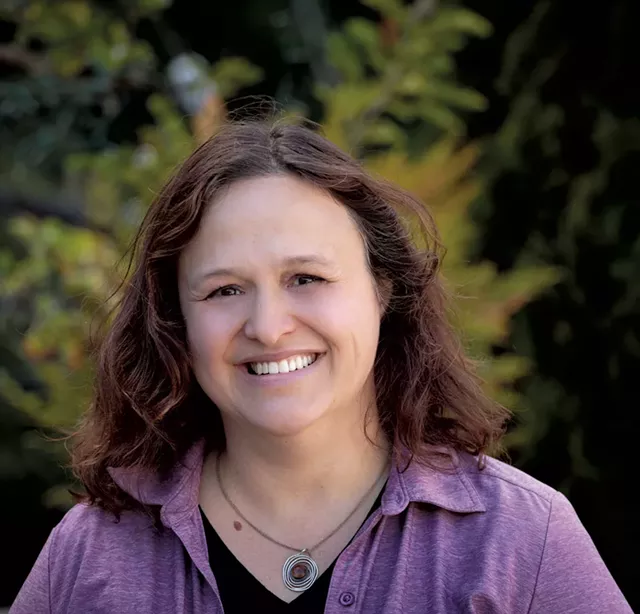 Learn more about O'Neal at ekovisions.com, and look for the artist around town with her photographic assistant — a goldendoodle named Teddy Bear — in tow. Find more information about Burlington City Arts and its downtown gallery and programs at burlingtoncityarts.org.
---
Burlington City Arts organise des expositions à trois endroits dans l'aéroport : dans le Skyway, au-dessus de l'escalier mécanique et sur les murs qui font face à la sécurité pour les portes 1 à 8. Que vous soyez arrivé à l'avance pour votre vol ou que vous attendiez des passagers, prenez le temps de regarder autour de vous!
D'avril à juillet, vous pourrez admirer dans le Skyway les photos naturalistes de Kelly O'Neal. Cette artiste originaire de Floride a vécu en Caroline du Nord, à Hawaï, au Texas et au Massachusetts, mais le travail l'a amenée au Vermont à l'automne 2008. « Je suis tombée amoureuse de Burlington à l'instant où je suis arrivée au sommet de la colline sur Main Street et que j'ai aperçu le lac Champlain et les Adirondacks », confie-t-elle à BTV.
Ses photos picturales traduisent cette impression. « Je passe le plus clair de mon temps à croquer des couchers de soleil sur les rives du lac Champlain près de Burlington ou des formations de glace en hiver, écrit l'artiste. Le paysage change radicalement au gré des saisons, ce qui amène de nouveaux défis, de nouvelles palettes de couleurs et de nouveaux éclairages avec lesquels jouer. Les couleurs qui irradient le ciel quand le soleil se couche sur le lac comptent parmi les plus belles que j'ai vues dans ma vie. »
Le style autodidacte de Kelly est unique. Au lieu de documenter les paysages comme notre œil les voit, l'artiste bouge intentionnellement son appareil durant l'exposition, en l'agitant ou en faisant un panoramique afin de créer des scènes abstraites et empreintes d'émotions, faites de formes et de couleurs.
Comme elle l'explique sur son site Web : « Pratiquer mon art est une façon de garder les deux pieds sur terre, de savourer des moments de calme et de m'emplir de la beauté que le monde nous offre. En vous faisant partager mon art, j'espère que vous pourrez trouver votre propre petit havre de paix, ne serait-ce qu'un instant. »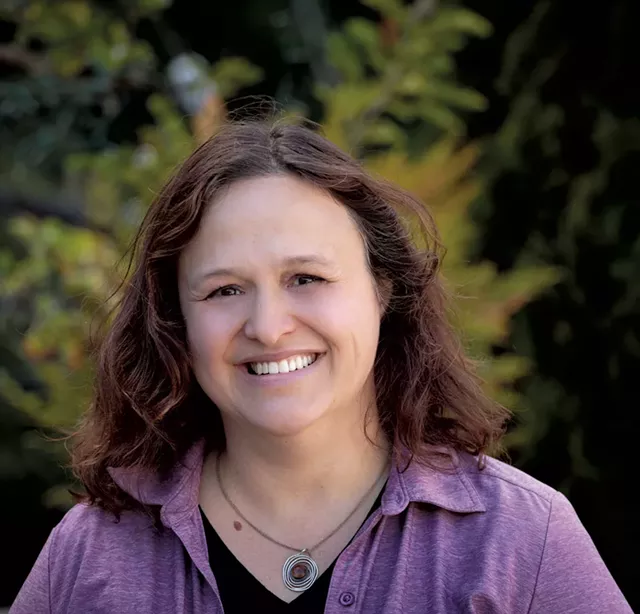 Allez à ekovisions.com pour en savoir plus sur Kelly et restez à l'affût : vous pourriez bien l'apercevoir en ville avec son assistant photo, un goldendoodle nommé Teddy Bear. Pour en apprendre davantage sur Burlington City Arts, ainsi que sur sa galerie du centre-ville et ses programmes, rendez-vous sur le site burlingtoncityarts.org.