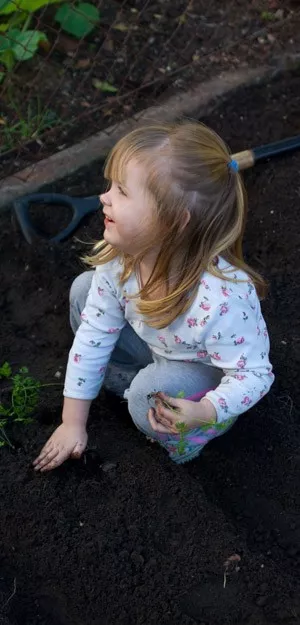 With the arrival of spring, parents and children are eager to get outside and start working in the yard. But while lawns and gardens are great places for children to play and learn, they can also be fraught with hazards, such as chemical fertilizers, pesticides, sharp tools and power equipment. This month, Dr. Lewis First, chief of pediatrics at Vermont Children's Hospital at Fletcher Allen Health Care, lays the groundwork for maintaining a yard that is a clean, green and healthy place for you and your kids.
KIDS VT: How do parents know if their fertilizers and other garden products are safe for children?
LEWIS FIRST: There are two types of fertilizers: chemical and organic. The packages for chemical fertilizers tell you what the active ingredients are, such as nitrogen and phosphates. What the packages often don't tell you are the inert ingredients, which can contain potentially poisonous substances such as arsenic, lead, mercury, cadmium and other metals. If kids spend a lot of time rolling around on the lawn, obviously they're going to be exposed to these chemicals.
KVT: Should parents be concerned about this?
LF: Parents hear a lot of rumors about chemical fertilizers — that they can cause everything from learning disabilities to asthma to cancer — mainly because fertilizers often contain other chemicals that kill weeds and insects. I'm not here to say that chemical fertilizers have caused a child to get cancer. Can they increase a child's risk by adding to multiple factors in the environment that can lead to cancer? Sure. So if you're concerned about the exposure to your children, avoid chemical fertilizers and switch to the organic ones, which are essentially made from manure or compost and release the nitrogen and phosphates into the soil through organic decomposition.
KVT: Are chemical fertilizers dangerous to apply?
LF: My rule of thumb is, children should not participate in the application of fertilizer, and people who put the fertilizer on should take appropriate precautions, as well. Nitrogen, a common ingredient, can burn the skin, so people should wear appropriate gloves and long pants and not allow fertilizer to hit the skin.
KVT: How soon after fertilizing can kids play on the lawn?
LF: Kids should stay off the lawn after a chemical fertilizer has been applied until it's been exposed to at least a quarter inch of rain or a good watering. Then, wait at least 24 hours before you allow kids to play on the lawn.
KVT: Are there risks in using organic fertilizers?
LF: Many farmers store manure in barns or enclosed spaces. The problem is, organic fertilizer or compost kept in a closed space can leak some pretty toxic gases, such as hydrogen sulfide, methane and carbon dioxide. So you don't want to let a child play in a barn where manure or fertilizer is stored and there isn't proper ventilation.
KVT: What symptoms should parents look for if they suspect a child has been exposed to toxins in the garden?
LF: The signs to look for from the toxic chemicals used in fertilizers, weed killers or pesticides can include an upset stomach, difficulty breathing, skin rashes, burning in their eyes or a change in their overall level of alertness. If parents are worried, use as many organic products in the garden as possible.
KVT: What other hazards should parents watch for?
LF: The big one is lawn mowers. Each year, about 16,000 children are injured by lawn mowers, and about half are kids on riding mowers. Lawn mowers cause child hospitalizations at twice the rate of other consumer products. Typical injuries include cuts, lost fingers and toes, burns, and eye injuries. Basically, children should be over 16 to operate a rider mower and over 12 for a push mower. As with any garden equipment, every child should have a period of safety instruction and supervision by a qualified adult. Kids should never pull a mower backward or mow in reverse. They should always wait for the blades to stop moving before taking off the grass catcher. And earplugs and eye protection should be worn by anyone using power equipment.
KVT: Anything else?
LF: With clippers and hedge trimmers, sometimes you're called into the house, and you leave them buried in the grass, where a toddler could find them. So power equipment, clippers and hedge trimmers should always be picked up and put away after use. Cans of gasoline and other chemicals should be stored high and away in a garage or shed so kids don't discover them. My best suggestion is that children under 6 should be kept inside at all times while the grass is being mowed.
Ken Picard is a staff writer at Seven Days.