Looking for the perfect one-of-a-kind gift for your kids? Want to support craftspeople and entrepreneurs from the Green Mountain State? We've got you covered on both fronts. Our holiday gift guide features 10 fun items from Vermont-based companies sure to make your holidays a little happier and brighter this year.
Cozy hats ($32) and neck warmers ($24) from Skida, Burlington/Glover
These warm winter staples, made from breathable, moisture-wicking fabric, were created in 2007 by Vermont ski racer Corinne Prevot when she was a high school student at Burke Mountain Academy. Demand quickly grew, and, while attending Middlebury College, Prevot worked closely with her mom to grow the business. Kids' hats and neck warmers come in an array of fun patterns and are manufactured in the Northeast Kingdom. Order online at skida.com or visit the company's retail shop at 16 Kilburn St. in Burlington's South End.
Wooden treats ($25) from Pleasant Ranch, Burlington
In 2014, woodworker and drummer Steve Hadeka started Pleasant Ranch — named for the Burlington street where he lives — selling modern birdhouses, bottle openers, clocks and more. His ice cream sandwiches and S'mores — made from walnut, maple and mahogany — are the perfect addition to any toy kitchen. He also makes a wooden camera with a removable magnetic flash and a lens that spins. Find his work at pleasantranch.com and at the Burlington City Arts Holiday Market on December 16 and 17.
Sandwich wraps ($10) from Bee's Wrap, Bristol
This reusable wrap was created by mother of three Sara Kaeck in 2012 as a healthier, more sustainable way to store food. In the early days, Kaeck worked from her Bristol home, handpainting a coating of beeswax, organic jojoba oil and tree resin on every wrap. Though the company has grown, the wraps are still manufactured in Bristol by a staff of women. Pretty up your kids' packed lunches by ordering them at beeswrap.com, or find them at local retailers including Healthy Living Market & Café, City Market/Onion River Co-op and Gardener's Supply.
PinBox 3000 cardboard pinball machine ($40 for the base model) from Cardboard Teck Instantute, Burlington
Quirky friends and makers Ben T. Matchstick and Pete Talbott dreamed up the first cardboard tabletop pinball game at Langdon Street Café in Montpelier in 2006. The system takes 45 to 90 minutes to assemble, with no tools required, and can be customized with ramps, spinners, black holes, castles and more. Buy one and you'll also get access to online how-to videos, free downloadable templates and cut-and-paste graphics. Find it at pinbox3000.com.
Feather wands ($20) from Mountain Honey Clothier, Rutland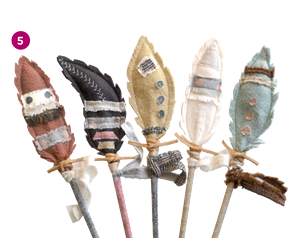 These whimsical magic wands for toddlers and preschoolers are handmade by Rutland-based seamstress Deidre Lozier, who started her children's brand in 2014. "I love creating these wands," says Lozier, who also makes children's bonnets, moccasins, clothing and toys. "I'll sit down at my machine with a pile of scraps, selvages, and miscellaneous bits and pieces and dream up each wand as I go. I've never made two identical ones." Find her goods at mountainhoneyclothier.com.
Customized pet onesies ($35) from the Green Egg, Stowe
Love your kid and your pet? Send a photo of your prized pooch or favorite feline to Stowe-based company the Green Egg and they'll create a one-of-a-kind cotton onesie or T-shirt featuring the animal's likeness. The company also sells clothing emblazoned with astronauts, tractors and roller skates, handmade Star Wars crayons and fabric dolls. Check out these items at etsy.com/shop/thegreenegg or thegreeneggshop.com.
Jumbo peg dolls ($17.50) from Zooble, Newbury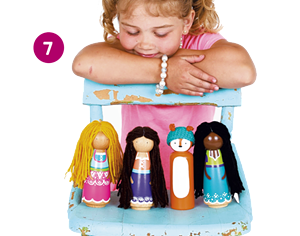 Zooble's toys are manufactured from American-made materials by a small team in Orange County, Vermont. The chunky peg dolls are made using beech wood and nontoxic paint and are great for kids under age 3 because they don't include any small pieces. The family-run company — which also makes bendy dollhouse dolls, felt castles and rainbow mushrooms that encourage imaginative play — was a finalist in the Martha Stewart American Made Awards in 2014. Find Zooble's one-of-a-kind toys at etsy.com/shop/zooble.
Floral leggings ($17) and baby gowns ($24) from Vermont Craft Mom, Lake Elmore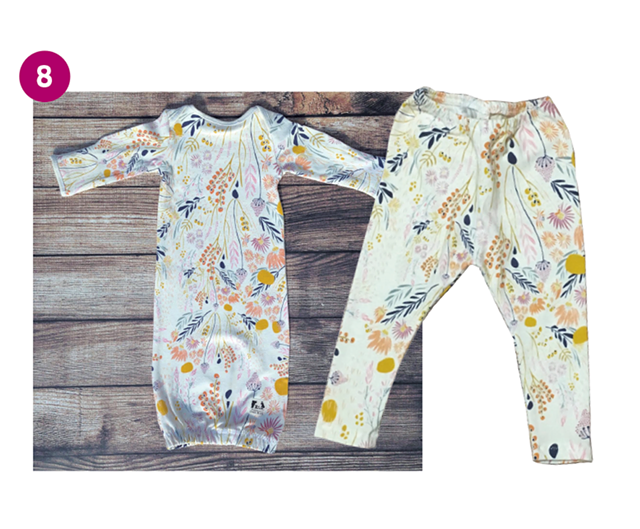 When stay-at-home mom Heather Courchaine's son was 6 months old, she decided she wanted a sewing machine. A year and a half later, she's embraced her craftiness and now runs an Etsy shop that sells stretchy leggings and knit gowns in funky prints, along with rompers, dresses, sweatshirts and joggers up to size 6T. Get the cute duds at etsy.com/shop/vermontcraftmom.
Felt toys from Petits Cadeaux ($2-55), Burlington
Kate Taylor started her Burlington-based company when she was an eighth-grade student at the Lake Champlain Waldorf School in Shelburne. Every item — from felt animals and acorns to whimsical play food like sushi and hot dogs — is made by Taylor and her mother, Linda Post. Now a mother to an 18-month-old son, Taylor has expanded her product line to include baby toys and mobiles, and is happy to do custom orders. Find her at etsy.com/shop/petitscadeaux, the Orchard Valley Waldorf School Holiday Market in Montpelier on November 19, and the Lake Champlain Waldorf School Holiday Fair on December 2 and 3.
Experiential gifts
Consider giving your kids a family membership to ECHO Leahy Center for Lake Champlain, Montshire Museum of Science, Fairbanks Museum & Planetarium, Shelburne Museum or another special destination where you can spend quality time together. Or purchase a season pass to Vermont State Parks at vtstateparks.com so you can enjoy the great outdoors as a family.
Check out these local toy shops for more great gift ideas…